For more than three decades, the Union of Vietnamese Student Associations' (UVSA) annual Tet festival has brought Vietnam to Southern California.
The UVSA Tet Festival celebrates the Lunar New Year in the enclave of Little Saigon in Orange County, California, and brings Vietnamese food, traditional music, and cultural reenactments to the United States' largest Vietnamese-American community.
At this year's festival, which is scheduled to take place Feb. 12 to 14 at the OC Fair & Event Center, one of organization's unique traditions will continue as the UVSA will build a "cultural village," a portion of the festival grounds filled with recreations of ancient Vietnamese architecture and traditions.
"Not only does the village add an element of culture to the festival, but it also brings together the younger and older generations," Emmerick Doan, one of UVSA's 2016 cultural directors, told NBC News. "You see the young folks enjoying themselves while older ones play Chinese checkers."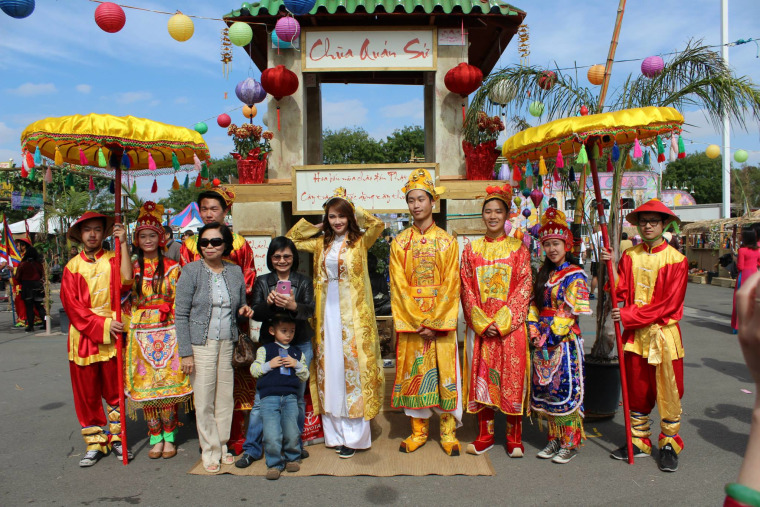 The theme of this year's village is "Vietnam: 4,000 Years of Culture and Resilience." It includes models of the One Pillar Pagoda, a historic Buddhist temple in Hanoi, Vietnam, built by Emperor Ly Thai Tong in the 1000s, and an example of a rural Vietnamese home built with palm leaves, bamboo, and straw mats. Other features include a "wishing wall," where visitors can write their wishes for the new year, and a nhàu area where Vietnamese men and women can drink and eat snacks like dried squid. For a feature that started in the 1990s with just four traditional Vietnamese huts, the cultural village has grown in terms of quantity and significance, the organizers say.
"The village is a way for people to see that our culture is strong outside of Vietnam itself, and that there's unity among Vietnamese Americans not only within the festival but also Orange County," Doan said.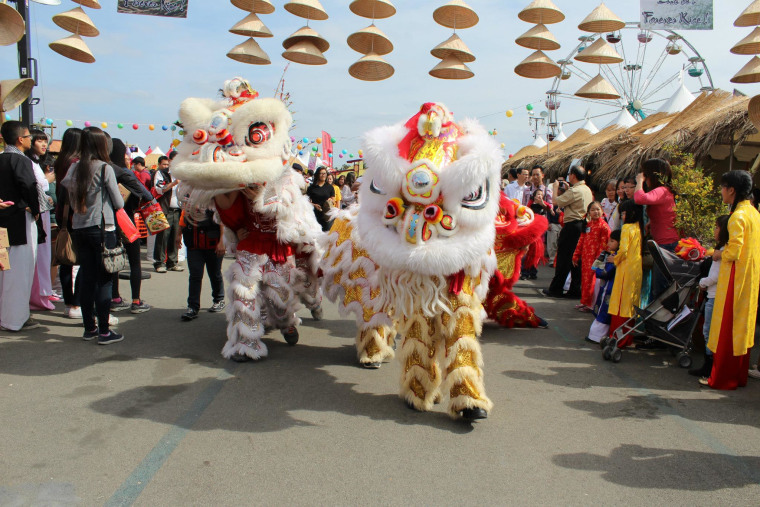 Building the cultural village takes approximately a year, according to Doan. Planning begins one week after the end of the previous festival. The structures are constructed by approximately 100 individuals — many of whom are volunteers and recruited high school students and their families. For Doan and his co-director, Jerry Huynh, the festival is essentially a family affair.
Doan's involvement in the festival began with his father, who brought him and his sister to volunteer meetings in 2009 when he was in the sixth grade. After volunteering for the next two years, he became a staff member and later ceremonial director and cultural director.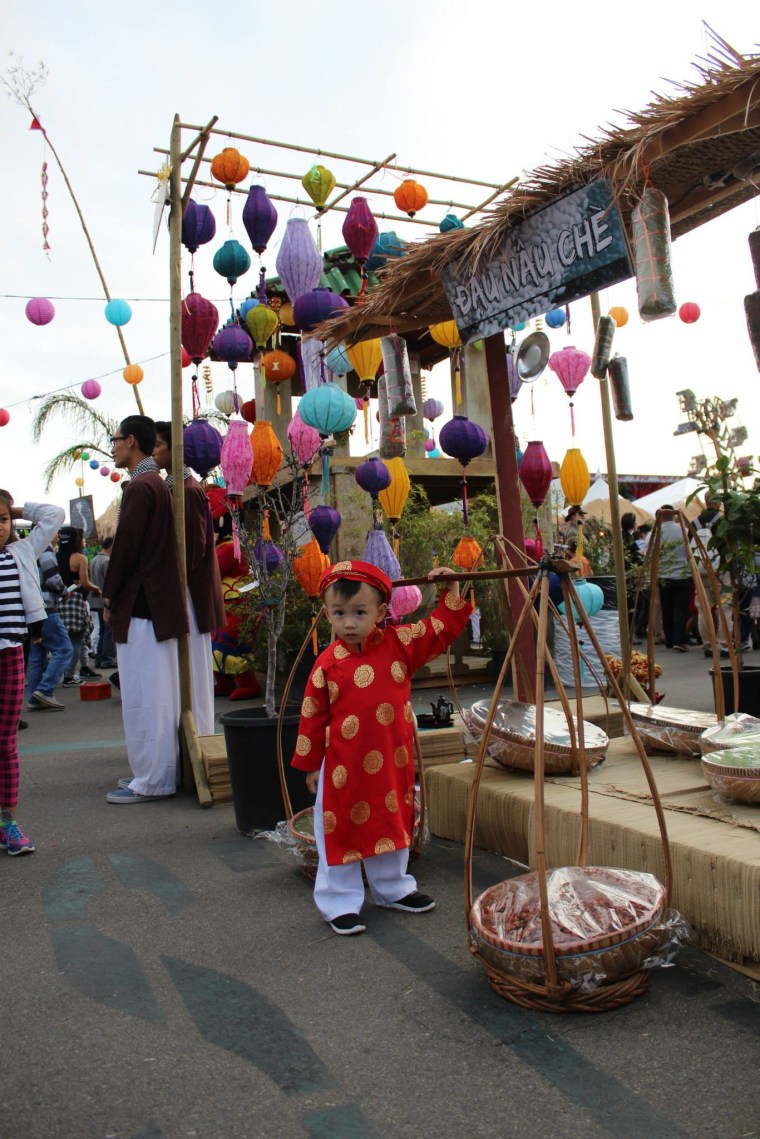 Huynh started volunteering at the festival in the seventh grade when his high school-aged brother was cultural director. "For me, it was an opportunity to get out of my shell and be involved in the Vietnamese community," Huynh said.
Encouraged by his brother, he volunteered again the year after and, like Doan, became a staff member and cultural director.
Doan and Huynh aren't the only UVSA members whose families are involved in the festival. "Some people bring their moms, aunts, and cousins along to meetings — sometimes to help out on things like wrapping bánh chưng. That always put a large smile on my face," Huynh said.
The directors stress that the volunteers are as close as a blood-related family. Engagements between UVSA members at the village's mock traditional weddings, for example, are common. Couples that participate in the weddings are usually UVSA members who are planning to get married in real life.
Doan and Huynh say that for many of the young volunteers, being involved in the festival is a way for them to connect with the older members of their families who are often immigrants from Vietnam. "It's helpful in connecting us with the older generation especially because Jerry and I—along with some other volunteers—aren't fluent in Vietnamese," Doan said. "For instance, it helps me have conversations with my grandma. Sometimes she'll ask me 'What are you guys building?' and I'll explain to her that we're working on the One Pillar Pagoda."
"I normally wouldn't have much to say to my grandmother or aunt too, who came from Vietnam," Huynh added. "But when I started volunteering at the Tet festival, I would talk to them about what we're making and they would reply 'That reminds me of when I was a kid.'"
Follow NBC Asian America on Facebook, Twitter, Instagram, and Tumblr.
RELATED