Fighting for the Dream: Voices of Chinese American Veterans from World War II to Afghanistan by Victoria Moy is a collection of oral histories of 40 Chinese-American men and women—ages 24 to 94—who served in the American armed forces from World War II to the US War in Afghanistan. Moy includes interviews with trailblazers like John Fugh -- the first Asian-American general, and Kurt Lee -- the first Asian-American unrestricted Marine, as well as some of the 20,000 Chinese Americans (a quarter of the community population at the time) who served in WWII.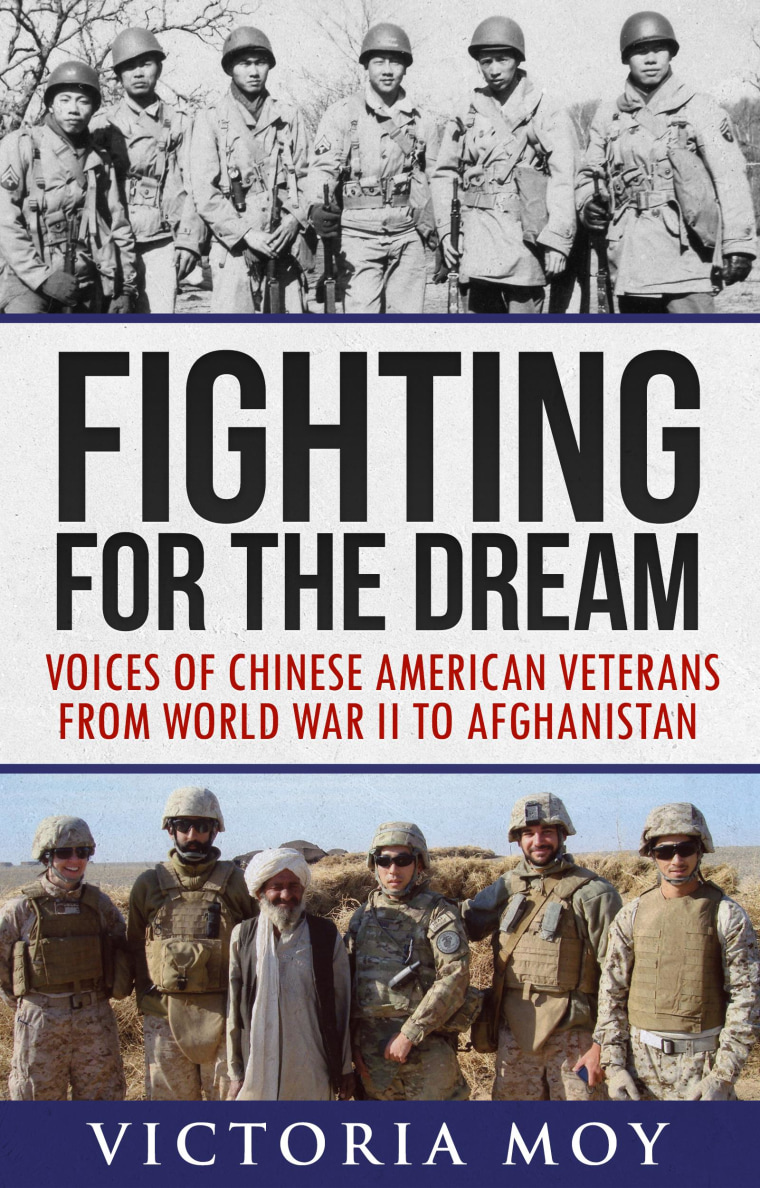 How did you get interested in the topic of Chinese-American veterans in the US armed forces?
I was born and raised in New York's Chinatown. About seven years ago, I was working at a radio station, covering a Memorial Day parade in Chinatown. I'd seen these Chinese-American veteran marches every year, and was familiar with the American Legion Kimlau Post parades because my grandfather, a WWII vet, was a member and brought me to their grand Thanksgiving and Christmas parties. So I knew some of the uncles and grandpas who were veterans of WWII, Korean War, and the Vietnam War.
What changed for me that year at the parade was seeing veterans my own age. I wanted to understand how and why someone my age, from my community, would decide to serve. I saw older and younger Chinese American veterans coming together to pose for a photo. Phil Eng, a Korean War vet said, "We're four generations of Chinese American vets here! If you're a writer, you should write a book about us!"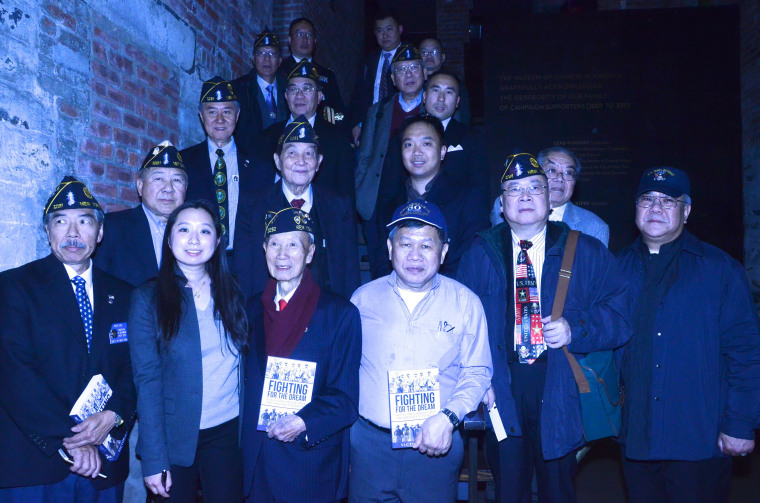 What are some of your favorite or most memorable stories?
This collection of stories show us how far we've come as a country in the last 70 years, and how much farther we have to go.
Major Kurt Lee was the first Asian American to receive an unrestricted regular commission in the Marine Corps. He was the first Chinese American to lead a combat unit, and some Americans questioned his loyalty engaging in battle against the Communist Chinese forces in Korea.
Elsie Seetoo talked about how if her father wanted to visit a neighboring city, as a Chinese man, he needed a written letter from a well-respected minister that he was a Chinese man in good standing. When the Depression set in, her family moved to China during a period of political unrest. She left home and went on a "long walk" of 700 miles to join the Chinese Red Cross Medical Relief Corps in Guiyang and then the U.S. Army Nurse Corps.
John Gerald Miki, of Chinese and Japanese descent from Hawaii, was a military air attaché to Switzerland and Singapore. As an Asian American in an Air Force uniform representing America, he felt he was proof that we were trying to be a positive force for what was right, and that America was always moving forward, away from beatings in Selma, away from the Massacre at Wounded Knee, and away from the Saturday night lynchings of Chinamen in California's gold fields.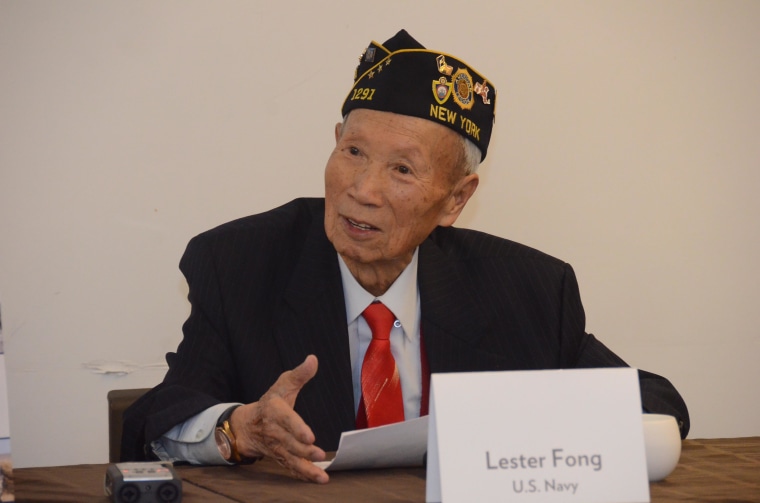 How did serving in the US armed forces change some of their lives?
WWII was a watershed moment for Chinese Americans, as it was for other minorities and women. Defense jobs opened up that were previously reserved for white men. Chinese Americans were no longer relegated to only laundry and restaurant jobs. The GI Bill helped veterans get an education and enter mainstream society. The War Brides Act after WWII allowed Chinese Americans to bring wives over, which the Exclusion Acts made much more difficult before the war. Chinatowns transformed from bachelor societies to family communities.
What are some of the recurring themes or inspiring lessons you found in their stories?
The perseverance of these men and women in very difficult and trying circumstances, and especially during very discriminatory times -- which people today could have forgotten or never knew about.
It was also really fascinating hearing from veterans of different generations touching on similar themes--talking about what it means to be an immigrant, and the idea of "Americanness" in their particular era and location, straddling two cultures.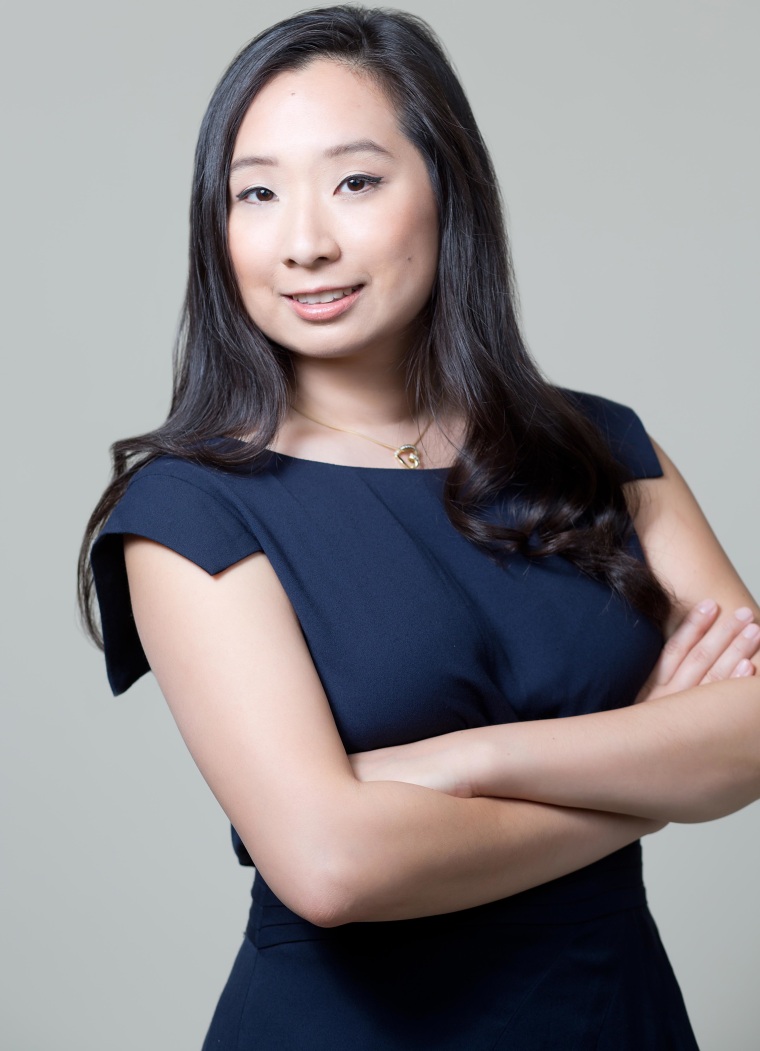 --Interview was edited for clarity and length.