Washington state Sen. Pramila Jayapal took her first oath of office last year, but she's been political for much longer than that. Joining the Washington state Senate may have been her first official political office, but she's been involved in civic life for decades as an activist for racial justice and immigrant and women's rights.
Shortly following the attacks on Sept. 11, 2001, Jayapal, a Democrat, founded Hate Free Zone, now called OneAmerica, a non-profit organization created to counter anti-Muslim backlash post 9/11. Currently, it serves immigrant communities in the Pacific Northwest, focusing on civic engagement, public policy, and community organizing.
Last week, she announced her candidacy for Washington's 7th Congressional District, a seat currently held by retiring Rep. Jim McDermott, who has represented the district since 1989 and stood next to Jayapal at the 2001 press conference announcing the founding of Hate Free Zone. Two other Democrats have announced their candidacy.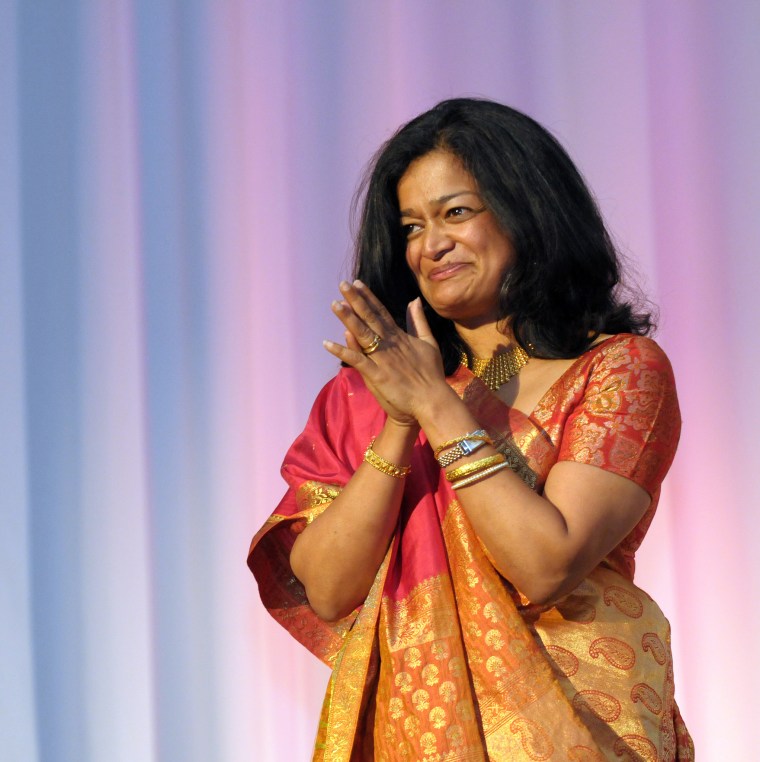 "I've spent 25 years fighting for people of color, poor folks, and really to get all of our communities to understand we're better off if we're all better off," Jayapal told NBC News. "Sometimes there's an us-versus-them narrative put out where immigrants are the them. I understand what that's like, and I understand what it means to bring people together. I'm always looking for who is disproportionately affected. Sometimes it's working class people or middle class folks. Many times, it's people of color."
Born in India and raised in Indonesia, Jayapal's parents sent her to the United States at the age of 16 to study at Georgetown University using the entirety of their $5,000 life savings, she said. After graduating, she worked as a financial analyst and earned a master's degree in business administration at Northwestern University. A year after earning her master's and working in the private sector, she became an activist.
"Coming from advocacy movements, I think I know how to create that bridge."
With OneAmerica, she led one of the largest voter registration efforts in the state of Washington, registering over 23,000 immigrants to vote, as well as pushed for the passage of the DREAM Act, which OneAmerica helped draft, according to Jayapal. Her story has inspired other immigrants and people of color to enter civic life, she said, and she hopes her candidacy will increase immigrant political engagement.
"Right now, I'm the only woman of color in the state senate," Jayapal said. "I'm bringing people along with me, and I'm providing a model of leadership for other communities of color and young women who didn't think this they could do. I think that's the amazing thing about my story. A lot of young women and men come and say 'if you can do this, I can do this.'"
As part of the Washington state Senate, Jayapal has advocated for an increase in Washington's minimum wage, free two-year community college tuition, and automatic voter registration, putting her in line with the 7th District's progressive ideals, she said.
RELATED: On the Rise: Local Republican AAPI Candidates to Watch in 2016
RELATED: On the Rise: Local Democratic AAPI Candidates to Watch in 2016
If elected, Jayapal said her core issues would be social security expansion, increasing access to education, and addressing income inequality. She also hopes to connect people more closely to their government.
"Part of the job is the platform, legislation, and policy, which I'm good at, but it's also about connecting people to government and making sure people's voices are represented in a real way by those who can advocate and then fight for those voices," she said. "I'm always looking to learn more, process the issues, and build the structures so that legislators can work more closely with movements and advocates. Coming from advocacy movements, I think I know how to create that bridge."