Gathered in a circle inside converted warehouse space in Los Angeles' downtown, several dozen Asian-American creatives — producers, directors, filmmakers, cinematographers, actors, and others — are engaged in a discussion about working in entertainment.
"Why are we even giving the Oscars any power?" Matt Chu, 23, asks. "Why are we searching for validation from the Oscars?"
Several members of the group offer input about the lack of diversity.
RELATED: Off Color: What's A 'Good Asian' Like Jenny Yang Doing on Stage
"I think that's 'cause we're born and raised in [a system where] all these things are treated like royalty and power, and comes from a system that up until five to seven years ago was the only way most of us could make a living creatively in the field, you know?" a man says. "And with technology and everything evolving so rapidly in the last five to seven years, that's no longer true."
Sitting on a red sofa at one end of the circle, Tony Award-winning poet Beau Sia admits that he had dreamed of hosting the awards ceremony when he was younger.
"Of course," he says. "Because that's the time where I get to be important and seen, and I finally matter, and I'm just like these guys, and everyone knows I am good at what I do."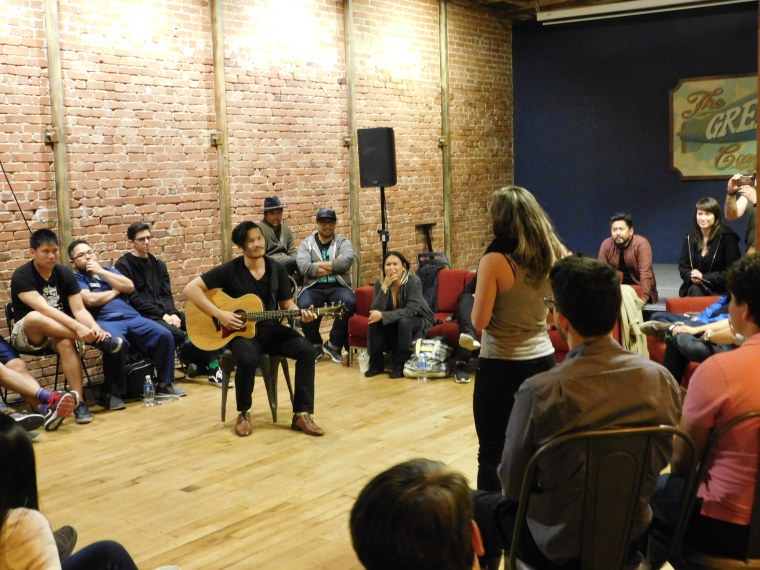 The gathering in early March was the first town hall meeting of the year for We Own The 8th, an Asian-American arts collective that convenes on the eighth of each month at The Great Company in Los Angeles.
Each year, the collective hosts three four-month seasons of events that feature different formats each session: a keynote speaker meeting, a town hall meeting, a workshop meeting, and a live show.
In February, the event featured producer and director Bernie Su, best known for "The Lizzie Bennet Diaries" and "Emma Approved," as a keynote speaker. Other speakers have included comedian Tim Chantarangsu, better known by his stage name "Timothy DeLaGhetto;" independent casting director Julia Kim, who recently cast Sundance film "Spa Night;" and content creators the Wasabi Brothers.
We Own the 8th was started in the fall of 2013 by Filipino-American actor Dante Basco, Filipino-American musician AJ Rafael, and Sia.
One of the first questions Basco asked at the first meeting with Rafael and Sia was, "Why are we the most affluent ethnic community in America, but the least represented in mainstream media, and what can we do to improve that?"
The founders of the collective didn't expect it to become what it is today, nor did they have a solid idea of what the meetings would lead to: They just wanted to bring Asian-American traditional and digital media makers together. But more and more creatives continued to show up every month, contributing ideas and collaborating.
RELATED: 'Spa Night,' Coming of Age Drama, Makes Debut at Sundance
"At the end of the day, we can talk all day and night about the issues, both real and perceived. But the only way to win is through product."
Although the monthly meetings follow a diverse range of formats, one component remains the same: Every month, a member-produced video is screened as a means of keeping the group on track with creating.
"At the end of the day, we can talk all day and night about the issues, both real and perceived. But the only way to win is through product," Basco said.
While the lack of Asian-American representation in Hollywood remains, it isn't the collective's goal to push creatives into that system. Basco says that's an occurrence that will happen on their own terms.
"I'm more interested in inspiring the community and us together creating a platform outside of Hollywood that we control as the arbiters of taste, not necessarily having it connected to a Hollywood system," he said.
One of the ways he envisions doing this is by creating a self-sustainable and viable product, with the community releasing at least one new film every month through several different production companies.
Since We Own The 8th began a little more than two years ago, it has evolved into a more structured monthly gathering that offers insights and advice from successful creatives.
"It's changed from a haphazard meeting of friends and friends of friends to a more curated meeting offering the next generation real perspectives on how to go about their journey, navigating their lives as artists," Basco said.
RELATED: The Rise, Fall, and Rise Again of MC Jin
For We Own the 8th participants, the collective provides a space of encouragement and resources that has helped propel individuals closer to their dreams by creating and collaborating with a stable of artists.
"With [We Own the 8th], I feel like I'm finally part of a scene, part of a community, part of a movement," singer Peter Su, who began attending the collective about eight months ago, told NBC News. "We're all doing our art, sharing, and helping each other bloom. It's a beautiful thing."
Su recently released an album and won the West Coast Songwriters competition for best performance in Berkeley in February, a feat he attributes in large part to the support he has received from the collective.
"The support and love, all of us going to each others' shows and events, [that's] been huge," he said. "Overall, the community is helping me to believe that I really can be a successful commercial artist, and showing me how to do it."
Follow NBC Asian America on Facebook, Twitter, Instagram, and Tumblr.