Rachel Pankratz and her husband had tickets in hand and hotels booked and were ready to travel to China on Feb. 14 to finalize their adoption of a 9-year-old girl. Working with adoption agency Chinese Children Adoption International, the Houston couple were told that as coronavirus cases increased, it was unlikely that they would be able to go. But they held out hope and didn't cancel their tickets until the last minute.
As China and other countries temporarily close their borders to international travelers to contain the coronavirus pandemic and as the State Department has issued a Global Level 4: Do Not Travel Health Advisory urging Americans to avoid all international travel, many families in the process of adopting children internationally have had their plans disrupted for an unknown period of time.
Pankratz told NBC Asian America that conditions in China unraveled quickly and then the civil affairs minister closed the orphanages to outside operations. Caregivers are still running them internally.
Full coverage of the coronavirus outbreak
"It was a wait-and-see game before Chinese New Year, because we really weren't sure how bad it was going to get," Pankratz said. "It was a mix of feelings. We are thankful that they're keeping the kids safe, but man."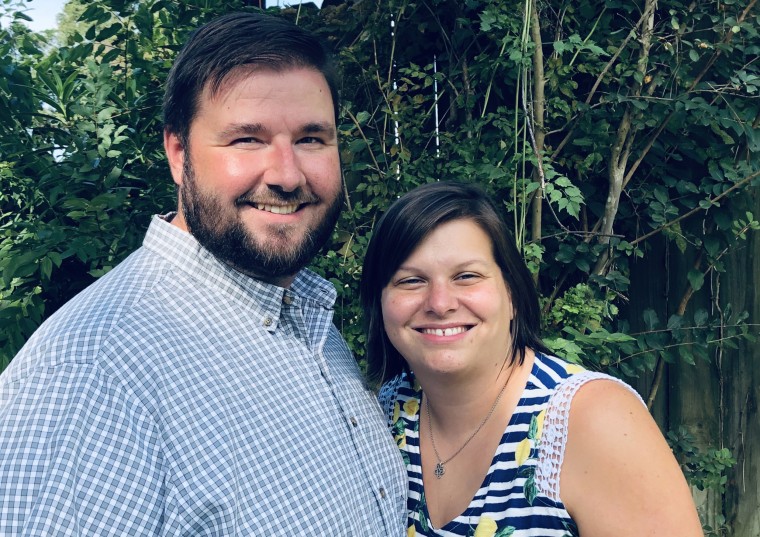 'We're nesting. We prepared his room.'
Holt International Children's Services, an adoption agency based in Oregon, said it has also been working with about 250 families in the process, from the initial application stage to those who were ready to travel and bring their children home. The agency said it has 10 families who had tickets and were ready to travel in February.
Working with Holt, Dwight Burton and Monik Kadarmanto thought they'd be flying to China's northeast Jilin province right around this time to finalize their adoption of their little boy, who will be 4 years old in July. Instead, they are getting ready to send a care package in their place.
The couple, who live near Portland, are sending a photo album and a toy for their baby, who is in an orphanage, along with a thank-you card for the caregivers who are isolating inside the location.
They are about one step away from finalizing travel plans but are delayed because of extra requirements from the U.S. government and China's new travel restrictions.
"We're nesting. We prepared his room," Kadarmanto said. "We have pictures of him on our desktop, so we definitely think of him every day."
Holt International suspended adoptive family travel to China on Jan. 30, the same day the State Department issued a travel advisory.
However, despite the temporary delay, the children are safe and being cared for.
"While it has been very disappointing to families, we are reassured that the children are not affected and the Chinese authorities quickly put in place protocols to protect the children, including no one going in or out of the orphanages, and the child care workers have stayed with the children throughout and continue to be with them," said Susan Soonkeum Cox, Holt International's vice president of policy and external affairs.
A State Department spokesperson told NBC News: "According to the Department of State's Level 4 Travel Advisory for China, we are advising all U.S. citizens, including adoptive parents, not to travel to China at this time. However, we have not placed any adoption case 'on hold.'"
Closed borders and confusion
In a Jan. 31 notice, the State Department said adoptive parents may experience difficulties in concluding the adoption process if they are traveling to, within and from China at that time. The difficulties stem from the reduction in capacity in many provincial offices due to the coronavirus, as well as the reduction in capacity at the U.S. Consulate in Guangzhou, where intercountry adoption cases are processed.
"The ability to handle cases will likely depend on the capacity in each province under the changing circumstances and on when the current situation stabilizes," the State Department spokesperson said. "The department is in regular contact with China's adoption authorities, who have been very responsive to our questions."
Even though the capacity of the U.S. Consulate in Guangzhou to provide assistance is reduced, the spokesperson said, "services to U.S. citizens and adoptive families will be prioritized to the extent possible."
"Families are encouraged to remain in close contact with their adoption agencies."
As the situation changes, capacity and advisories on both sides continue to change. On March 18, the State Department suspended routine visa services worldwide, noting that although intercountry adoption remains a high priority, visa processing for intercountry adoption might be affected by changing U.S. Embassy and consulate resources and foreign government rules. Last week, China announced a temporary ban on foreign visitors.
Pankratz had heard of a few families traveling to China before it closed its borders who had spent two weeks in quarantine to adopt older children who were aging out of the system. Because she and her husband cannot spend four to six weeks away from their other children, her husband has signed a power of attorney document so that if she has to go through quarantine, she can go alone once it becomes possible to travel to China again.
Because of the State Department's Level 3: Reconsider Travel Advisory to South Korea, Holt International has also advised adoptive families to not travel there. "We have only a few families that will be impacted by this, and their children are safe and continue to live with their foster families," Cox said.
The State Department spokesperson said: "The department currently has a Level 3 Travel Advisory for South Korea and is advising all U.S. citizens, including adoptive parents, to reconsider travel to South Korea. The embassy currently continues to process adoption cases."
In the meantime, Holt International has been raising money for masks and medical supplies to help support the orphanages they work with, Cox said.
Holt has also received requests for masks and medical supplies from its programs in South Korea, Vietnam and India and is distributing these, as well as raising funds for more.
Coronavirus and avoiding negative views of birth countries
With all the uncertainty surrounding the adoptions in this time of COVID-19, some are concerned that once the adoptions are finalized, the children may experience the same anti-Asian racism that has targeted Asian Americans and Chinese Americans because of coronavirus hysteria.
"I hope that these children don't get lumped in with the racism that Asian Americans and particularly Chinese Americans are experiencing as a result of the coronavirus," said JaeRan Kim, an assistant professor of social work at the University of Washington Tacoma who researches transracial and transnational adoption. "We know Chinese adoptees, like other Asian adoptees and Asian Americans in the United States, are experiencing racism in their schools and communities."
Now that the U.S. is facing similar travel advisories from other countries, the story of these children's adoptions will become much more complex than just the delay caused by the coronavirus.
Download the NBC News app for full coverage and alerts about the coronavirus outbreak
"I hope that the adoptive parents' adoption stories do not overly focus on the circumstances of the delays in their adoption, especially if this focus perpetuates or exacerbates anti-Chinese sentiment," Kim said.
"In the same way that adoptive parents' stories sometimes include China's former family policies as the reason for adoption, which can reinforce a Chinese adoptee's negative view about their birth country, if adoptive parents are not careful using the coronavirus as part of their child's adoption story [they] may unintentionally contribute to negative views about China, as well as reinforce a savior narrative for an adoptee."
Remaining hopeful
Pankratz said she is encouraged by China's stance and thinks it was a good move on China's part to close the orphanages, because she heard that no children in orphanages have contracted COVID-19, even though many of the children onsite are medically fragile and have special needs. Still, she said, she is hopeful that the coronavirus will dissipate with the warmer weather, borders will open up again and she will be able to complete the adoption soon.
"She turns 10 in June, so we were really hoping to have her home for her birthday," Pankratz said. "Our other daughter, they're actually one day apart, so we were hoping to have a joint birthday party for them. Now we will just have to have a bigger birthday when she comes home."
Kadarmanto and Burton are also looking toward summer and remaining hopeful. They say Holt has been supportive, keeping them informed and connecting them to other adoptive parents.
"The global scale of this virus kind of does allow it to be more than about us," Kadarmanto said. "The opportunity that we have to sew masks or give to food banks has taken our grief beyond ourselves, and we can look outward."