The U.S. Census Bureau predicts that by 2060, 57 percent of the United States will be made up of people of color, but how prepared is the country to deal with a majority-minority United States?
That's the question Indian-American racial-justice activist Deepa Iyer sought to answer in her new book, "We Too Sing America: South Asian, Arab, Muslim, and Sikh Immigrants Shape Our Multiracial Future," which was released in November. The book covers various hate crimes and the overt racism Muslims and Sikhs have faced post 9/11, spotlighting accounts of how ill-equipped the country is to embrace these fast-growing immigrant communities in today's political climate.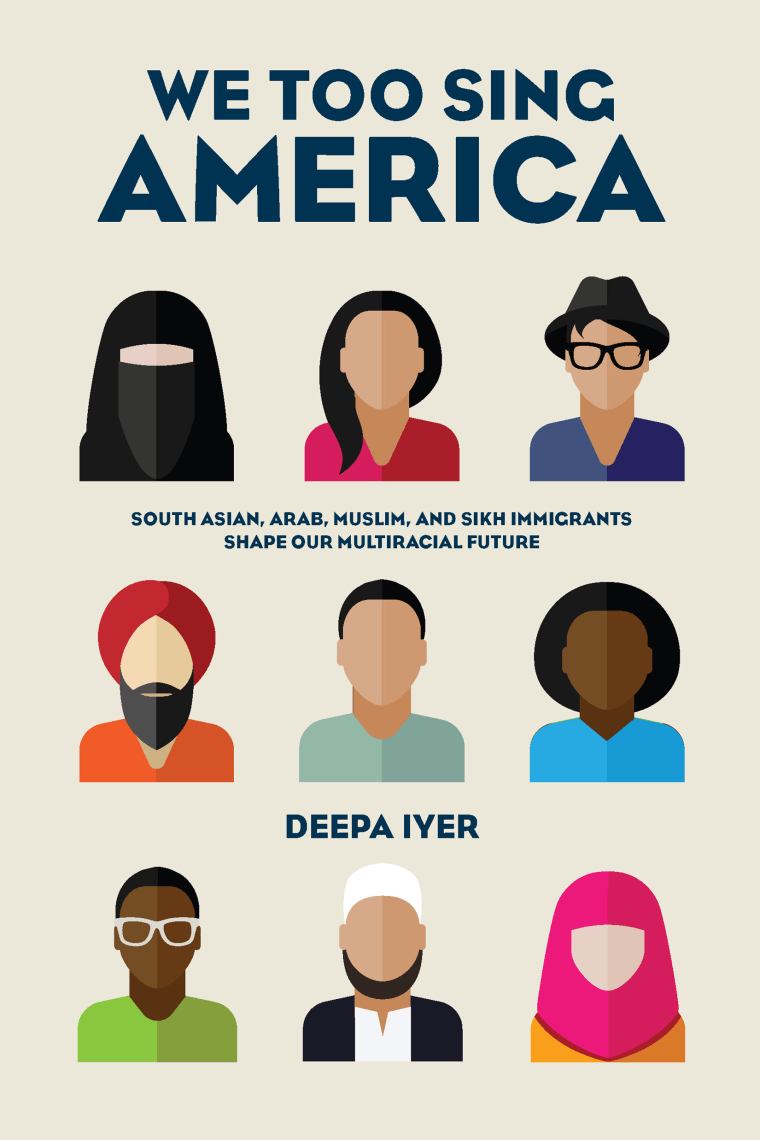 Iyer writes about the problematic nature of government programs like the National Security Entry-Exit Registration System (NSEERS), which required male non-citizens to regularly report to government authorities, the aftereffects of the Oak Creek Massacre in Wisconsin, the lives of undocumented youth in the Sikh community, and Islamophobia in places as varied as New York City and the Bible Belt.
RELATED: Oak Creek Community Marks Two Years Since Sikh Temple Shooting
RELATED: After 9/11, Minorities Bear Burden of Proving their Patriotism
Iyer, a trained lawyer and former executive director of South Asian Americans Leading Together (SAALT), combined personal narratives of landing in Kentucky from Kerala, India, as a teenager with her professional experience as a community leader and meticulous research and reporting to write "We Too Sing America."
In an email interview with NBC News, she talks about the purpose behind writing the book and how she hopes it will contribute to ending systematic racism.
Why did you decide to write this book? What issues do you hope it will bring to light?
I wrote the book for a range of reasons, but the foremost one was to document the lived experiences of South Asian, Arab, Muslim, and Sikh immigrants in post 9/11 America. Many of us have an incomplete or even sanitized understanding of the policies, perceptions, and practices that have shaped life in the United States over the past 14 years. I hope that this book will open up issues related to anti-Muslim sentiment, xenophobia, and national (in)security — especially given the current environment in our country which is seeing a resurgence of similar attitudes and policies.
Who will be able to relate to it?
I've been hearing from a range of people around the country who have been reading the book. They include young people, especially students from the communities the book focuses on, but also school teachers, organizers and activists, policymakers, and scholars. The common responses I often get about the book are that it fills in many gaps in knowledge about these communities and post-9/11 America, while also providing calls to action on how we can build more inclusive and equitable classrooms, neighborhoods, and workplaces.
How did your own immigrant background influence the writing of this manuscript?
I moved to Kentucky from Kerala (India) when I was 12, where the concept of race is often organized around a Black or white binary. I went through periods of racial identity confusion, often the result of experiences of being bullied and feeling like an outsider. My point of entry to civil and immigrant rights work, and more recently, to my book has been as an immigrant and a woman of color. I wanted to lift up stories of people like Drost — a Muslim woman who is a Kurdish refugee and what it was like for her to be displaced and settled in Tennessee and grow up as a Muslim in the Bible Belt.
How has 9/11 changed America and its views on immigration?
Before the attacks of 9/11, immigrant rights advocates were at the cusp of potential advances around comprehensive immigration reform legislation. September 11th changed the landscape altogether. In addition, in the wake of the attacks, the federal government used immigration policies as a way to preserve national security. The Bush Administration tightened immigration policy and put into place several initiatives that sought to identify, interrogate, detain, and deport people from particular countries in the Middle East and South Asia. The notion of protecting our borders from potential terrorists became enhanced after the 9/11 attacks.
The undocumented youth movement is mentioned quite a lot in the book. Please explain what it is.
Undocumented youth have been leading the immigrant rights movement by taking significant personal risks. In the book, I include the stories of undocumented youth such as Yves Gomes, Hina Naveed, and Bupen Ram. They are holding the immigrant rights movement accountable to their own communities through their own stories and experiences as South Asian undocumented youth. They are also identifying the unique effects of being excluded along various identity intersections, such as class or sexual orientation and immigration status.
How can various communities of color work together for social change and racial justice?
As our country becomes one in which people of color become the majority population, it becomes even more critical for us to work together to end systemic racism. I write that for South Asians in particular, the path to true intra-community unity and to solidarity with other communities of color must start with our rejection of narratives of cultural exceptionalism, i.e. "we are all Spelling Bee champions and Silicon Valley entrepreneurs." We must also decline the invitation to climb the racial ladder — what scholars call the "racial bribe" — towards honorary whiteness. We must be prepared to dismantle the racial hierarchy by addressing anti-Black racism in our own communities. Last, we must be co-conspirators (in the words of Dante Barry, the director of Million Hoodies United, and who is quoted in the book) in today's struggles for racial justice.
This interview has been edited for length and clarity.