In the wake of the recent San Bernardino mass shooting and Paris attacks, 30 women have come together in solidarity to learn to protect themselves as Muslim communities continue to face growing fallout.
"I want to voice through these classes that as Muslim women, we will not be victims."
Mariana Aguilera and Amirah Aulaqi creators of two modest fashion companies, The Demureist and Amirah Couture Inc., have taken matters into their own hands by fashioning self-defense classes for Muslim women in New York City. The mission of the classes is to be proactive. Aguilera and Aulaqi say they are tired of the mounting Muslim malevolence permeating the U.S., which includes threats and harassment faced by Muslim Americans.
The training provides instruction on how to safeguard against possible attacks while enriching women's lives through unity and empowerment.
"We have heard stories from so many different Muslim women about being harassed, attacked, and hurt all over the country," Aulaqi told NBC News. "We knew it was extremely important to do something locally for women who we can reach as well as inspire others in different cities to do the same."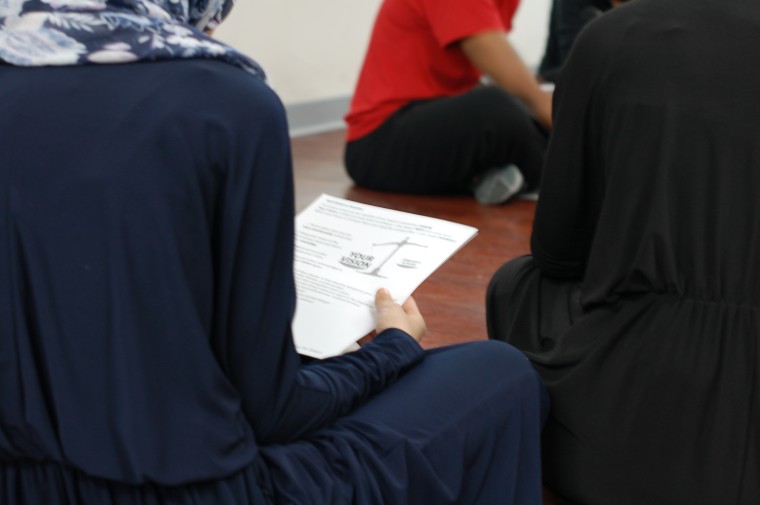 The first class, which took place Saturday in New York City, was in part prompted by a string of incidents this year that saw Muslim women wearing hijabs as the primary target, from a public attack in an Indiana cafe to alleged harassment by a postal worker in Brooklyn.
Aulaqi has worn a hijab since she was eight years old, and says it is a part of her identity as a Muslim-American woman. "I started wearing the scarf as a symbol of strength and beauty from my mother," Aulaqi said. "It's not about being safe by being invisible. It's about continuing to do the things you love passionately and publicly without the fear of losing your life."
RELATED: Indiana University Student 'Dismissed' from School After Attack on Muslim Woman
Saturday's class was led by self-defense instructor Nicole Daniels, who taught the participants a variety of techniques to defend themselves during violent encounters, which included voice projection and using an open palm when striking a possible attacker.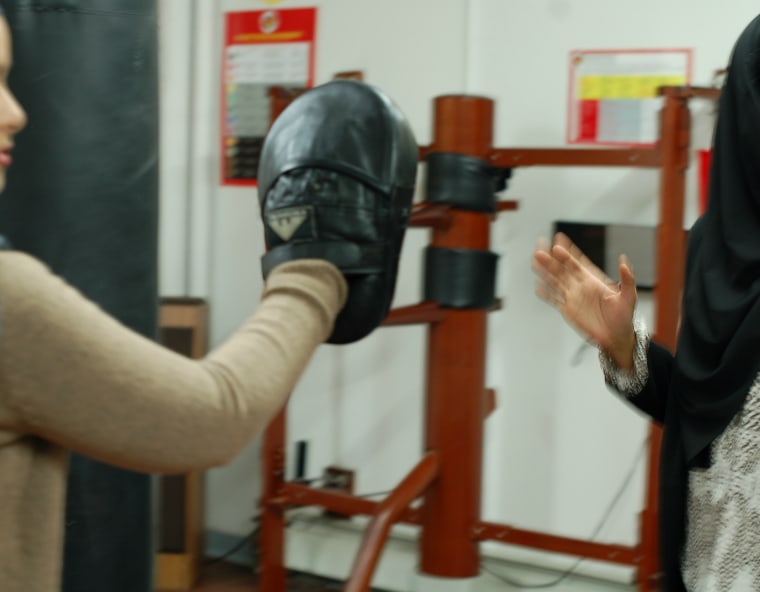 "I want to voice through these classes that as Muslim women, we will not be victims," Aguilera told NBC News. "We will not wither away our identity. We want to preserve our constitutional choice to practice our faith without prosecution."
RELATED: Leaders Warn Against Stereotyping and Backlash After San Bernardino Shooting
Aguilera and Aulaqi say the popularity for the class is growing, and they've scheduled a second class already. The duo also say that requests are also pouring in from schools and individuals looking for instruction on how to host classes in their local areas.
"It was really impacting to be in the same room with you," Aguilera and Aulaqi wrote on Facebook following the first class, "and know we're supporting each other—that in itself was emotional and empowering."