The Lunar New Year is a time for family togetherness and reflection, so to welcome the new year, NBC Asian America asked five chefs across the United States for recipes that reminded them of home.
From Lunar New Year staples like dumplings and cut chicken to dishes that the chefs' parents made at home, try these recipes throughout the new year.
Mark Fuller, Executive Chef and Co-owner of New Luck Toy in Seattle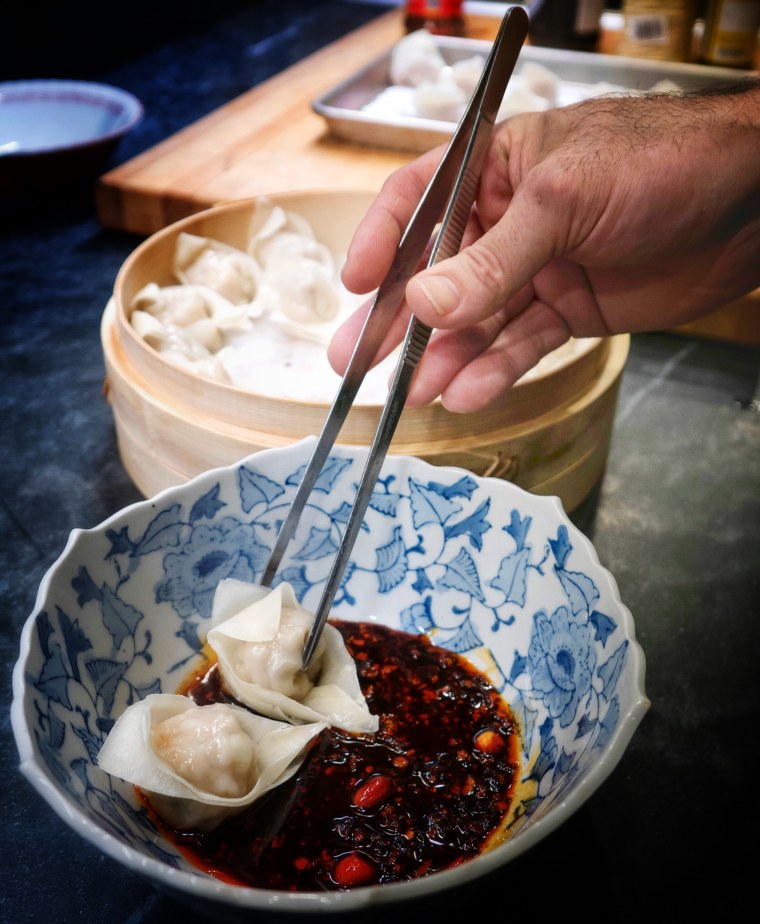 "For over a decade, my wife and business partner Marjorie Chang Fuller and I have folded egg rolls and dumplings every Lunar New Year," Mark Fuller, the multiracial co-owner and executive chef of New Luck Toy in Seattle, told NBC News. "This tradition started with Marjorie as a child growing up first generation Chinese."
The chef, who was born in Hawaii and also owns Ma'ono Fried Chicken and Whisky in Seattle, said he is extending the tradition to his children.
"In her family, the fillings would be prepared by the adults but the folding of egg rolls and dumplings were the children responsibilities," he said. "They would be served along side many other dishes in celebration of the new year. Marjorie and I have continued this family tradition every Lunar New Year."
Pork and Shrimp Dumplings with Spicy Sauce
Equipment
Ingredients
Dumpling Filling
1 pound ground pork
1 pound white prawns, raw peeled and deveined with tail removed
2 teaspoon cornstarch
2 teaspoon garlic, grated on a microplane or chopped fine
2 tablespoon scallions, sliced thin — plus extra for garnish
2 teaspoon ginger, grated on a microplane or chopped fine
1/4 cup bamboo shoots, minced
6 tablespoon water chestnuts, chopped
1 tablespoon kosher salt
1/8 teaspoon white pepper
3 tablespoon oyster sauce
2 tablespoon shaoxing cooking wine
Spicy Sauce
Makes 2 cups
7 ounce jar Laoganma brand fried chili in oil or similar
1/2 cup soy sauce
1/4 cup black or balsamic vinegar
1/4 cup sesame oil
Method
In a large bowl, combine all of the dumpling filling ingredients and mix well. Refrigerate for 20 minutes.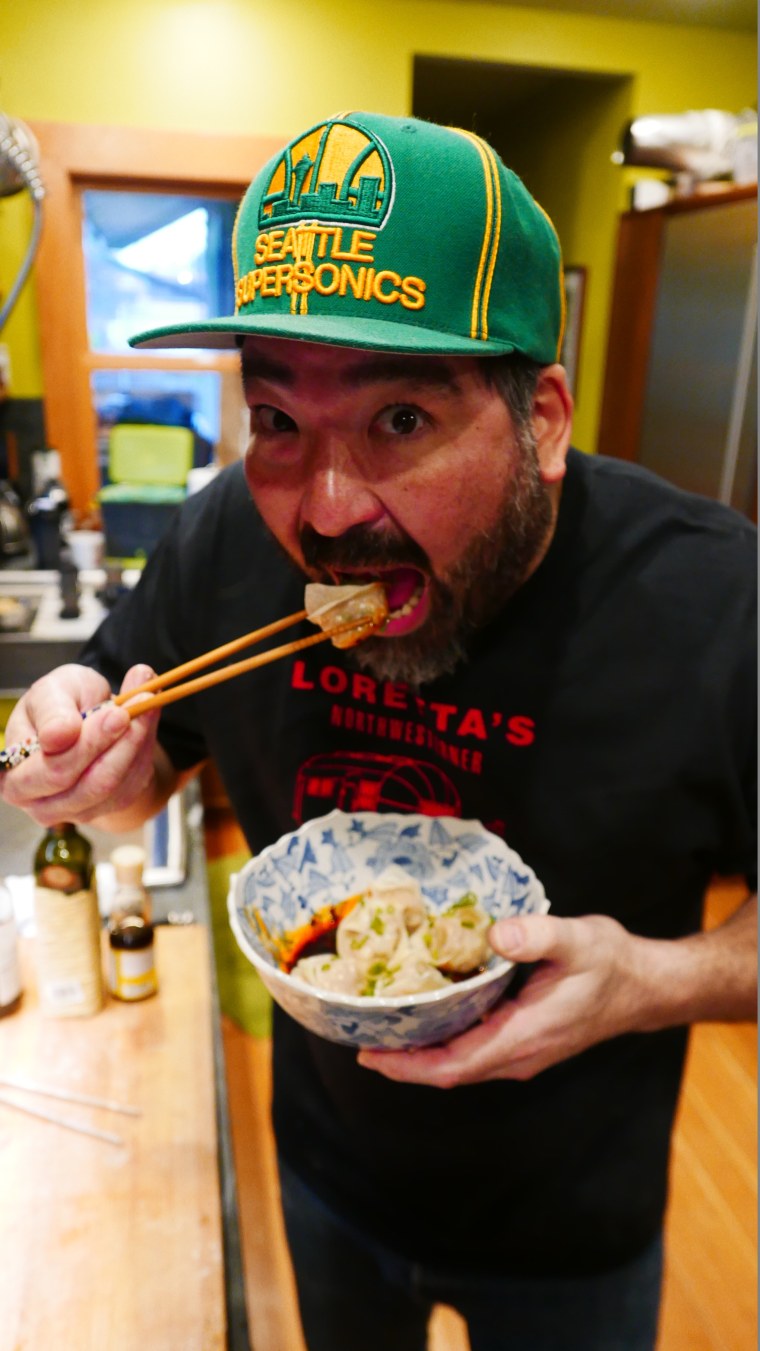 Set up a pot filled one-third of the way full with water. Bring the water to a boil and keep covered with the steamer lid. Keep the steamer baskets separate and line them with steamer basket liners or cabbage leaves. Once the filling has been chilled, place four to six dumpling wrappers one half inch apart on your counter or cutting board.
Place approximately one tablespoon of filling on the center of each wrapper. Spray the open dumplings with a mist of water, then fold each dumpling. Arrange the folded dumplings side by side in the lined baskets. Stack the baskets over the boiling water and cover with the lid. Steam for 12 minutes.
For the sauce, combine all the ingredients in a large bowl and mix well. Place the sauce in the bottom of your serving bowl and arrange the steamed dumplings on top of the sauce. Garnish with thinly sliced scallions, or serve on the side for dipping.
Hieu Than, Owner of kin in New Orleans
"[This dish] is our very first dish at kin," Hieu Than, owner of kin in New Orleans told NBC News. "It was a dish that my colleague Nate Nguyen and I felt was indicative of our kind of food."
"The version we ended up serving at kin was an adaptation of a dish I remember fondly as a child," he added. "My mother and I used to visit the local Asian farmer's market every Saturday morning to acquire groceries for our Sunday meals. At the market were always vendors who sold banh mi and rice-based desserts as well as a dish of soy braised chicken atop glutinous rice. My mother would always buy a sandwich and a chicken and rice dish for me to eat when we returned home. This was because she would head to work afterwards and those items were my meals for the day. It's a really humble dish with common ingredients, and is the kind of food I associate with the food identity of my childhood."
Kin Hen and Grains
Makes 8 servings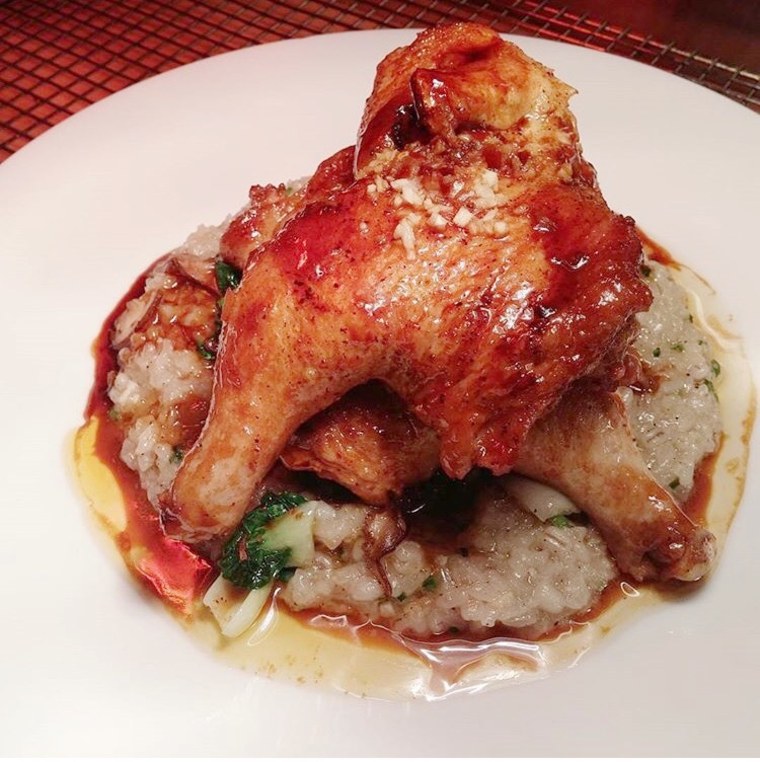 Ingredients
Hens
8 1-pound Cornish hens
black pepper
Ginger Oil
Makes 1 cup
1/4 cup cup finely diced ginger
1 cup neutral oil
Dashi
Makes 1 and 1/2 quarts
1 ounce kombu
3 dried shiitake mushrooms
Stems from 1 pound shiitake mushrooms, caps sliced and reserved for pick-up
2 quarts water
Tare
1/4 cup soy sauce
2 tablespoons mirin
2 tablespoons rice vinegar
1/4 cup sake
Saté
Makes 1 cup
2 tablespoons finely diced shallots
2 tablespoons finely diced garlic
1 tablespoon fish sauce
1 tablespoon red pepper flakes
2 teaspoons cayenne
1 teaspoon paprika
1 cup canola oil
Rice and Barley
1/2 cup barley
1 and 1/2 cups sweet brown rice
1/2 tablespoon vegetable oil
2 tablespoons finely diced garlic
2 tablespoons finely diced shallot
3 and 1/2 cups dashi
1 teaspoon salt
1 teaspoon pepper
Garnish
Vegetable oil
1 tablespoon finely diced garlic
1 tablespoon finely diced shallot
1 pound baby bok choy, cleaned and halved lengthwise
1 tablespoon butter
Salt
Black pepper
Method
Preparation
Hens
Debone hens by removing wing tips and rib cage, leaving only leg bones and drumstick of wing intact. Reserve bones for Tare. With paper towels, pat hens dry and season with pepper.
Ginger Oil
In a plastic container, steep ginger in oil overnight. Make sure to stir before using.
Bok Choy and Shiitake Mushrooms
In cold water, soak the bok choy for 10 minutes to loosen any dirt. Remove from bath and dry. Slice mushroom caps into 1/4-inch thick strips.
Dashi
In a large sauce pot, combine kombu, dried shiitakes, reserved shiitake stems, and water; bring to a simmer. Remove from heat, steep 30 minutes, strain, and cool.
Tare
Heat oven to 350 degree Fahrenheit. In a heavy pan, roast 1 pound reserved hen bones for 25 minutes, until golden brown. Remove pan from oven, add remaining ingredients plus 3/4 cup of dashi and simmer over low heat for 1 hour. Remove from heat, strain, and cool.
Saté
In a heavy pan, combine all ingredients and steep over low heat for 10 minutes. Remove from heat.
Rice and Barley
In a mixing bowl, combine barley, rice, and 3 1/2 cups dashi. Soak 30 minutes. In a saucepan with oil, sweat garlic and shallot. Add the rice-barley-dashi mixture to the saucepan. Add water so grains are covered by 1/2 inch. Add salt and pepper, stir, and cover. Over medium heat, cook 30 minutes. Remove from heat and rest 5 minutes before removing lid.
To assemble and serve, heat oven to 475 degrees Fahrenheit.
In a large cast iron skillet over medium heat, add a thin film of oil. When oil begins to smoke, place hen halves, skin side down and allow skin to brown for one minute.
Remove the pan from heat and cover hens with foil. Transfer the pan to the oven and cook for 13 minutes until internal temperature taken from thigh reaches 165 degree Fahrenheit. Remove from oven and place pan on the stove over medium heat.
Add 1 tablespoon of Tare per hen and simmer. Using a basting brush, glaze hens on both sides until well coated. In a separate heavy pan over high heat, add a thin film of oil. When the oil begins to smoke, add reserved shiitake caps and allow them to brown before stirring. When golden, add bok choy, garlic, and shallots. Season with salt and pepper. Add butter and toss until bok choy is cooked al dente and butter has completely melted. Onto the center of a serving plate, place a bed of rice and barley. Top with bok choy and mushrooms followed by hen. Finish with pan sauce, sate, and ginger oil.
Helene An, Executive Chef of the House of An Restaurant Group in California
"Lunar New Year is a time when our busy family pauses to celebrate tradition, to honor family and ancestors, and reminisce about family stories while cooking together," Helene An, executive chef and matriarch of the House of An family, told NBC News.
"Food is the heart of Lunar New Year for us: red coconut rice made with the Gac superfruit for good luck, banh trung (sweet rice cake wrapped in banana leaves fill with mung bean, pork and eggs) for prosperity, and black angel hair seaweed noodle soup to celebrate longevity," An added. "My house fills with visitors and well-wishers, and the kitchen bubbles with aromatics and laughter and joy. I have many fond Lunar New Year memories cooking with my daughter Jacqueline, and love that she has continue that tradition by bringing her boys in the kitchen with us."
Mama's Beef Pho
Reprinted with permission from "AN: TO EAT" © 2016 by Helene An and Jacqueline An, Running Press, a member of the Perseus Books Group.
Makes 8 servings
Ingredients
Pho
2 pounds (2-inch thick) beef brisket or sirloin steak, cut in half to fit into the pot
2 teaspoons salt, divided
3 quarts Pho Beef Broth (see below)
3 whole star anise
1 larg­e white onion, charred and then peeled (see note below)
1 3-inch piece fresh ging­er, charred and then peeled (see note below)
1 teaspoon su­gar
2 (14-ounce) packa­ges flat rice stick (bánh pho) noodles (see note below)
4 teaspoons fish sauce, or more or less depending­ on your personal preference
½ lar­ge red onion, thinly sliced
1 cup chopped scallions (from about 2 bunches)
1 cup chopped fresh cilantro leaves (from about 2 bunches)
1 teaspoon freshly g­round black pepper
Herb Platter
Fresh Thai basil leaves
Fresh bean sprouts
Fresh culantro (n­gò g­ai ) leaves
2 limes, each cut into 8 pieces
4 serrano or jalapeño peppers, thinly sliced
Chili sauce (optional)
Hoisin sauce (optional)
Method
Put the brisket in an extra larg­e stockpot and add water until the meat is covered. Add one teaspoon of the salt and bring­ the water to a boil. Boil for three minutes, then strain the meat and rinse it well with cold water. Discard the liquid and rinse the pot.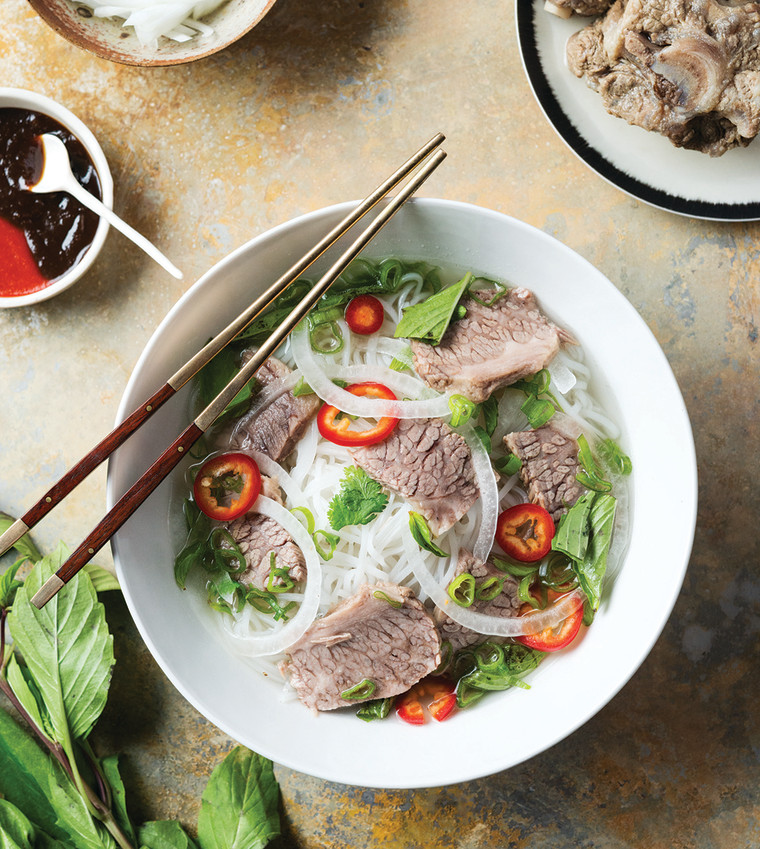 Return the brisket to the clean pot and add the beef broth and one quart of water. Bring the liquid to a boil over medium heat, skimming the surface often to remove any fat, froth, and impurities. Continue to cook until most of the impurities are ­one and the water is almost clear, 15 to 20 minutes.
Add the star anise, charred onion, and ­ging­er to the pot and bring­ the mixture back to a boil. Boil for 15 minutes, reduce the heat to low, and simmer for 1 hour. Add the remainin­g teaspoon of salt and the sug­ar and cook for another 30 minutes to meld the flavors.
Remove the brisket from the pot and transfer it to a plate to cool. Once it is cool to the touch, cover the brisket and place it in the refri­gerator.
Note: To store the brisket at this point for use later in the day or the next day, place it in a large airtight container. Let the broth come to room temperature, pour it over the brisket, then cover the container and store it in the refrigerator. This will infuse the brisket with flavor and keep it from drying out.
Remove and discard the star anise, charred onion, and ­ging­er from the broth. Strain the broth through a fine-mesh sieve to remove any impurities. The pho broth should be clear. If it is not, strain it a­gain.
About 30 minutes before you are ready to serve the pho, soak the rice noodles in warm water for 15 to 20 minutes, then drain. Meanwhile, slice the brisket paper thin ag­ainst the ­grain into about 1⁄8-inch slices, and set aside.
When you are ready to serve, bring­ a larg­e pot of salted water to a boil over hi­gh heat. Add the noodles and cook them until al dente, 20 to 30 seconds. Drain and rinse the noodles very well with cold water, then quickly rinse them with warm water to remove any remainin­g starch, and then strain the noodles. Divide the noodles evenly among­ ei­ght serving­ bowls. Place the brisket slices on top of the noodles. Add the red onion slices on top of the brisket.
Bring­ the broth back to a boil and stir in the fish sauce. Ladle the boiling­ broth over top of the sliced meat to fill each bowl. Top each serving­ with scallions, cilantro, and a pinch of black pepper. Serve immediately with the herb platter on the side.
Charring Onions and Ginger
Charring brings a wonderfully smoky and sweet flavor to dishes, especially soups. Onions and ginger—and other vegetables, such as garlic—may be charred on the stovetop or in the oven. Once the vegetable is charred, peel and remove its blackened skins and rinse it before adding to your dish.
To char on the stove: Turn a gas or electric burner to medium-high heat. Using tongs, hold an onion or piece of ginger directly over the burner for about 5 minutes, rotating until all sides are blackened. Repeat for each onion and/or piece of ginger. You can also set the onions and/or ginger on a rack set directly on top of the gas or electric burner to cook more of them at once. Just be sure to keep rotating the vegetables for even charring.
To char in the oven: Move a rack up to the highest position in the oven and preheat the oven to 450°F. Cut the onions in half. Put the onions and the ginger on a baking sheet on the top rack. Cook until the tops of the vegetables turn slightly black, about 5 minutes. Turn the onions and ginger over and repeat.
Homemade Beef Pho Broth
My mother's beef broth is great for any number of recipes, including M­ama­'s Beef Pho. If you're not going to use the broth within 2 hours of cooking it, you c­an refrigerate it or freeze it. It will keep in an airtight container in the refrigerator for three to four d­ays a­nd in the freezer for four to six months. If you need more or less broth, you ca­n sca­le the recipe ­accordingly.
Makes about 6 quarts
4 pounds beef knuckle bones
2 pounds beef oxtail
¼ cup plus 1 tablespoon sea salt, divided
5 whole star anise
1 (3-inch) cinnamon stick
2 black cardamom pods
20 black peppercorns
2 lar­ge white onions, charred and then peeled (see note above)
1 (4-inch) piece fresh g­ing­er, charred and then peeled (see note above)
6 tablespoons (70 ­grams) rock su­gar
Put the beef knuckle and oxtail in a very large stockpot and add water until the bones and meat are covered. Add 1 tablespoon of the salt. Bring the water to a boil and cook for five minutes. Drain the oxtail and bones and rinse them well under cold water. Discard the liquid and rinse the pot.
Return the bones and oxtail to the pot and add six quarts of water. Bring the water to a boil over medium heat, skimming the surface often to remove any fat, froth, and impurities. Continue to cook until most of the impurities are ­one and the broth is almost clear, about 15 to 20 minutes.
Meanwhile, in a small, dry skillet over medium heat, lightly toast the anise, cinnamon, cardamom, and peppercorns. Cook until slightly browned and fragrant, about three to five minutes. Remove from heat and carefully wrap the spices in cheesecloth to make a pouch.
Add the spice bag, charred onions, and ­ginger to the pot of beef broth. Boil for 15 minutes, then reduce the heat to low and simmer uncovered for two hours.
Add the rock sugar and salt and continue to simmer uncovered for one hour, checking the pot periodically and skimming off any remaining fat or froth that floats to the top.
Remove and discard the bones. (If you wish, you may save any meat remaining on the bones to use in another dish. We save the oxtail meat to eat with beef phew) Remove and discard the spice pouch, onion, and ­ginger. Strain the broth through a fine mesh colander to remove any impurities. The broth should be clear. (If it is not, strain it again.)
Variation: For a basic beef broth, omit the star anise, cinnamon, and cardamom.
Angela Dimayuga
"I love this dish because its a blend of a lot of things I love: Filipino garlic rice, and umeshiso handrolls you can get for yourself at the end of a sushi omakase meal. I love the brightness of the copious amounts of shiso, and the salty sourness of the umeboshi which balances the dish. Tastes really great with a lot of other complex flavors, and one of my favorite items on our menu at Mission Chinese," Angela Dimayuga, executive chef at Mission Chinese Food, told NBC News.
Ume Shiso Fried Rice
Serves four people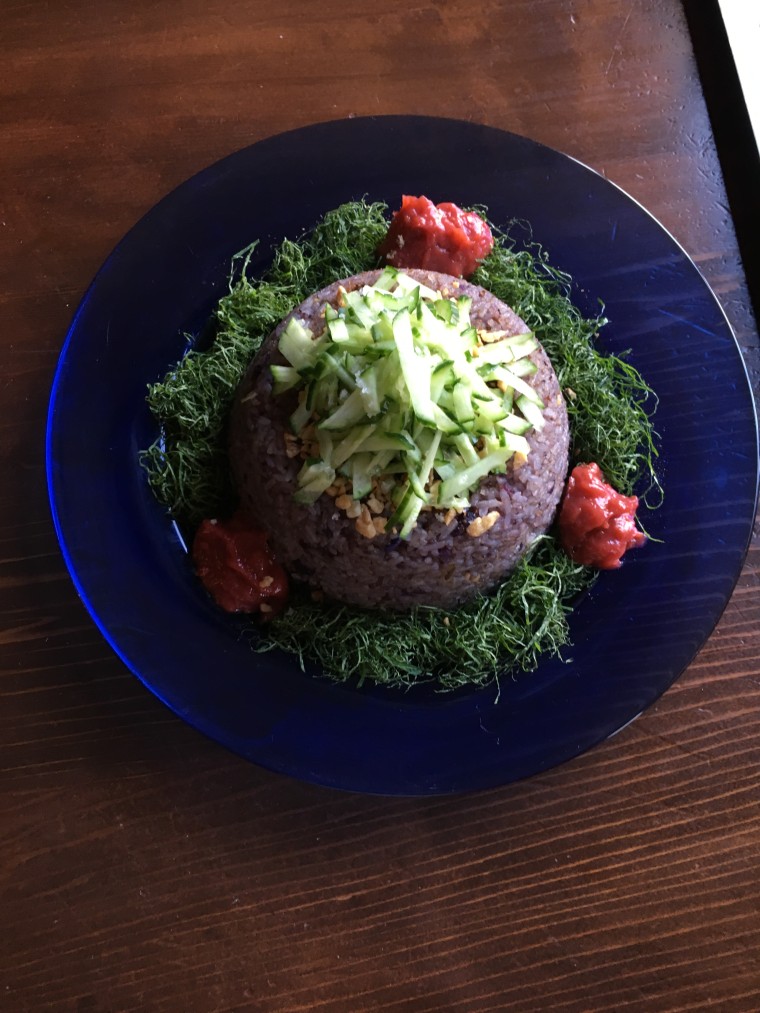 Ingredients
2 tablespoons butter

1 close of garlic, smashed

1/2 purple sweet potato, steamed and crumbled into chunks

1 quart steamed jasmine rice

1 teaspoon grapeseed oil

6 pieces umeboshi, pitted and chopped into a coarse paste

12 shiso leaves, finely julienned into hairs

1/4 cucumber, julienned

1 tablespoon fried garlic

salt to taste
In a small saucepan, melt butter with garlic over low heat until softened, about 5 minutes, then remove from heat.
In a hot wok or large sauté pan, add grapeseed oil and butter and softened garlic. Add rice, sweet potato, and salt to season. Gently mix to incorporate thoroughly.
Transfer rice to a large plate, and garnish with fried garlic, followed by cucumber (first so you don't brown your herbs too quickly) and shiso. Scatter small amounts of the umeboshi over the rice. Serve as is, and stir thoroughly right before eating!
Ryan Wong, Chef-Owner of Needle Noodle Shop in Los Angeles
"White cut chicken is a classic dish served on most tables during the Lunar New Year," Ryan Wong, a chef in Los Angeles who most recently worked at Otium, told NBC News. "It's often a family favorite. It is served whole with the head and feet symbolizing prosperity, togetherness of the family, and joy. The dish is simple and delicious. Plus, the resulting broth from poaching the chicken can be made into a soup!"
White Cut Chicken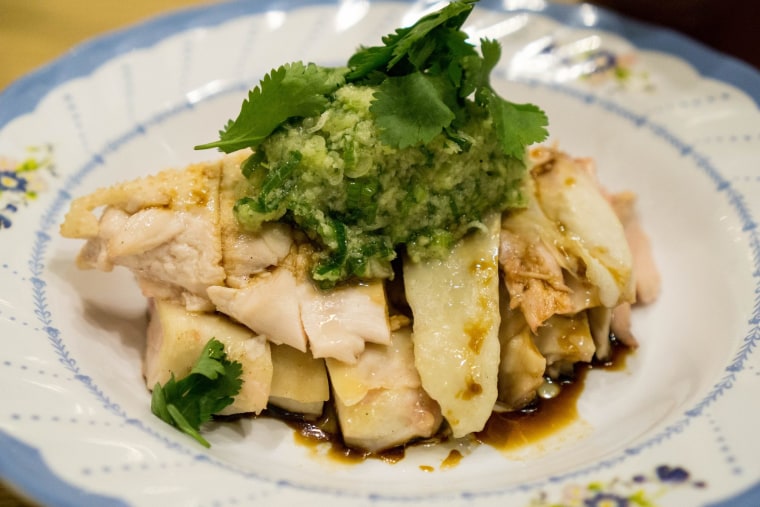 Ingredients
Chicken
1 chicken, whole
1 onion, large dice
1 carrot, large dice
3 stalks scallions, cut into three-inch pieces
1 nub ginger, one-inch piece
5 cloves garlic
1 tablespoon white peppercorn
4 tablespoon sea salt
4 quart water
Ginger-Scallion Sauce
5 stalks of scallion, chopped
5 tablespoons ginger, minced
3 tablespoons canola oil
Sea salt to taste
Method
Rub salt onto the skin of the chicken lightly with your hands to scrub the exterior, then rinse it under running water to clean.
Place all of the aromatics, pepper, and sea salt into a stock pot, then place the chicken on top. Cover with the four quarts of cold water and turn your burner to medium heat.
Once the water begins to simmer, turn the heat to low. Continue to poach the chicken for an additional 25 minutes. Once the chicken is cooked, immediately submerge it in ice water to stop the cooking and set the skin.
After chilling for 10 minutes, remove the chicken from the water and brush with sesame oil to give the chicken a glossy shine. Set aside at room temperature until ready to serve. Cut chicken into pieces and serve with ginger-scallion sauce.
For the ginger-scallion sauce, mix the ginger, scallion, and salt together in a heat-proof bowl. Heat the oil in a pan over high heat until smoking. Slowly pour the hot oil over the ginger-scallion mixture. Stir and set aside.
Shirley Chung, Chef and Partner at Twenty Eight in Orange County, California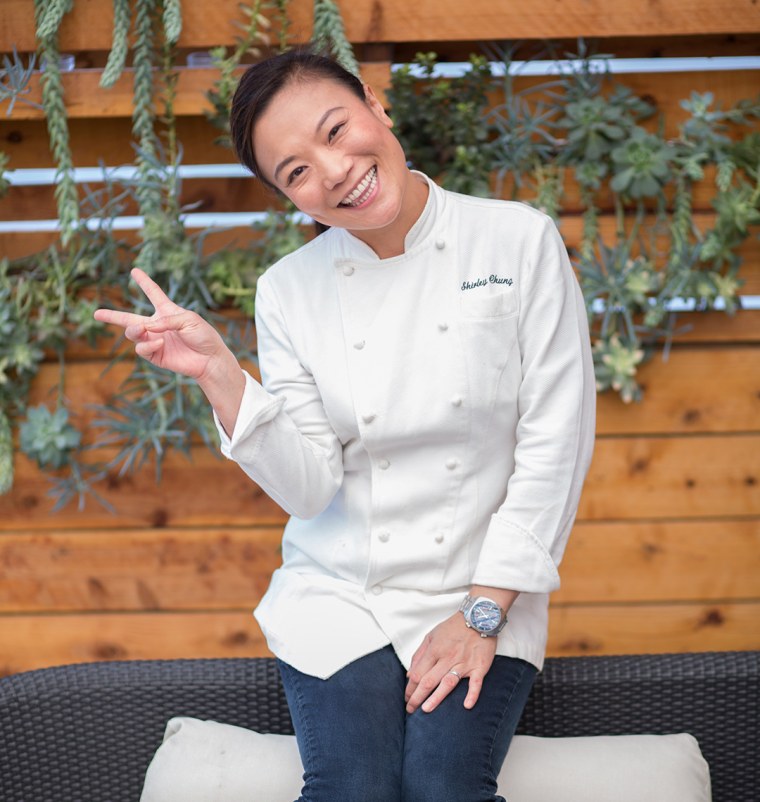 "I am from Beijing, China, one of the most important traditions to celebrate Chinese New Year in Northern China is to eat JiaoZi, a half-moon shaped dumpling, at midnight to ring in the New Year," Chung told NBC News. "On Chinese New Year, the whole family gathers together and folds JiaoZi. It represents the togetherness of a family and brings luck and prosperity. I have been helping my mom and grandma on Lunar New Year Eve since I was 5. And I am keeping this tradition rolling by sharing this experience with my culinary family every year."
Happy Family JiaoZi
Ingredients
Filing
1.1 pounds of ground pork
2/3 pounds of ground shrimp
2/5 pounds of shiitake mushrooms
2 teaspoons ginger
2 tablespoons oyster sauce
2 tablespoons Shaoxing cooking wine
4 teaspoons salt
2 tablespoons aged soy
2/5 pounds chicken stock
3 tablespoons sesame oil
Wrapper
1.1 pounds unbleached all-purpose flour
1/2 pound room temperature water
1 teaspoon salt
1/2 cup corn starch for rolling the wrapper
Method
Filling
Mix the pork and rock shrimp, then slowly stir in the liquid ingredients except for the sesame oil. Once well-mixed, add the vegetables and salt. Stir the oil in last.
Wrapper
Mix the all-purpose flour, water, and salt in a mixing bowl. Knead until the dough is formed and smooth and shiny on the outside. Rest the dough for 30 minutes, and then portion the dough into 15-gram small balls. Using a small rolling pin, roll the dough into wrappers.
To fold the JiaoZi, put about one tablespoon of filling in the center of a round wrapper. Fold the wrapper into a half-moon shape and pinch the dumpling shut.
In a large pot, heat up six quarts of water. When the water comes to a boil, drop in the dumplings. Don't cook too many at a time, make sure dumplings are not too crowed in the pot. When the water comes back to boil, add about one cup of cold water in the cooking water. Repeat this process one more time, the dumplings should be floating on top of the water, and they should look a little chubbier than before. Now take out the dumplings from the cooking water with a slotted spoon, put them on a plate, serve with the dipping sauce on the side.
Follow NBC Asian America on Facebook, Twitter, Instagram and Tumblr.
RELATED