At the high schools run by Democracy Prep Charter Schools, the student body is primarily African-American and Latino — and completely learning Korean.
This isn't a rarity in their schools. After teaching English in South Korea, Democracy Prep founder Seth Andrew designed a program around Korean educational values — values that he believes were responsible for South Korea's economic renaissance. His system now includes 19 schools around the United States, many of which incorporate the Korean language in their curricula.
The multicultural approach is essential to the schools: "Our mission is to have kids change the world, and they can't change it if they can't see it," John Lindquist, assistant principal at the Democracy Prep Charter High School in New York City, told NBC News. In addition to the Korean program, the school hosts trips around the world, allowing students to see up to five continents before they graduate. Ranging from service trips in Ecuador to historical tours in France, these trips help students, many of whom are from low-income households, gain cultural experience beyond their immediate communities, the school said.
Of the trips, the junior year trip to South Korea remains a constant. "By then, they've been taking Korean for two years and they have at least a decent grasp to make good use of it in South Korea," Lindquist said.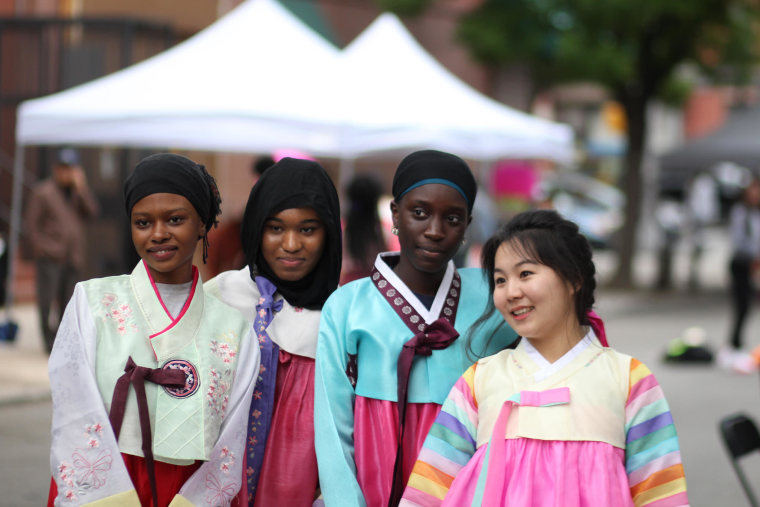 Every year, Democracy Prep Charter High School participates in a cultural exchange with the Gyeongju, South Korea-based Seondeok Girls' High School. Democracy Prep students are given time to explore South Korean culture and interact with Korean students their age. A few months later, the girls' high school travels to New York, allowing the two schools to participate in a Manhattan-based scavenger hunt called "Democracy Prep Amazing Race." This year marked the third rendition of the program.
Democracy Prep students participating in the program told NBC News "it was a bit difficult at first." They initially communicated by "body language" and "common phrases" that they both knew, like the Korean words for "faster" and "it's hot." But in the end, "they all had a lot of fun."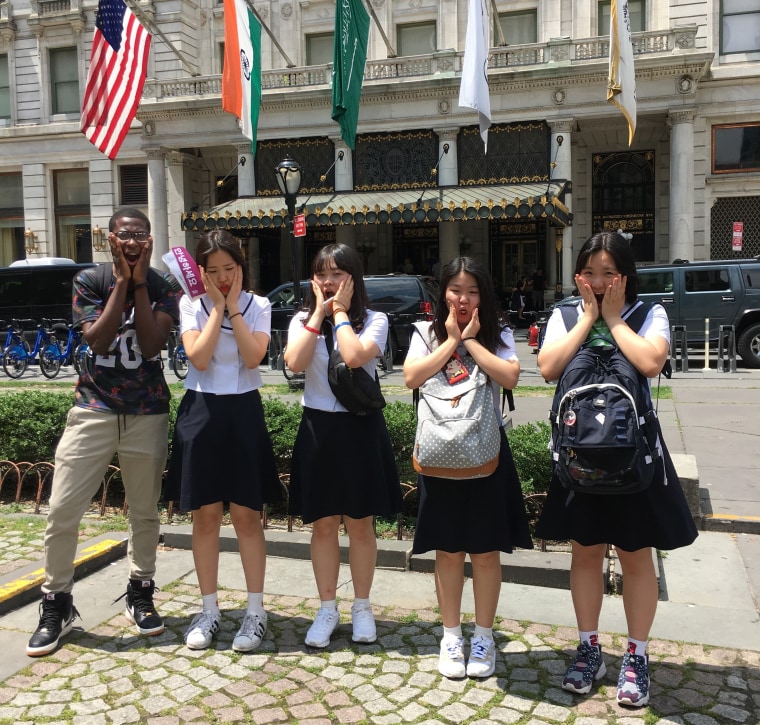 Korean program coordinator Haemi Cho is primarily responsible for the event. Cho, who also coordinates Korean after school programs for elementary and middle school Democracy Prep students, said the cross-cultural connection gives students a "chance to build cultural capital" and "helps them stand out in colleges."
Beyond Korean language, Democracy Prep scholars are introduced to Korean extracurricular activities. "K-pop, traditional mask dancing … there's also a Korean street festival," Dan Reiss, a literature teacher at Democracy Prep, told NBC News. "There's culture infused in everything they do."
Follow NBC Asian America on Facebook, Twitter, Instagram, and Tumblr.