In Congress, U.S. Senators called them "vermin" and said the "oriental civilization" was a threat to the nation and their way of life. Anti-Chinese sentiment had been growing, and the violence that resulted would include incidents like the one that claimed 17 Chinese lives in Los Angeles — one of the largest mass lynchings in U.S. history.
So when Horace F. Page of California gave in to the hysteria and introduced into the House the bill that would ultimately ban Chinese immigrant labor in 1882, it took less than one month to pass into law. In 1902, the act—which was meant to be temporary—became permanent.
It would take took more than 60 years to undo the damage. The Chinese Exclusion Act was repealed 72 years ago, on Dec. 17, 1943, with the signing of the Magnuson Act.
The act is part of the historical legacy that has been repeated with the largest groups that make up Asian America, from the Chinese to the Filipinos to the Japanese, according to Erika Lee, University of Minnesota history professor and "The Making of Asian America: A History."

And that history is continuing to repeat itself. In an interview with NBC News, Lee said the proposal by Republican presidential candidate Donald Trump to ban non-American Muslims from entering the U.S. makes understanding the fear politics in Asian-American history more important than ever.
RELATED (2014): The Chinese Exclusion Act Ended Seventy-One Years Ago, Today
"The experience of Asian Americans shows us how unjust singling out certain groups for exclusion can be for the U.S. as a whole and for generations of immigrants and their American-born children."
"The Exclusion Act singled out one group for exclusion based on their race and their class. The Trump proposal would similarly single out a group based on their religion," Lee said. "Congress passed a 'statement of regret' for the Chinese Exclusion Act in 2012. But it would seem that Congress is willing to consider similar proposals for Muslims today."
The factors that created the fear politics of the 19th century, Lee added, are similar to what the country is seeing today. "The 1880s was a time when American anxieties over the economy — boom and bust era of industrialization, transition to new kinds of labor and labor systems; race — Jim Crow era segregation, Indian Wars, massive new immigration from S and E Europe and from China; and our place in the world — full expansion Westward, beginning to become more involved in the Pacific region — led to increased scrutiny of immigration as something harmful to the U.S.," Lee said.
She added, "One could easily argue that these same anxieties are shaping the immigration debate today: economic — post-recession jitters, growing economic inequality, deindustrialization and new kinds of labor systems; race — regression of civil rights movement, growing incarceration rates of African American and Latino men, police brutality; [our] place in the world — unending conflict in the Middle East, questions about whether U.S. is still sold superpower in the world."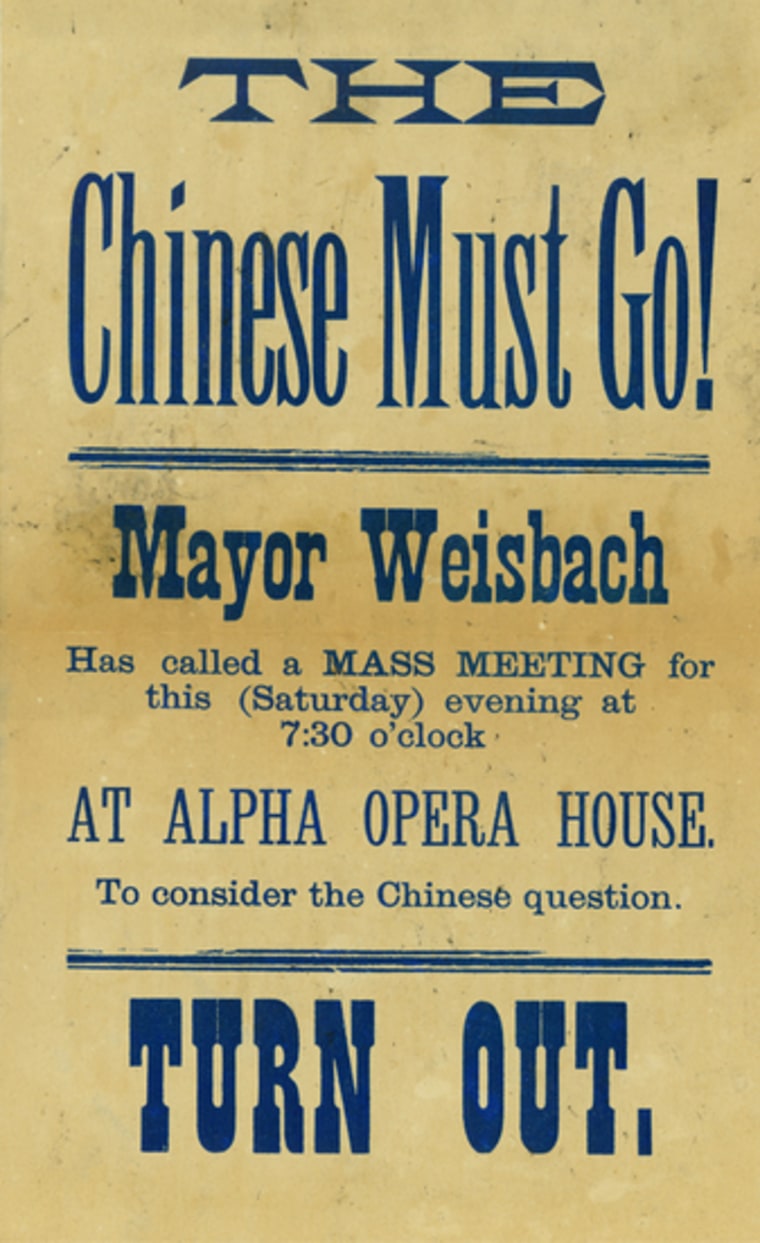 Lee points out the Chinese weren't the only ones to experience the pattern of fear in American history. After the successful exclusion of the Chinese, the country's attention turned to the Japanese. More than 380,000 came from Japan to the United States between 1885 and 1924. But Lee writes in her book that Japanese immigrants "lost their struggle for equality in the United States, because no matter how hard they tried to demonstrate how American they were, they were still seen as Japanese."
Well before President Franklin Roosevelt's signing of Executive Order 9066 that incarcerated more than 120,000 Japanese Americans in World War II, the anti-Japanese sentiment in the U.S. was fueled as early as the 1920s by the global image of Japan and fears of its potential dominance.
RELATED: Digital Project Aims to Preserve Stories of Incarcerated Japanese Americans
RELATED: Seventy Years After Manzanar, the Stories of Incarceration Live On
In her book, Lee describes how the term "yellow peril" actually began in Germany with German Kaiser Wilhelm II who dreamt that Europe was threatened by invaders from the East. A painting commissioned by Wilhelm shows the European nations awaiting battle as an image of Buddha riding a Chinese dragon can be seen on the horizon.
The sentiment resonated in the U.S.
"Apprehension about Japan's expanding empire heightened existing fears that Japanese immigrants were growing in number, taking away jobs, and preparing for an eventual invasion of the Western Hemisphere," Lee writes in her book. "These 'yellow peril' anxieties became part of the larger transnational conversations about hemispheric security and the future of the 'white race' circulating in both North and South America."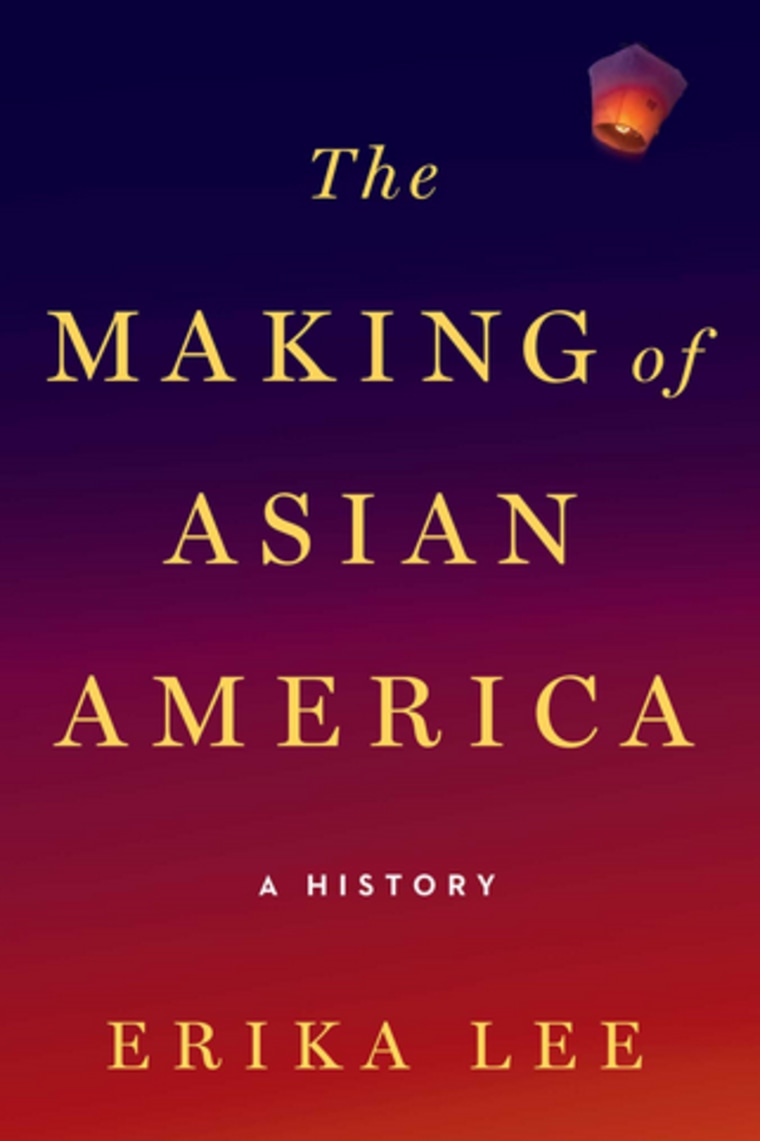 And it didn't end with the Japanese in the U.S. When the Filipinos arrived to the U.S. in large numbers in the 1920s and 1930s, despite being American nationals, their presence led to another wave of anti-Asian violence led by white separatist groups in California.
"Filipinos were considered another 'Asiatic invasion,' just like the Japanese 'yellow peril,' and the fear of the unassimilable and undesirable South Asians," Lee told NBC News. "Americans feared that without exclusion, there would be too many Filipinos who, like other Asians, would compete for jobs, and bring more racial problems."
"Congress passed a 'statement of regret' for the Chinese Exclusion Act in 2012. But it would seem that Congress is willing to consider similar proposals for Muslims today."
As a check against Filipino procreation with white women, anti-miscegenation laws were passed in California and at least eight other states, assuring that the mostly male population of Filipino laborers would not grow out of control.
Ultimately, in 1934, Congress would pass the Tydings-McDuffie Act that would strip Filipinos of their status as American nationals and reclassify them as aliens. The law encouraged repatriation and created an immigration quota that would remain in place until the mid-1960s.
"History shows us that fear-driven policies are bad for our country and for our people," Lee said. "President Roosevelt apologized for the Chinese Exclusion Act, saying that it was a 'historic mistake.' Presidents Ford, Carter, and Reagan all expressed regret and then with Reagan, an official apology for [Executive Order 9066]."
RELATED: Virginia Mayor Apologizes for Japanese-American Internment Remarks
As for current day politics, Lee believes the community has a shared responsibility in how its perceived.
"Asian Americans, and immigrants in general, have always maintained complex ties to their homelands," Lee said. "That does not mean that they cannot be, or are not Americans at the same time. As we become increasingly global and live our lives across national borders, we must find ways to understand how being 'American' can mean feeling at home in two or more places at the same time."
In response to today's politicians, Lee, who also serve as the director of the Immigration History Research Center at the University of Minnesota, says that a lesson in Asian-American history could help leaders currently mired in the politics of fear.
"The experience of Asian Americans shows us how unjust singling out certain groups for exclusion can be for the U.S. as a whole and for generations of immigrants and their American-born children," Lee said.