Yuri Kwon works for Joe's Pub at The Public in New York City as the press and social media manager. She lives in Brooklyn with her husband Mike. This is her Thanksgiving story.
The one thing Thanksgiving dinners in my enormous Korean immigrant family had in common with any standard American family's was that it was absolutely bursting. The table was always crammed with colorful, pungent and spicy dishes, lovingly prepared by someone's mother for days -– sometimes weeks, depending on the pickles and kimchis -– in advance.
To complement the array of Korean dishes, there was always a turkey and it was always overcooked. The kids would abandon their slices of white meat and fight over the wishbone -– the youngest would triumph, without fail. Never wasteful, the elders would linger around the table to finish off the last, lonely bits of turkey, dipping them in gravy mixed with kimchi juice, while drinking soju and beer.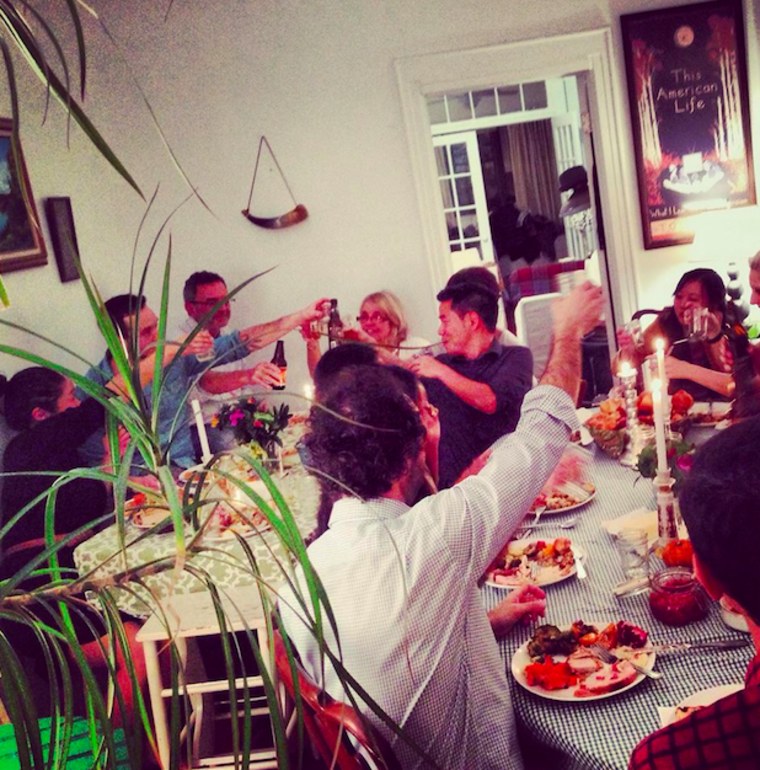 Going to college in the Deep South, I found myself longing for the flavors of my childhood in Chicago. The more delicious but insanely rich food I consumed, the more I wanted the vibrant color wheel of Korean cuisine. One night, my then-new-boyfriend (now husband) and I finally found a Korean restaurant -– the only one in the New Orleans area. When we both raised our heads after 15 minutes of wordless eating, he looked at me, wide-eyed, and simply said, "Thank you." At every Korean meal we have shared since then, he has said the same thing.
My husband Mike grew up in Massachusetts, a proper son of Boston -– half-Irish, half-Italian. His New England roots proffered Thanksgivings that looked classic but left much to be desired in terms of culinary exploration or satisfaction. Knowing there was more to taste, he eventually chased those unknowns by becoming a chef.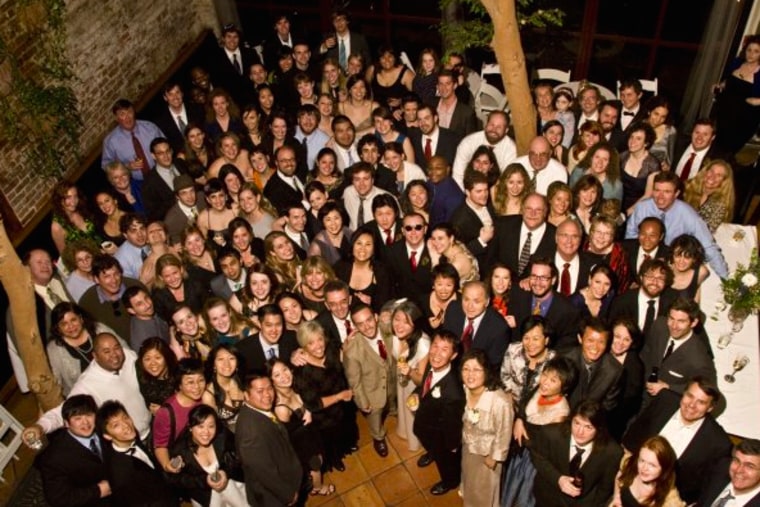 When we started hosting Thanksgiving as a married couple six years ago, there was no question that we would make it our own. Anyone who wanted to come could come, but my one requirement was that we all had to sit at one table. That first year, we put 21 people in our dining room. We made chairs out of suitcases, boxes, and whatever else could support an adult and a massive plate of food.
Thanksgiving was, and remains, my favorite holiday. Hosting the day in our little Brooklyn apartment, feeding the amalgam of people I love, made the place feel like home.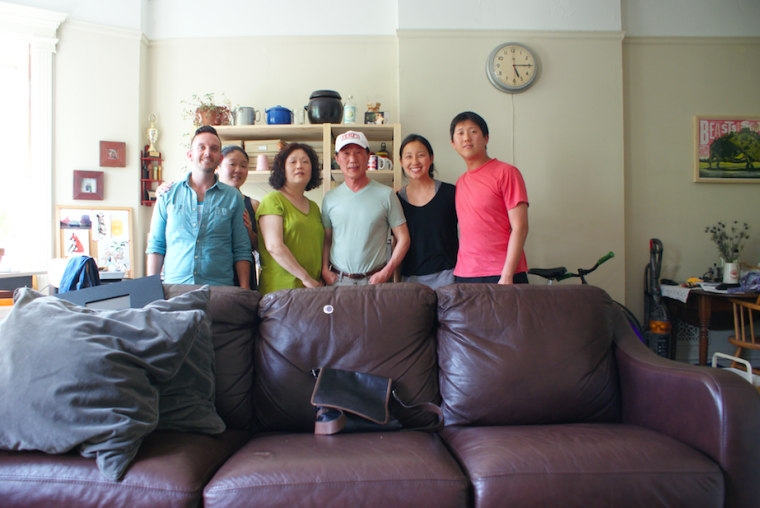 Something else crept in though. At first, I tried to control the pre-meal chaos by assigning dishes to guests. But I discovered that all people want on Thanksgiving is comfort, family and a place to nap. So that's what we give them. In return, our friends -- representing backgrounds ranging from Poland to the Philippines to Russia -- come bearing smalec, lumpia, and pierogies. Mike's parents bring Irish bread and wassail.
There was no hesitation from any of us when my brother Alan decided to tip a jar of his award-winning kimchi into the stuffing -– a dish that is now legendary in our circles. My parents make mandu (dumplings), pajeon (green onion pancakes) and jap chae (glass noodles with vegetables) to go with the potatoes, green beans and cranberry sauce. Pitchers of gravy sit next to bowls of kimchi. We do these things not because we read about them on blogs but because it's natural to us –- we need them. Our family has grown into a multi-ethnic frame, filled with all the foods and features that make each part of it unique. Our Thanksgiving table is no different.
Kimchi, Bacon & Wild Mushroom Stuffing
Ingredients
12 cups day-old bread, cubed and lightly toasted
1 med onion, finely chopped
4 slices thick cut bacon, cut into lardons
2 cups cabbage kimchi, chopped
coarse salt and freshly ground pepper
1 lb fresh wild mushrooms (cremini, oyster, shiitake), cleaned and sliced
2 1/2 cups home-made or low sodium chicken stock
3 large eggs, lightly beaten
1 cup heavy cream
1 stick unsalted butter, melted and slightly cooled
fine sea salt
Instructions
1. Preheat oven to 375 degrees.
2. Place cubed bread in large bowl.
3. In a sauté pan, render the bacon until crispy, remove lardons from pan and pour off all but 3 tbsp of the fat (save the excess fat for later).
4. In the remaining bacon fat in the pan, sauté the wild mushrooms until brown and crispy, season with sea salt at the last minute and remove to the same dish as the lardons.
5. In the same pan, add 2 tbsp of the reserved bacon fat and sauté the onions until soft on medium heat about 3 minutes. Increase the flame to high and add the chopped kimchi. Cook another 3 minutes and remove and reserve this mixture.
6. Whisk together the eggs with the heavy cream in a bowl.
7. Combine the bacon, mushrooms and kimchi/onion mixture with the bread. Mix well. Add the chicken stock, melted butter and egg mixture and season with salt. Combine well. The mixture should be quite moist. If it feels dry, add a bit more chicken stock to moisten.
8. Place this mixture in a 9" cake pan and bake in the preheated oven, uncovered about 35-40 minutes until the top is nicely browned.