Dongwoo Hahm now believes that if she had been born just three years earlier, she could have been snatched from her home and forced into becoming a sex slave for the Japanese military during World War II.
The possibility, however, wasn't one that crossed her mind until decades after the war ended.
In 1992, Hahm was in her 50s when an elderly Korean woman came to her church, the Korean United Methodist Church of Greater Washington, in McLean, Virginia, to share her harrowing experience: As a young girl, she had been raped repeatedly by members of the Japanese military. She was one of an estimated 200,000 "comfort women," a euphemism for the mostly Korean women who were forced into Japanese military-run brothels during World War II. According to research by professors from Vassar College and Shanghai Normal University, comfort women "served" five to 60 soldiers per day.
Hahm recalled feeling shocked after hearing the woman's testimony and seeing the congregation in tears. It was the first time she had ever heard of comfort women.
Most comfort women were teenagers and many were drawn into Japan's military-run brothels by false promises of higher paying jobs, educational opportunities and travel abroad, according to research by Bonnie Oh, a former professor of Korean studies at Georgetown University. Many young Korean girls were also pulled from their classrooms and picked up from streets in the 1940s, according to Oh.
By the time World War II came to a close, Hahm was 12 years old.
"If the war lasted a couple more years, I could have been taken," she said.
Members of Hahm's church were so moved by the elderly woman's story that weeks later several of them organized a group dedicated to the issue. Hahm was elected its founding president and it became what is believed to be the first comfort women advocacy organization in the United States, the Washington Coalition for Comfort Women Issues, Inc.
Throughout the last 27 years, the coalition has organized a number of activities and events, from film screenings to an exhibition at Capitol Hill, and started dozens of efforts to raise awareness of comfort women and to advocate for a formal apology from the Japanese government.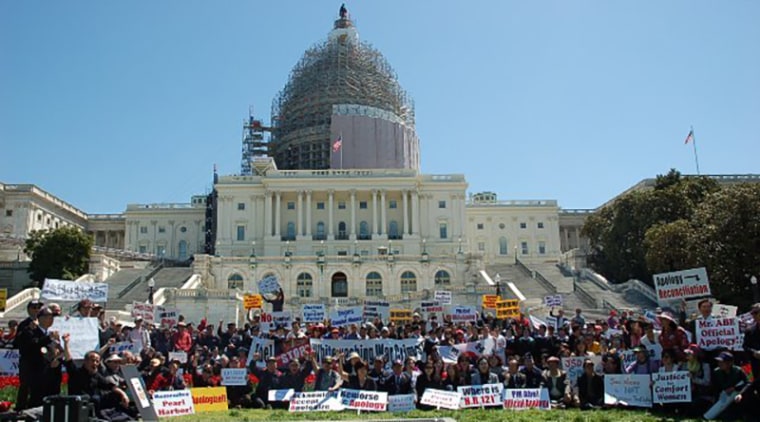 One of its most notable feats was its push for a milestone 2007 resolution introduced in the House by former Rep. Mike Honda, D-Calif., that said the Japanese government should accept historical responsibility and apologize for coercing young women into sexual slavery, according to Phyllis Kim, president of the Korean American Forum of California, who also advocated for the resolution.
Passage of the resolution led to similar ones that year in the Philippines, the Netherlands, Canada and the European Union that also called on the Japanese government to apologize.
Japanese Prime Minister Shinzo Abe, then in his first tenure as prime minister, called the resolution "regrettable" and noted that the government had apologized to comfort women in 1993.
Even discussion of comfort women is controversial in Japan, with advocates for comfort women saying the Japanese government has long denied justice to them, while government supporters say that there is no evidence that women were forced into sex slavery and that Japan has already apologized (including a 2015 agreement with Korea in which Japan apologized and pledged $8.3 million to help former comfort women).
Kim said that none of Japan's apologies have been official because none have been ratified by the legislature or approved by the executive branch, and that there have been no laws enacted to acknowledge the country's responsibility.
Without a sufficient apology, the fight for comfort women continues. And at the same time, the number of survivors continues to decline.
Julie Tang, a retired San Francisco judge and co-chair of the Comfort Women Justice Coalition, previously told NBC News that there were about 50 comfort women alive when she first got involved in a project to establish a memorial in San Francisco in 2015. Today, only about 20 registered South Korean comfort women — who are in their 80s and 90s — are still alive.
Over the last few decades, the U.S. has seen the birth of multiple organizations that have joined the comfort women movement. Most, like the Korean American Forum of California, appear to be largely focused on educating the public about the issue rather than directly pressuring Japan for an apology.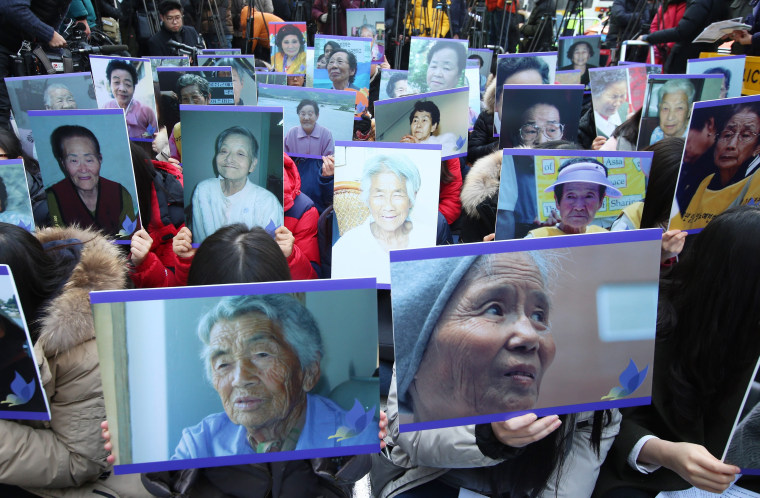 Kim noted that Japan has tried to remove and block comfort women memorials across the globe, and has eliminated comfort women from Japanese textbooks. Educating the public is part of the fight for an apology, she said.
A big part of that education has been the establishment of memorials. At least 10 have been installed across the country over the last decade, with other groups expressing plans to pursue memorials in their own cities.
The first was in 2010 in Palisades Park, New Jersey, and was followed by Los Angeles County, San Francisco and New York City, among others.
But memorials have also attracted resistance. In 2017, the Japanese government filed a brief in support of a lawsuit seeking the removal of a memorial in a Los Angeles suburb.
Later that year, the mayor of Osaka, Japan, terminated Osaka's sister city relationship with San Francisco after it became, according to activists, the first major city to install a memorial statue.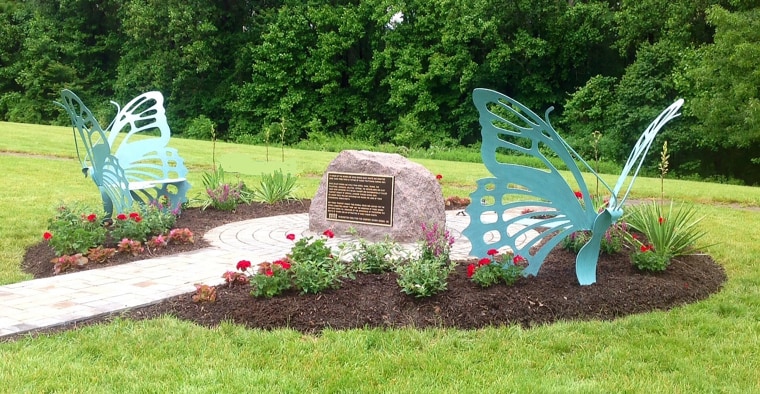 A statue slated for installation at a museum in Atlanta in 2017 was canceled, which advocates say t hey believe was motivated by monetary and political reasons. The statue was eventually relocated to a nearby city. Kelly Ahn, a member of the Atlanta Comfort Women Memorial Task Force, which spearheaded the memorial project, said there is constant pressure from the Japanese government to remove the statue.
Yet even with such challenges, activists believe memorials works in their favor.
Helen Ho, a consultant and adviser to the Atlanta task force, told NBC News in 2017 that it was a gift that the initial plan to install the memorial statue at the museum did not go as planned.
"No amount of educational events would have penetrated the public consciousness as much as the media coverage that we got," she said. "We won multiple times over in ways that if we had been successful putting up that statue in the first place, less would've known about it."
We want to remember the victims so it doesn't happen again and so we're all aware of what's going on in terms of violence against women and sex trafficking and human trafficking. It's still a relevant issue.
Phyllis Kim
High school and college students have also joined the fight for justice for comfort women by forming their own groups to inform their peers and even contribute financially to survivors. In Massachusetts, four schools based mostly in Boston formed a loose association in the spring of 2018 that led to a screening of a film based on a comfort woman's story called "I Can Speak" and donated $6,000 to House of Sharing, a South Korea nursing home for comfort women.
A group at Crescenta Valley High School in Southern California raised money to send care packages to the same nursing home and wrote letters to the remaining comfort women.
At Yale University, a comfort women student task force established in 2017 submitted proposals to install a memorial statue on campus and at a nearby church, though both were rejected.
Efforts to spread awareness about the issue aren't limited solely to established groups. Sinmin Pak, a Dallas resident, has been donating her time and resources over the last three years to screen the film "Spirits' Homecoming," a historical drama based on the experience of comfort women. From movie theaters and churches to universities and private homes, Pak said screenings appear to be an effective way to inform people, particularly in Dallas where the majority of people don't appear to have heard of comfort women.
"They're shocked, they're moved, and they understand why we do need to do more to raise awareness and make sure these women are not forgotten and they receive justice that they deserve," she said.
Testimonies from comfort women have detailed how the abuse they endured at the hands of the Japanese military left them with permanent physical disabilities. Some were not able to walk, while others were unable to bear children.
Advocates consistently make clear that the primary goal of the comfort women movement is not to fuel anti-Japanese sentiment, but rather to educate the public about what the Japanese government did, to prevent history from repeating itself.
"We want to remember the victims so it doesn't happen again and so we're all aware of what's going on in terms of violence against women and sex trafficking and human trafficking," Kim previously told NBC News. "It's still a relevant issue."
In working toward that goal, Kim's organization successfully campaigned for the inclusion of comfort women in a history-social science framework California adopted in 2016. The year before that, the San Francisco Board of Education approved a resolution to teach staff and students about human trafficking, including the history of comfort women.
Last year Kim's group created a comfort women teacher's guide that it has been distributing this year free to schools across California.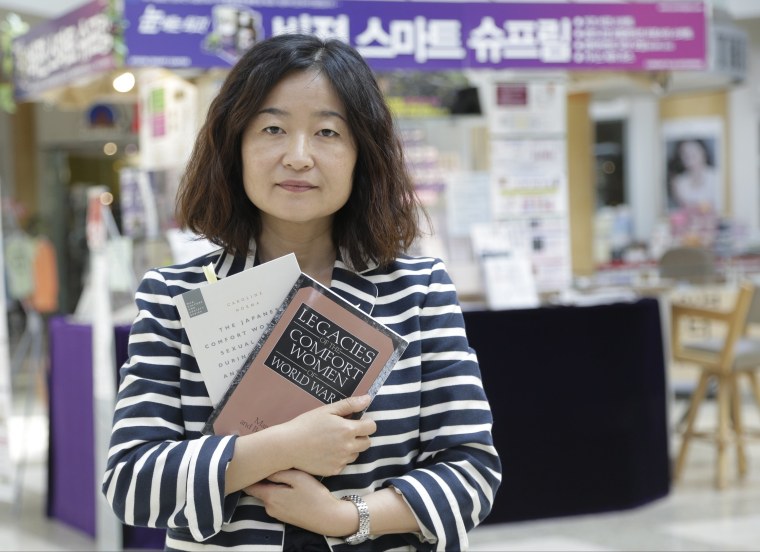 Brookhaven, Georgia, is gearing up to celebrate the second anniversary of its memorial statue in June. The task force that spearheaded the memorial is also looking to organize a drawing contest for students so they can learn more about comfort women, and is planning to form partnerships with other organizations that fight human and sex trafficking.
Pak, the Dallas resident, said she plans to continue hosting screenings.
"Every time I screen, it just gives me more reason why I need to do more and more and more just to make sure I reach out to even one more person who has never heard of this issue," she said. "And I believe as long as people know exactly what happened, I'm sure they will all rally and support us, and hopefully that would speed up the process of getting the official apology from Japan."
Follow NBC Asian America on Facebook, Twitter, Instagram and Tumblr.