Kodi Lee's first public performance came together after a series of happy coincidences.
The future "America's Got Talent" contestant, who is blind and autistic, was a music-loving six-year-old eating lunch at Disneyland when he began drumming along to a performing a capella group. The singers immediately applauded him and asked him if he wanted to sing alongside them.
While he agreed to sing with the group, "it was tough at first," Lee said. "But then it got easier." His performance was so popular that the group asked him to join them for the rest of the day.
Now 22, Lee's musical skills were on display when his audition for "America's Got Talent" aired during the show's May 28 season premiere on NBC. (NBC Entertainment and NBC News are both owned by NBCUniversal.)
After making small talk with the notoriously tough panel of judges, Lee proceeded to dazzle them with his rendition of Donny Hathaway's song "A Song For You," earning a standing ovation and a Golden Buzzer from judge Gabrielle Union, which allows Lee to be sent straight to the live performance rounds. The performance has been viewed more than 300 million times online across social media platforms, including Facebook and YouTube.
"What just happened there was really extraordinary," judge Simon Cowell said of Lee's singing. "I'm going to remember this moment for the rest of my life."
"I wanted a performer that was going to change the world," Union said in a video posted to social media explaining her decision. "I believe Kodi was that act."
Lee showed signs of an extraordinary musical talent at a very young age, his mother, Tina Lee, recalled. She particularly remembered a moment when Kodi was two and his father began playing "Mary Had A Little Lamb" on the piano.
"And then Kodi just reached over and started playing it himself. And we thought, 'Oh, my god,'" she said. "He has perfect pitch, perfect memory and perfect timing."
Lee and his family had always been big fans of classic R&B and soul music and searched for a song along those lines that would be suitable for Kodi's "America's Got Talent" audition. "My brother picked it, and it turned out to be perfect," Lee said.
Lee described receiving the Golden Buzzer as "magical."
In addition to dazzling audiences, music has also provided Lee with a much needed creative outlet.
Enthusiastic and outgoing, Lee speaks in short, upbeat sentences punctuated with exclamations like "wow!" and "heck, yeah!" His perfect pitch and memorization skills are a big assist in playing the piano, which has largely been self-taught. He began taking formal piano lessons four years ago at the age of 18 and said he is not interested in restricting himself to a particular style of music.
"I like all genres; I like pop," he said, adding that of contemporary artists, the band Maroon 5 is a particular favorite.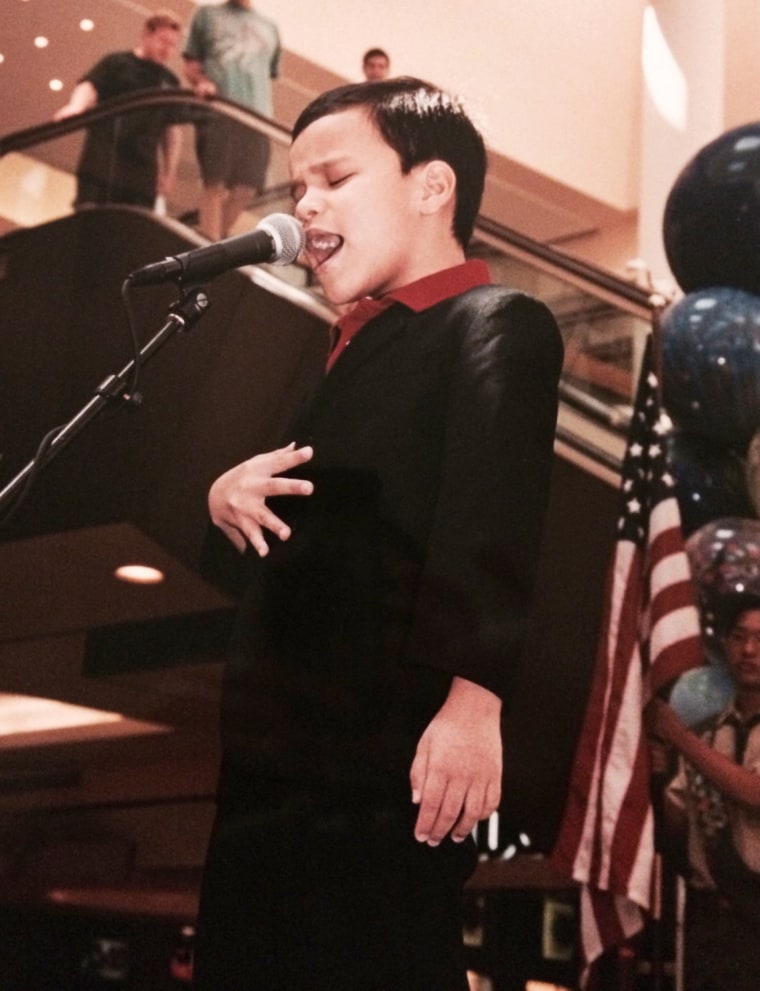 Tina Lee added that Kodi's experiences as a performer have helped him adjust to meeting new people and being in crowds, two things he had previously struggled with. "That was the deal. We said if you want to perform, you have to shake people's hands and you got to let people come up and say hello to you," she said. "And it worked."
Viewers met Tina alongside Kodi when she escorted him on stage and helped him to the piano during his audition. Both mother and son say they've been touched by the messages they've received from autistic kids and their parents about what Kodi's performance meant to them. Tina said one of the reasons she became emotional on stage after Kodi's performance was because she kept thinking of all of the rehearsal time and effort he put in to get to that moment.
"It was just a proud moment to see that. He's worked so hard," she said. "It's hard to explain, but as a mom it was like, 'You got him where he wanted to go.'"
As for Kodi, he is currently focused on preparing for the live performance portion of "America's Got Talent" scheduled later this summer. He added that he is committed to building his musical career, which includes local shows around Southern California, regardless of what happens in the competition.
"I'm going to keep performing for everybody," he said. "I like to make people happy."
Follow NBC Asian America on Facebook, Twitter, Instagram and Tumblr.