The wife of a man from India killed earlier this year in an alleged hate crime can stay in the United States for now after she initially lost her residency rights following her husband's death.
Sunayana Dumala, whose 32-year-old husband Srinivas Kuchibhotla was killed at a Kansas bar in February, fell out of status because her permission to reside in the U.S. was tied to Kuchibhotla through marriage, Rep. Kevin Yoder, R-Kan., told NBC News.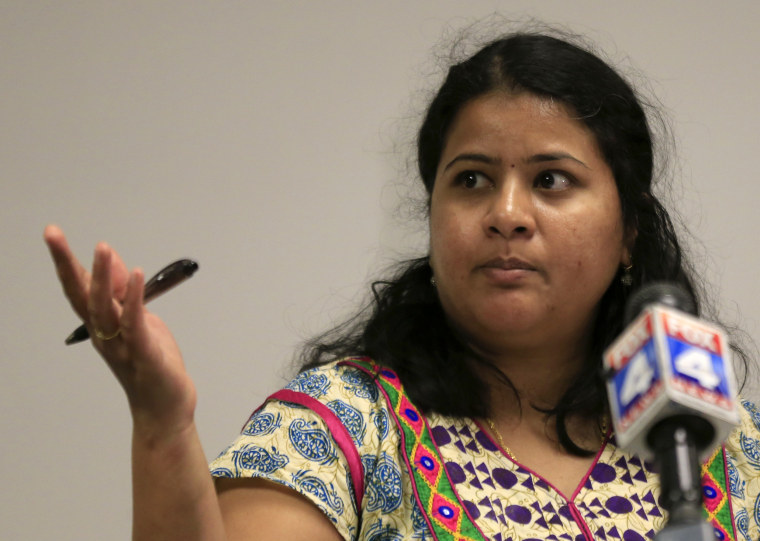 Kuchibhotla, an aviation systems engineer and programs manager at GPS maker Garmin, was in the U.S. from India on a temporary nonimmigrant H-1B visa, granted to highly skilled workers, according to Yoder and Dumala.
Following the Feb. 22 shooting in Olathe, Kansas, Dumala went back to India to attend her husband's funeral and later returned to the U.S., where she's lived since 2007.
"When Sunayana lost her status, to me it really added insult to injury," said Yoder, who subsequently helped Dumala get a temporary work visa of her own.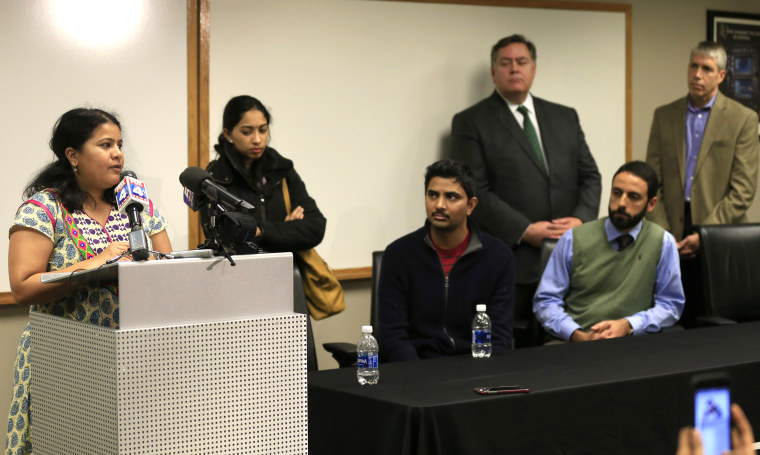 Adam Purinton, then 51, is accused of fatally shooting Kuchibhotla after using "racial slurs" and yelling "get out of my country," the Associated Press and Kansas City Star have reported.
Two others — Kuchibhotla's friend Alok Madasani, from India, and patron Ian Grillot, who intervened — were wounded in the attack.
Purinton awaits a state trial on one count of premeditated first-degree murder and two counts of attempted premeditated first-degree murder. He was also indicted in June on federal hate crime charges, which carry a possible penalty of death.
Yoder said he has corresponded with Dumala and met with her several times, including this month in Washington, D.C. Dumala was part of a group of Indian immigrants who came to support the Fairness for High-Skilled Immigrants Act, according to Yoder, the bill's lead sponsor.
The legislation seeks to eliminate the per-country cap for employment-based immigrants, allowing green cards to instead be given on a first-come, first-served basis, Yoder said. There is currently a 7 percent limit on the number of green cards issued to such immigrants of any country in a fiscal year.
Those caps have caused backlogs in the employment-based green card system, disproportionately affecting highly-skilled immigrants from large countries like India and China, Yoder said.
As a result, they often have to wait two-to-three times longer than those from smaller countries to be approved for permanent residency, according to a news release from Yoder's office.
"Had this legislation passed a few years ago, Sunayana and her husband would have had green cards and permanent residency," Yoder said.
Dumala told NBC News in an email that if there were no country cap, she wouldn't have had to worry about her immigration status during this tragedy.
She said they had filed their application for a green card in 2009 and, because of the backlog, were still waiting for it when Kuchibhotla died. Dumala will have to start the process anew because of her husband's death, she said.
"This bill will be a relief for more than millions of us and for many Sunayana's out there by safeguarding their future," Dumala wrote.
While proponents of the legislation say removing caps will help clear green-card backlogs and help the U.S. draw in highly skilled, top-echelon workers, critics argue they are necessary for maintaining new immigrant diversity by attracting citizens from less populated countries.
Dumala, meanwhile, received an employment authorization document in May with the help of Yoder's office. She's also applying for a nonimmigrant U visa, set aside for crime victims, and an H-1B.
Her temporary work permit, good for one year, has allowed Dumala to continue her job at InTouch Solutions, her employer at the time her husband was killed, she said.
Yoder said Dumala losing her status has made him passionate about getting the Fairness for High-Skilled Immigrants Act passed.
He also said there's a fear among some in the Indian community that a deadly shooting like the one in Olathe could happen again.
"We have to go above and beyond in our efforts as a country to make sure that people from India know they are welcome here, that the shooting that happened in Kansas does not reflect the values of the American people," Yoder said.
Follow NBC Asian America on Facebook, Twitter, Instagram and Tumblr.