Earlier this month, New York City Mayor Bill de Blasio announced that the city would add two Muslim holidays to next year's public school calendar, keeping a campaign promise he made when he ran for office in 2013. But Asian Lunar New Year was not on that list, prompting the city's 12 congressional members to send an open letter to the mayor voicing their concern.
The March 9 letter, which includes the signature of Taiwanese-American Congresswoman Grace Meng of Queens, said that while the city's congressional delegation was happy that Eid al-Adha and Eid al-Fitr will become school holidays, they were "puzzled and concerned over the absence of Asian Lunar New Year from next year's calendar."
"We sincerely hope you understand the community's frustration that students must now wait another year to celebrate with their families or face potential academic consequences of missing school," they wrote.
Wiley Norvell, de Blasio's deputy press secretary, told NBC News that Lunar New Year will not be added to the 2015-2016 school calendar. "Whenever we add a holiday to the calendar, it takes months of analysis of not just what that day means, but how that day plays off all the other holidays," he said, referring to Rosh Hashana, Yom Kippur, Christmas, Easter and Thanksgiving, among others.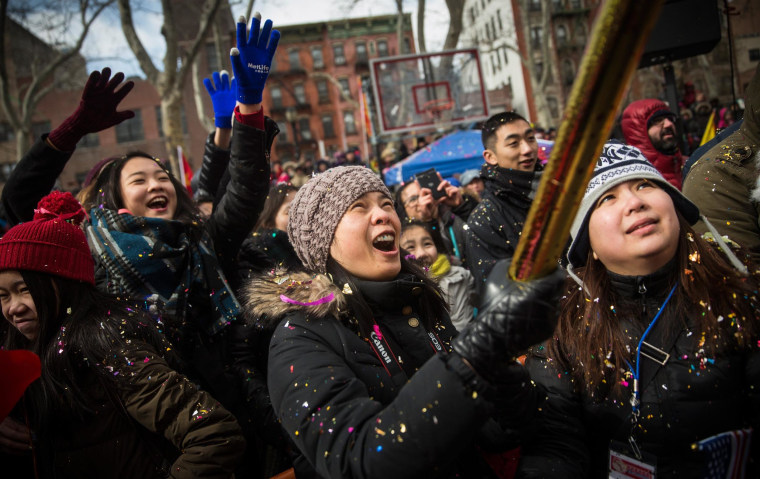 Norvell said the state requires city public school students to receive 180 days of instruction, from September to June. Depending on whether holidays fall on weekdays or weekends, as well as whether schools close for snow days, meeting that mandate can sometimes be a challenge, he said.
"Where we added something like Eid, we project 10, 20 years into the future, because this is something we do for the ages when we make a change like this," Norvell said, referring to the two most sacred holidays that Muslims in New York have fought to add to the school calendar. "We have to make sure every one of those years, regardless of where the other holidays are falling, we still get to 180 days."
The Lunar New Year is considered one of the most important holidays in Asian culture. When it falls on a weekday, depending on the lunar calendar, many Asian parents keep their children home, resulting in an excused absence that goes on their record. One in six city public school students is Asian, the letter notes; roughly one in eight New Yorkers is Asian.
"Our community has been waiting for this for decades, and Mayor de Blasio must now keep his promise to take action"
On March 13, a group of local and state elected officials also rallied outside City Hall in support of making Lunar New Year a school holiday. Among them was City Councilmember Margaret Chin, whose Lower Manhattan district, which includes Chinatown, is 36 percent Asian, according to the 2010 U.S. Census.
"Our community has been waiting for this for decades, and Mayor de Blasio must now keep his promise to take action," Chin told NBC News in an email. "I know we can work with the mayor's office and the Department of Education on a way to include Lunar New Year in the city's 2015-2016 public school calendar, and so our discussions in that regard will continue."
Norvell said it was unclear when Lunar New Year would become a school holiday, adding that the city was still conducting an analysis of the school calendar. "The mayor has never promised it by a certain time, although we have certainly promised to do it," he said. "We do expect to get there, but it won't be for this coming school year."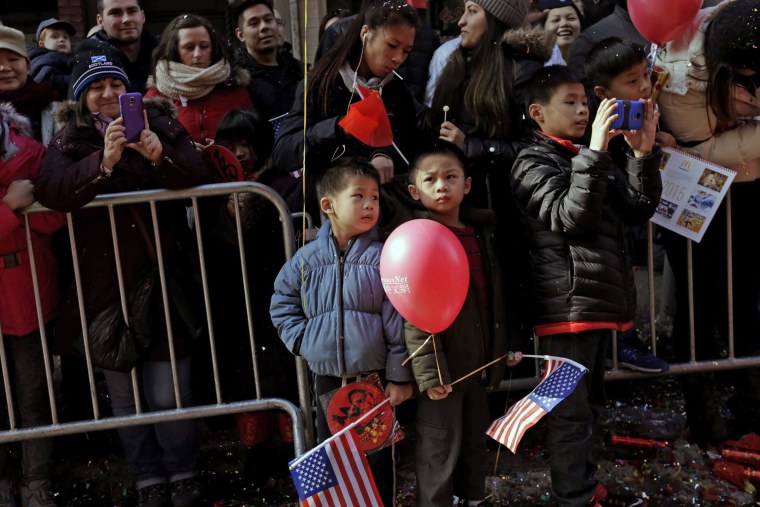 Follow @NBCAsianAmerica on Twitter and like us on Facebook.