An estimated 3 million people expressed their disapproval of Donald Trump and his administration on Jan. 21, taking to the streets of cities all over the world.
For Ann Tran, a student at Bryn Mawr College and one of an estimated 500,000 who marched in Washington D.C., according to organizers, the demonstration was a way to put the anger she felt about Trump's campaign and election into concrete action.
"This march felt like a good way to channel that anger into something good," Tran, 20, told NBC News. "Trump really needs to listen to the pulse of the people instead of his people. ... This Women's March is going to prove that."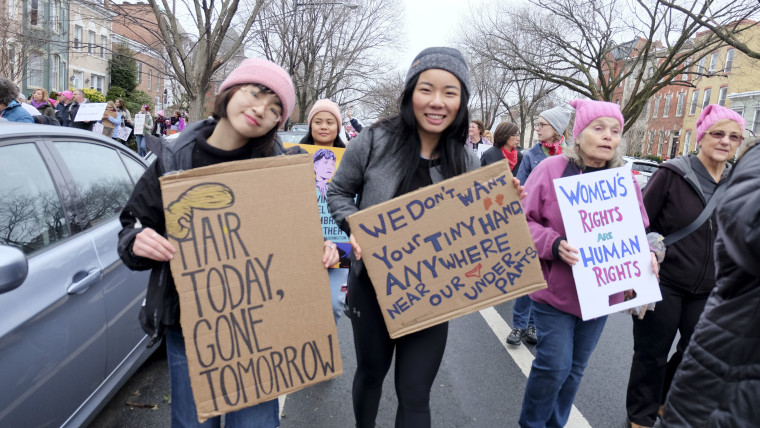 While the idea of the march initially stemmed from preserving women's rights, a number of issues brought Asian Americans and Pacific Islanders (AAPIs) to the nation's capital.
Fellow Bryn Mawr student Carissa Yao, who is from Shanghai, said her frustration with Trump's proposed policies toward immigrants pushed her to the march.
"I'm definitely upset with that because, in order to [get] s—t done, a lot of things are done by immigrants," the 22-year-old college senior told NBC News. "I don't like the rhetoric that Trump is saying — 'I'm giving the jobs back to the Americans' — because people have different skills. It's not defined by their nationality. They're defined by their skill sets like where they got their education. It's not just about ethnicity or nationality."
New Jersey resident Priya Patel, who said she has been involved in women's rights and women's health initiatives for the last 20 years, thought of her daughter as she marched. She said she was concerned with the plans the Trump administration intends on implementing.
"I cannot believe how we've gotten to this point with Donald Trump and the erosion of all our rights," Patel, 44, told NBC News. "And it's shocking to me, and it's scary. I'm scared for my daughter and our future generations. So it's my civic duty to be here."
"I'm scared for my daughter and our future generations. So it's my civic duty to be here."
Shiny Varughese, who came to the march with Patel, was also worried about her daughter.
"I feel the woman's right to choose is under threat," the 42-year-old told NBC News. "That's a big concern for me because I have a daughter. I know when she comes to an age, she has to make choices, and I don't want her not to have that option. I don't want the government telling what she can do with her body."
AAPI organizations had their own missions for the march. The National Asian Pacific American Women's Forum (NAPAWF), an official partner of the event, brought other AAPI groups, including the National Korean American Service & Education Consortium and and Asian Pacific American Labor Alliance.
RELATED: Asian Americans Stand Up, Speak Out Against Trump, Hatred at Women's March
"Asian Americans have been used as the west-wedge race," Sung Yeon Choimorrow, interim executive director at NAPAWF, told NBC News. "We've been called the model minority. We've been pitted against other people of color for the amusement of white people in this country over and over again. And I think there is a growing movement in the AAPI community where we are saying that's not who we are. That's not how we want to be identified or associated."
Choimorrow added that Trump's attempts to diversify his cabinet by nominating South Carolina Gov. Nikki Haley to ambassador to the United Nations and Elaine Chao to Secretary of Transportation aren't close to actually representing the AAPI community.
"Their public service has never represented the progress and the needs of the Asian-American women and girls living in the United States," she said. "We are not your model minority. We're not going to try to — even within our own group — try to pick us off and do some comms and then do some devastating things like revoke DACA and revoke healthcare acts and revoke language acts and programs that prevent violence women. We're not going to stand for to do all of these things by propping up a few Asian Americans to legitimize what they're doing."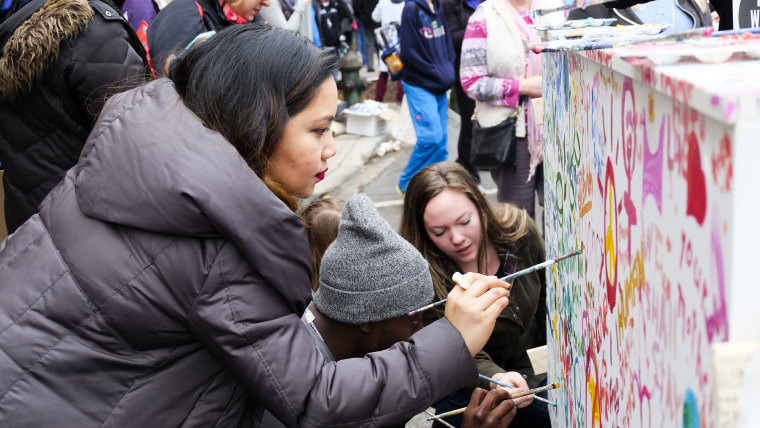 Lauren Clemente, who bused from New Jersey to Washington, appreciated how everyone in the city came together and offered to help one another.
"I felt a big sense of unity," the 30-year-old illustrator told NBC News. "I walked from the bus to the site, and I got to experience the actual people who lived in D.C., who were supportive of us being there. They were offering help if we needed it — a bathroom, toilet, whatever it may be. The whole thing coming together was very positive and made the whole [march] work."
And while some attended to make their voices heard, Clemente walked away with a strong lesson.
"Before this march, there was this idea of what a feminist is, and it had negative connotations," she said. "But because we're more open now about what feminism is and why it's so important for equality makes me feel more comfortable talking about it to women in general."
Follow NBC Asian America on Facebook, Twitter, Instagram and Tumblr.