In Grace Lin's books, Asian and Asian-American children go on adventures big and small, encountering everything from dim sum to enchanted kingdoms. Since she began writing and illustrating for children in 1999, Lin has published more than 20 books, all featuring characters of color, most of whom share her Chinese heritage. Her latest novel, "When the Sea Turns to Silver," published Tuesday.
"I decided pretty early that I was just going to pretend that I wasn't Asian."
But Lin, whose parents are from Taiwan and only more recently began identifying as Taiwanese rather than Chinese, didn't always embrace her Asian roots, she said. In the small town in upstate New York where she grew up, she and her family were some of the only Asians in the area. The isolation often left her lonely and out of place, she told NBC News. She remembers wanting to be Dorothy in her school's production of "The Wizard of Oz." When she shared this hope with a friend, the friend told her she couldn't be Dorothy — because Dorothy wasn't Chinese.
"I decided pretty early that I was just going to pretend that I wasn't Asian," Lin said.
RELATED: South Asian Author Aditi Khorana Lives Her Parallel Life
Meanwhile, her mother tried everything to interest her in the family's culture — teaching her Chinese, buying her Chinese clothes — but none of it worked, Lin said.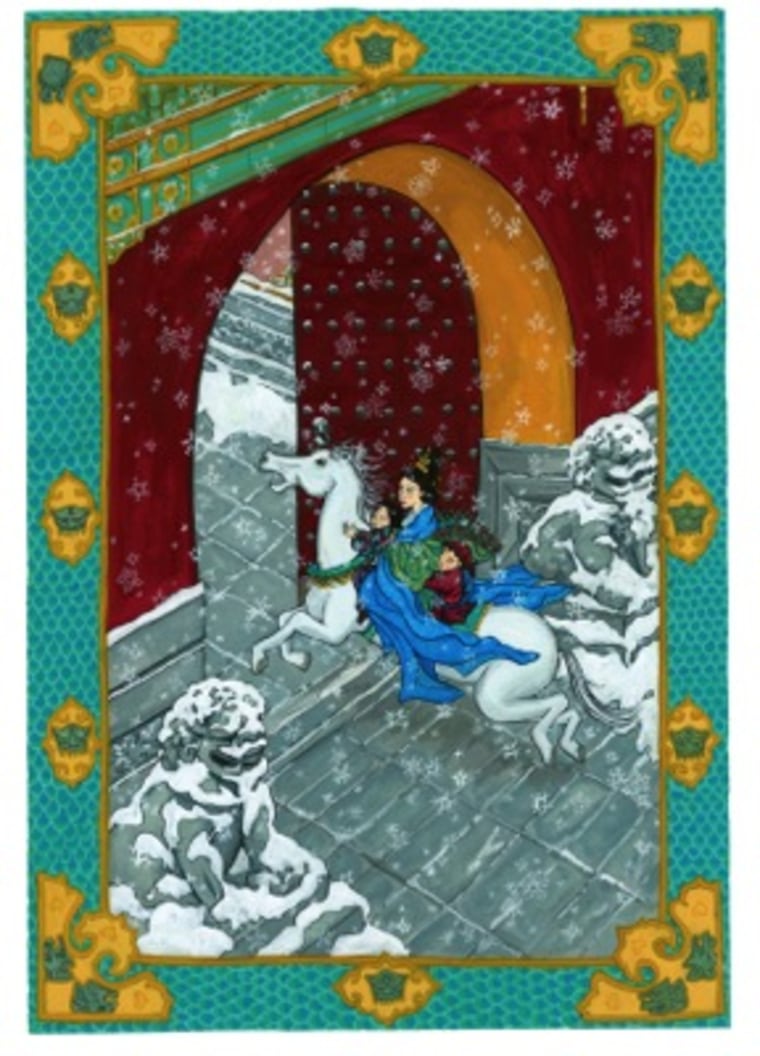 "She realized that if I was ever going to learn anything about our heritage, she would have to sneak it in," Lin said. "She saw that I liked books, so she bought all these Chinese fairy tale books. She didn't give them to me because she knew that if she did, I would say, 'Aw, you just want me to read them because they're Chinese. Forget it.' She just left them on the shelf for me to find, so I did find them, and I ended up reading every single one of them. But I wasn't really impressed with them at the time because they'd been translated really plainly, and the illustrations were really crude."
Only later, when she traveled as an adult to China, Taiwan, and Hong Kong and saw landmarks of the world where those myths took place — like a dragon statue or a palace befitting an evil magistrate — did the stories begin to come alive for her, she said. At the same time, her books began to give her a chance to talk to her parents about Chinese culture and to learn more about their lives.
"When I started writing books, a really wonderful side-effect was that I had all these questions," Lin said. "Like, I never knew why my parents immigrated to the United States. And it was only when I started making the books that I started asking those questions of my parents and hearing stories from their lives in Taiwan when they were children. All these things that we never talked about before. Now they'll tell me stories because they're like, 'Oh, you could use this.'"
Her parents' stories helped to form Lin's first novels, the mostly-autobiographical "The Year of the Dog" and "The Year of the Rat." Since writing those books, Lin's work has taken a different turn, away from her personal experience, away from the United States, and even away from the present.
"When the Sea Turns to Silver" is the third in a fantasy series that takes place in an ancient, fictional China, where traditional myths and folktales meet stories of Lin's own invention. The book follows a shy girl named Pinmei, who leaves her small village at the top of a mountain in search of her grandmother, a trip that takes her past wonders like embroidered portals and mussels that transform into birds, all the way to a castle at the bottom of the sea.
RELATED: Simon & Schuster Announces Muslim Children's Book Imprint
Lin was inspired to try writing fantasy stories for the first time while spending time in the hospital with her first husband, who died of cancer in 2007.
"One of the things we would do there is I would write something and I would read it to him," she said. "And I wanted to write a new book, and he said, 'Well, why don't you write a fantasy? Because if you write a fantasy and read it to me, I can pretend I'm some place else other than here in this hospital.' I think he thought I was gonna write something like Terry Brooks or 'The Hobbit'."
"I say, 'Well I have advice for both of you… Your child will never be Asian. And I say to the kid, and you will never be American. You will always be Asian-American, no matter what.'"
But instead, she thought back to the Chinese fairy tales of her childhood. In 2010, the first book in the series, "Where the Mountain Meets the Moon," won a Newberry Honor.
Lin also sits on the advisory committee for We Need Diverse Books, a campaign that promotes diversity in children's literature. She sees the need for books like hers on her many school visits, where she meets parents and children facing similar cultural struggles that she and her mom shared when she was young.
"I'll go to these events and parents will ask me, 'Do you have any advice for my child who was born here but we're Asian?'" Lin said. "And I say, 'Well I have advice for both of you… Your child will never be Asian. And I say to the kid, and you will never be American. You will always be Asian-American, no matter what."
That hyphen in Asian-American can feel like a minus sign, she said, as if each half of the compound were taking away from the other. "But really it's not a minus sign, it's a bridge, and it's something that ties us together, and it only makes it stronger. So that's what I try to tell them. And that's how I feel now too about my own identity."
She also sees this issue through the eyes of a parent, looking for books to read with her four-year-old daughter. For a while, she tried a system wherein she would read three picture books per night, and if one of those featured a white character, at least one of the others would feature a person of color or a person with disabilities.
"After like, two weeks, it was so hard to do that I would get tired," Lin said. "I would be like, okay, we're reading all animals tonight."
At the same time, having a child has given her a new perspective on the impact books can have. "Before I had my own child, parents would say to me, 'My son loves this book so much he brings it to bed,' and I'd be like, 'That's so great,'" she said. "I really liked it, but I never realized what a big deal that was until I had my own child. The first time my daughter woke us up in the morning with a book, saying 'Read this one, read this one,' it was a big deal. And how amazing it is to be the creator of that book that a child rushes in to wake their parents up to read."
Follow NBC Asian America on Facebook, Twitter, Instagram, and Tumblr.
Correction: An earlier version of this story stated that "When the Sea Turns to Silver" was released on Oct. 4. It was released on Oct. 3.