Over the past year, the Covid-19 pandemic has profoundly altered the streetscapes of America's Chinatowns, transforming these working-class bastions into ghost towns, protest zones, then open-air cafeterias.
Even before much of the United States went into lockdown in March, these historic neighborhoods were taking a hit. As early as Lunar New Year, when many businesses make a large share of their annual revenue, merchants across the country were reporting declining profits; by the time stay-at-home orders were implemented, some had lost up to 70 percent of their sales, due to anti-Asian bigotry, fears of the virus and a sharp drop in international tourism.
By May, 83 percent of California's Asian American labor force with a high school degree or lower had filed for unemployment insurance claims, compared to 37 percent for the rest of the state's workers with the same education level, according to a report from the University of California, Los Angeles.
For much of the year, Chinatown business owners have been fighting a two-front battle. Not only did they sustain heavy losses from the pandemic, they also bore the brunt of political, environmental and social upheaval: President Donald Trump's inflammatory anti-Asian rhetoric, megafires on the West Coast, and nationwide protests against police brutality.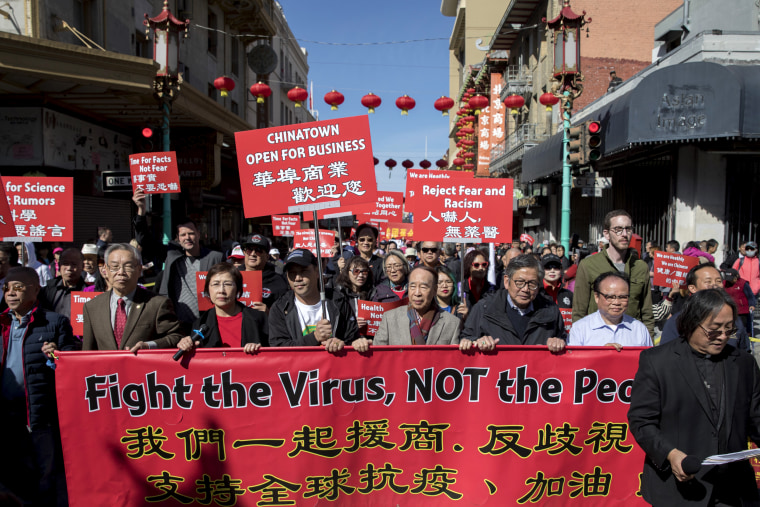 Among dozens of Chinese enclaves across the country, those in Seattle, San Francisco and New York are some of the oldest, largest and most recognizable, serving as cultural and financial hubs for generations of Asian immigrants. Now they're facing an existential crisis on an unprecedented scale. Despite the success of outdoor dining initiatives, many decades-old neighborhood fixtures have fallen, unable to generate enough sales to offset the debt they've accrued during lockdown. Many tech savvy young people have stepped up by taking over family enterprises and launching innovative fundraisers, but as the pandemic enters a deadly third wave and previous protections, such as citywide eviction moratoriums, set to expire, scores more mom-and-pop shops may permanently shutter.
"I'm not that optimistic about what's going to happen this winter," Justin Yu, the chairman of the Chinese Chamber of Commerce of New York, told NBC Asian America.
Facing evictions in New York: 'It's not like they can just start again in another neighborhood.'
When New York City rolled out its "Open Restaurants" program this summer, which expanded outdoor dining space, crowds once again saturated the narrow alleyways of Manhattan's Chinatown.
But the boost couldn't save all businesses, and a handful of long-standing Chinatown institutions have closed for good, including the handmade noodle staple 88 Lan Zhou, the banquet-dining favorite Amazing 66 and the dim sum mainstay Hop Shing.
Since late September, Yu, of the Chinese Chamber of Commerce of New York, said the resumption of indoor service at 25 percent capacity has benefited large dim sum restaurants such as Jing Fong, which can normally seat more than 1,000 guests. But for smaller eateries it's often not enough to cover payroll. (New York shut down indoor dining Monday.)
And the coming winter weather will also mean fewer outdoor dining customers, Yu said.
Meanwhile, some restaurateurs say elected officials are ignoring their most urgent concern: overdue rent payments.
Rose Wu, owner of the cash-only eatery New Shanghai Deluxe, said that since February, she has accumulated more than $200,000 in back rent and other overhead costs. (Gov. Andrew Cuomo has extended the city's moratorium on commercial evictions to Jan. 1.)
Outdoor seating allows Wu to serve roughly two dozen customers at a time, which she said has barely helped her break even on labor costs. In the spring, she received a $24,000 loan from the federal Paycheck Protection Program, but she said the amount only covered a month's worth of expenses.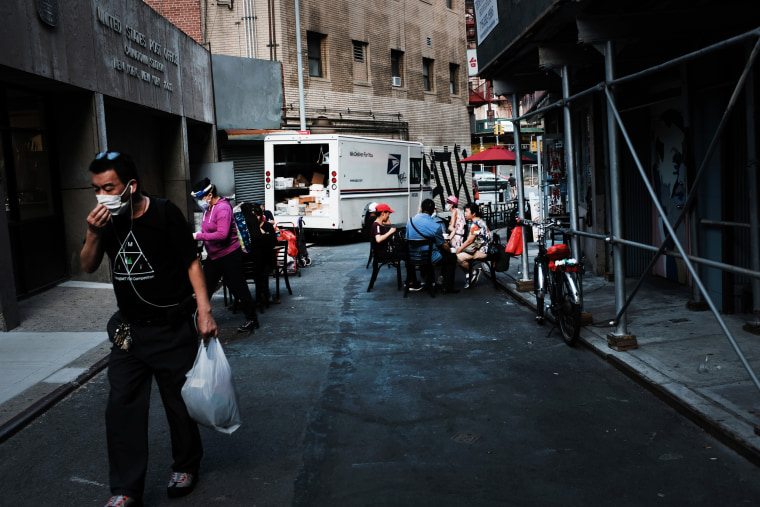 "There's no way to do business like this," she said in Mandarin, adding that she and her husband, both in their 60s, work 12-hour shifts every day because they can't afford more employees. "The reality is that we need relief for at least four months of rent to survive in the long run."
Don Lee, a longtime community activist who runs a senior center, said a majority of shops will likely shutter if the city refuses to grant rent relief to tenants and waive property tax for landlords. Neither idea has been seriously touted by Mayor Bill de Blasio or local officials.
Chinatown's merchants and workers are "bound by geography because of unique language and cultural needs," Lee said, so protecting them from eviction is crucial.
"It's not like they can just start again in another neighborhood," he said.
At the same time, young Asian Americans have stepped up to help save many of these businesses. Some 200 volunteers in their 20s run Send Chinatown Love, a nonprofit that builds websites for restaurants and organizes food crawls to bring back foot traffic.
Others, such as Jefferson Li, are putting their own careers on hold to preserve their parents' legacy. For three and a half decades, his family butcher shop, 47 Division Street Trading Inc., has been selling meats at discounted rates to both chefs and seniors on food stamps. Closing isn't an option, he said, because it'll trigger a chain reaction throughout the entire neighborhood. So he's putting in 14-hour work days at the store, taking orders, handling deliveries and using social media to woo younger, non-Asian customers.
"If we shut down, what will happen to the regulars who rely on us?" he said. "What will happen to the auntie who makes $14,000 a year after rent and now has to pay $1 extra for a pound of meat?"
In Seattle, a tight-knit, multigenerational community will be key to recovery
Last year, I-Miun Liu had three bustling enterprises in Seattle's Chinatown-International District. But the financial strain of the lockdown forced him to indefinitely shutter his coffee shop, Eastern Cafe, and permanently close his cocktail bar, Dynasty Room. Only his bubble tea chain, Oasis Tea Zone, remains.
Now, even as restrictions on restaurants have eased, people's desire to eat out has not returned to pre-pandemic levels, Liu said. This puts his establishments at a disadvantage, since they were designed to give guests memorable dine-in experiences and don't translate easily to takeout service.
It's not just the shaky economy that's impacted small enterprises. Local protests over the police killing of George Floyd spilled into the International District over the summer, leading to extensive property damage at dozens of Asian-owned stores. Compared to most other major cities, the protests in Seattle have bred longer and more violent confrontations between the police and protesters, leaving shop owners like Liu worried about the future.
Many merchants share the sentiment, said Maiko Winkler-Chin, executive director at the nonprofit Seattle Chinatown International District Preservation and Development Authority, which works with half of the neighborhood's 425 small businesses.
"There's a lot of anxiety right now," she said, noting that five months after Floyd's death, many owners still haven't unboarded their windows, and may not do so until early next year, given the possibility of post-election unrest. "We're still wondering when we can transition from reaction to recovery."
Young people in Seattle have also been on the frontlines of helping Chinatown recover.
In February, activist Sarah Baker, 31, co-founded a Facebook group to share information about and help small shops in the International District. Support the ID - Community United grew rapidly in the first few weeks, and members raised more than $16,000 for restaurants and a local nonprofit to feed nearly 900 health care workers. In early June, some artists used the platform to organize a mural painting party for stores that had been boarded up. (Baker shut down the page in July.)
She said the multigenerational composition of the International District helps to keep it a tight-knit, self-sufficient community — and that this will be a key to its recovery.
In addition to fundraisers, younger organizers have also arranged block watches of unarmed volunteers patrolling the streets at night and connecting homeless people with social services groups. Many of them grew up under the influence of, and modeled their activism off local leaders such as the late Bob Santos, a Filipino American who was widely regarded as the district's unofficial mayor, and Donnie Chin, a Chinese American known as its unofficial security guard.
"We colloquially say that Seattle is a 'Little Big Town,'" Baker said. "Being able to uphold and grow that legacy is really important to a lot of folks. It's a high bar to hit."
San Francisco: "There's going to be a swath of displacement."
The Golden Gate Fortune Cookie Factory, one of the most recognizable fixtures in San Francisco's Chinatown, has been creating handmade fortune cookies for more than half a century.
Even before the pandemic hit, the store had been struggling to turn a profit, fighting against the twin threats of rising rent and corporate competitors that mass-produce cookies. By the time Lunar New Year — normally the busiest week in the neighborhood — rolled around, the coronavirus and rampant anti-Asian racism had driven daily sales down to near zero.
Still, when the lockdown was lifted in July, owner Kevin Chan remained hopeful that he could turn the business around. But barely two months later, megafires turned the Bay Area's skies an apocalyptic orange, reducing visitors to one or two people a day — comparable to the scene in late February.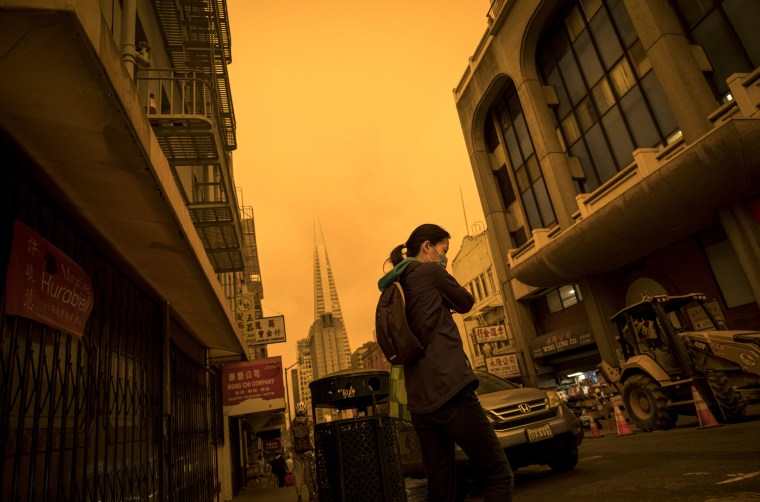 "Everything is just dead," Chan, whose mother and uncle founded the factory in 1962, said in September, noting that the shop relies heavily on bulk orders from hotels and restaurants — two sectors that have been devastated by Covid-19. Today, foot traffic is still so slow that he and his mother have stopped making cookies on weekdays. "We thought we were going to recover but it hasn't happened," he said.
Since the smoke cleared, visitors have slowly returned to the city's tourist-centric Grand Avenue. But with international travel heavily restricted and most white-collar employees working remotely, merchants are still struggling to make up for weekday lunch traffic, said Malcolm Yeung, executive director of the Chinatown Community Development Center.
In August, CCDC and the San Francisco Chinese Chamber of Commerce and Chinatown Community Development Center launched a $25,000 grant program to help restaurants set up street seating. But the city's hilly terrain also poses geographic problems for outdoor dining, Yeung said. Most of Chinatown's eateries are situated on slanted streets, which aren't ideal for the placement of tables and chairs. Some owners have had to completely restructure their operations to attract customers. The dim sum restaurant New Asia, for example, has transformed into a grocery store.
All of Chinatown is affected by the fate of these restaurants, Yeung said. Because they employ a large number of newly arrived immigrants, restaurants are "an economic engine for Chinatown and a collateral benefit for other businesses," including the Golden Gate Fortune Cookie Factory, he said. "To the extent they begin to close," he said, "it'll really impact our ability to help new families integrate in the economy."
Like their peers in New York and Seattle, young San Franciscans have also stepped up to save their neighborhood. During the first lockdown, the youth-led Rose Pak Democratic Club created an online directory of still-open Chinatown restaurants to spotlight merchants who don't maintain a social media presence. Members also helped feed vulnerable residents in public housing and single room occupancy hotels.
For many merchants, an even more pressing worry than inconsistent foot traffic is the looming expiration of the moratorium on commercial evictions, which had been set to end Nov. 30, but was extended last month through March 2021.
In Chinatown, the scope of the crisis can be difficult to assess because of the informal way landlords and tenants do business, Yeung said. Rental terms between the two parties are often negotiated verbally rather than signed on paper, according to a July survey the CCDC conducted with 32 owners. "So there's no indication of whether rent is deferred or forgiven," he said.
Allan Low, a real estate attorney who has been working pro bono with commercial tenants in Chinatown, said only a few of his clients have the resources to pay back rent anytime soon.
"There's going to be a swath of displacement in our communities of color unless someone intervenes," he said, adding that some corporate landlords have already begun collecting rent and threatening to evict tenants.
Last month's ordinance to extend the moratorium through March 2021 also gives tenants the opportunity to negotiate rent repayment plans. The order gives merchants some breathing room, Low said, but most will still need funding from another federal stimulus package to get through the pandemic.
Keeping mom-and-pop shops in place, he said, is the critical first step to protecting one of the country's most enduring and ethnically diverse Asian enclaves, which was founded in the 1840s.
"How do you preserve the cultural identity of the city if these businesses are wiped out?" he asked.