Carolyn Kim, the Korean-American entrepreneur behind Yobo Soju, is humble to the point of self-deprecation about her new venture, a grape-based take on the Korean liquor. "To be honest, it's not like I had this huge vision," Kim told NBC News. "It was a selfish motive. It was just something I wanted to drink."
"I have to drink every day because I have twins," she added, joking.
Kim, who works as a public interest attorney and is the mother of two three-year-old boys, cites the work of young Korean-American chefs cooking up modern renditions of traditional Korean cuisine as her inspiration. She wanted to produce a soju that could pair with the food. "A lot of times you see soju on the menu," she said, "but the quality doesn't quite keep up with the food."
RELATED: Deuki Hong Is Bringing 'Koreatown' to American Kitchens
Her soju is different than the alcohol she drank when she was younger. "I drank Chamisul in college," she said. "It was a different mission."
Chamisul is just one of the sojus produced by Korean liquor giant Hite-Jinro, one of the world's largest spirit brands. In Korea alone, 20 billion bottles of Jinro Chamisul soju have been sold since its launch in 2002, according to the company.

In the U.S., however, soju has been slower to catch on outside of Korean restaurants and bars. American journalists writing about the Korean import have described its taste from "modest, nothing fancy" to blunt comparisons to cleaning solvent.
Traditionally, soju is distilled from rice, but in the 1960s, the Korean government banned rice in soju production because of shortages. Liquor companies turned to other base materials, such as barley, tapioca, and sweet potato. Cringing, Kim remembers the awful hangovers and "soju body aches" she suffered from those green bottles.
It's not all bad memories, though. For Kim, drinking soju also conjures up nostalgia for spirited revelry with her friends. "There's a social aspect to drinking soju I want to celebrate," she said. "It's not about getting wasted, but about enjoying the drink. I wanted to make something you can sip on, goes well with food, for sharing." Yobo's name is taken from that sentiment: "Yobo" is a term of endearment in Korean, like "sweetheart" or "honey."
Made from grapes, Yobo Soju has a subtle flavor profile with some fruitiness at first taste. Like traditional sojus, it's colorless and has an alcohol content around 24 percent. Kim and her husband, James Kumm, worked with a craft distillery in upstate New York to find the perfect filtration. "We went back and forth," Kim said. "At one point the formulation was too smooth for my taste, because I wanted to honor that soju does have a little of that mouth-burning quality. Just enough of a signature."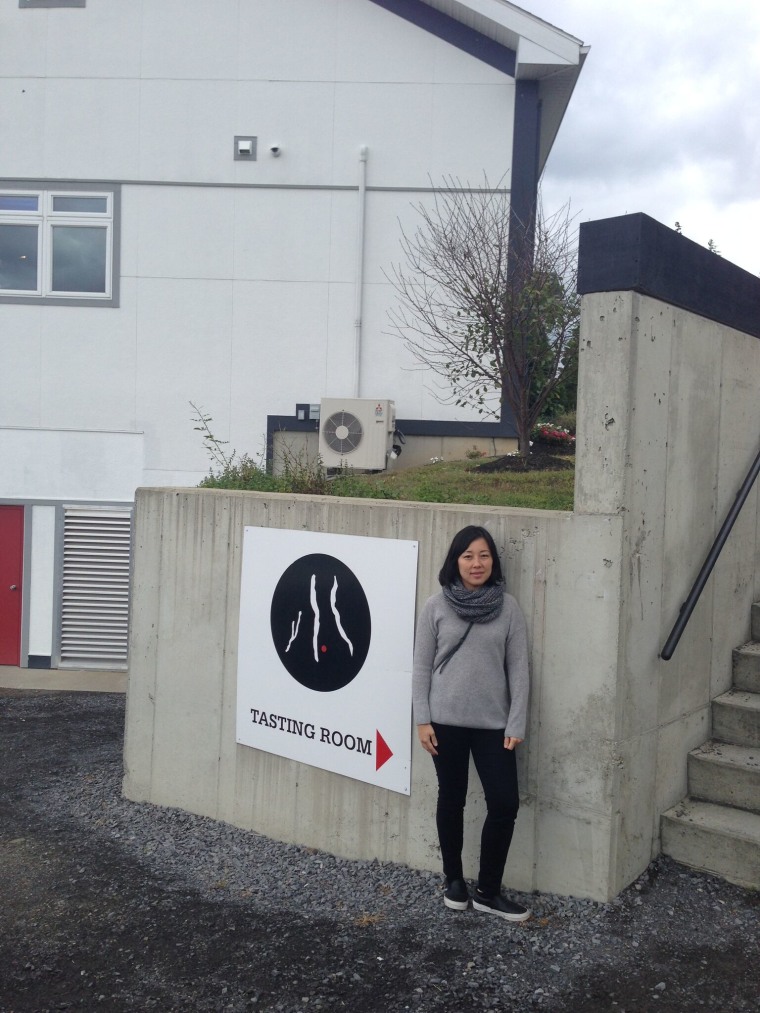 Kim worked nights and weekends on Yobo Soju for over a year and introduced the product last fall in a soft-launch, testing it out with select restaurants and boutique retailers in New York. One of those was Oiji, a modern Korean restaurant in the East Village.
When Oiji first opened, the restaurant carried Jinro soju, but general manager Max Soh decided to remove it after customers unfamiliar with the Korean liquor nearly gagged. "I saw their faces change," Soh told NBC News. "I understand — I remember what it was like drinking soju for the first time. It's not very pleasant, a lot of manipulated chemical flavoring."
He also said that Yobo Soju has been "a great asset," filling a void left by the less refined versions of soju that Oiji previously offered. "It's also great to hear that a Korean-American started this in the U.S.," he said.
"To be honest, my first go-to is still the green bottle, because I'm used to it," Soh said. "But something like Yobo is completely new and different. We give our customers a taste, and they usually go for it."
RELATED: Baijiu, Chinese National Spirit, Finds Home in U.S. Craft Bars
For now, Yobo Soju is only available in New York. Kim hopes to expand to new markets soon, especially in California. "I think we'll build credibility starting with the Korean-American, Asian-American community," she said.
"We're not knocking Jinro, it's fun stuff," Kumm told NBC News. "We just want to expand the spectrum of the soju category."
Follow NBC Asian America on Facebook, Twitter, Instagram, and Tumblr.