Ariana de Leña, a Filipina American farmer, owns and operates Kamayan Farm, 25 miles east of Seattle — in Tagalog, "kamayan" means "with hands," and refers to a traditional Filipino way of eating. Her farm rests on a nutrient-rich floodplain where she grows long beans, bitter melon and ginger.
De Leña is one of several first-generation Asian American farmers who left their more traditional career paths for full-time farming on the West Coast. De Leña, who once worked at environmental justice nonprofits, found new meaning in growing food as a means of cultural reclamation.
"I got really inspired around how we can use food to do more storytelling around our families and our culture," de Lena said. As a biracial daughter of a Filipino father and a Caucasian mother, she said farming felt like "an easy access point" to learn more about Filipino food and how it's grown.
Growing up in the suburbs of Seattle, de Leña studied environmental justice and development at the University of California, Berkeley, before moving to Chicago and Washington, D.C., to work in urban agriculture and family farm advocacy.
"I don't think I ever thought I would be a farmer," de Lena said. "It never really occurred to me as a profession."
Leslie Wiser of Radical Family Farms in Sonoma County also has a similar story. After pursuing a master's degree in media arts, Wiser entered the corporate world, where she said she would sit in front of a computer for 10 to 12 hours a day. A decade later when Wiser started a family, she realized she craved a different lifestyle for her children.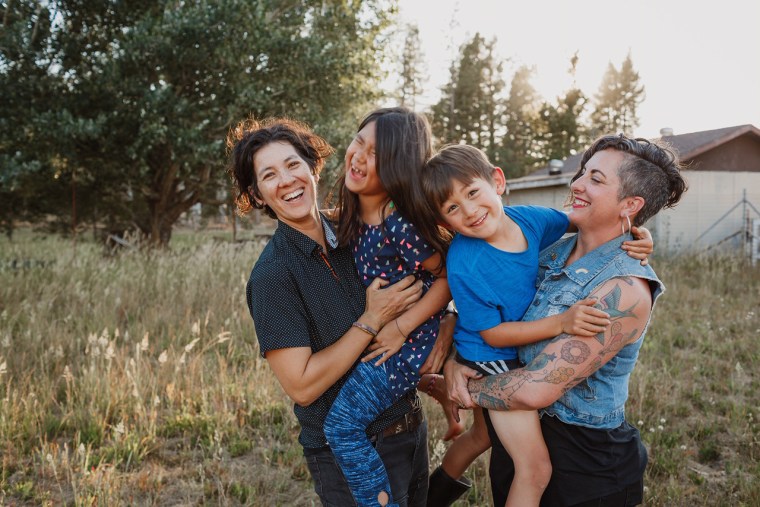 "I want them to know where their food comes from," Wiser said. "I want them to be more connected to the land, and I want them to be more environmentally sustainable and responsible."
Born to a father who immigrated from Germany and a mother from Taiwan, Wiser felt like she lost "so much of our cultural heritage and lineage" while growing up in various parts of the Midwest. To Wiser, raising her own children to eat German and Asian food — she grows everything from white asparagus to winter melon — is a way to learn more about her own mixed-race identity.
Yet, Wiser said her culturally rooted farming goes beyond connecting with her personal background. It's about reclaiming lost heritage and Asian American identities in the land itself, she said.
The United States Census of Agriculture shows that Asian Americans made up less than 1 percent of the farming population in the United States in 2017. More than 95 percent of the full-time operators in the U.S. are white. These numbers stand in contrast to the 19th and early 20th century, when Asian American farmers were ubiquitous. The drastic demographic shift started with the Chinese Exclusion Act of 1882, and later grew in 1913, when the California Alien Land Law prohibited Asian Americans from owning land. Between 1920 and 1930 alone, Japanese-owned farmland dropped by more than 40 percent.
Mai Nguyen, a first-generation Vietnamese American farmer with the National Young Farmers Coalition, said structural racism and discrimination against Asian American farmers and other farmers of color persist today.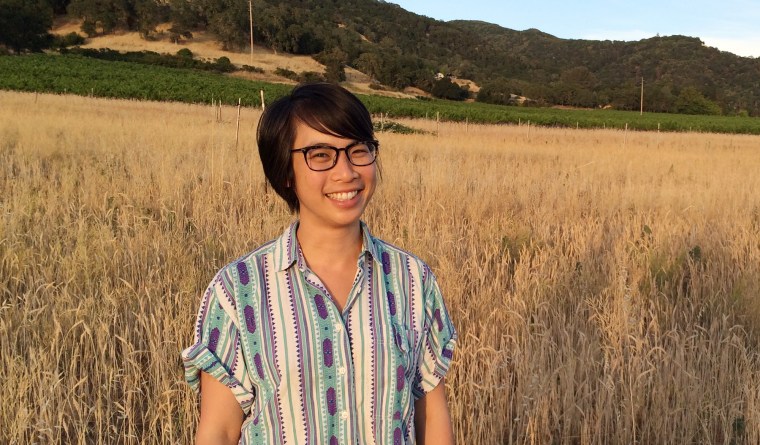 "There's high segregation based on race and ethnicity in our rural spaces," Nguyen said. "While there are large populations of Asian American farmers, they're segregated in a way that they're not as visible as our white counterparts." Nguyen said this lack of visibility harms older Asian American farmers who are denied access to markets, land and resources as a result.
Before founding Farmer Mai, Nguyen was a climate scientist with a master's degree in waste management. Born in a family of refugees, Nguyen sold produce from a neighborhood farm at farmers markets where she noticed South Asian vegetables would sell out within an hour of opening.
De Leña said the reason she didn't see herself farming at first was because she didn't see Asian Americans represented in the agriculture space.
"My idea of what a farmer looks like, before I learned more about agriculture and our food systems, was an older white man," she said. "I think that's why a lot of people are being so explicit about being identity farmers, or being farmers of color." De Leña explained that Asian American farmers who practice "identity farming" make their cultural identity a central part of their business and farm mission.
Kristyn Leach of Namu Farm in San Francisco uses organic and sustainable agriculture methods to grow perilla, Korean melon, chili peppers and other crops. Leach, who is an adopted Korean American, became curious about her heritage while growing up on Long Island and wanted to learn more about Korean food culture.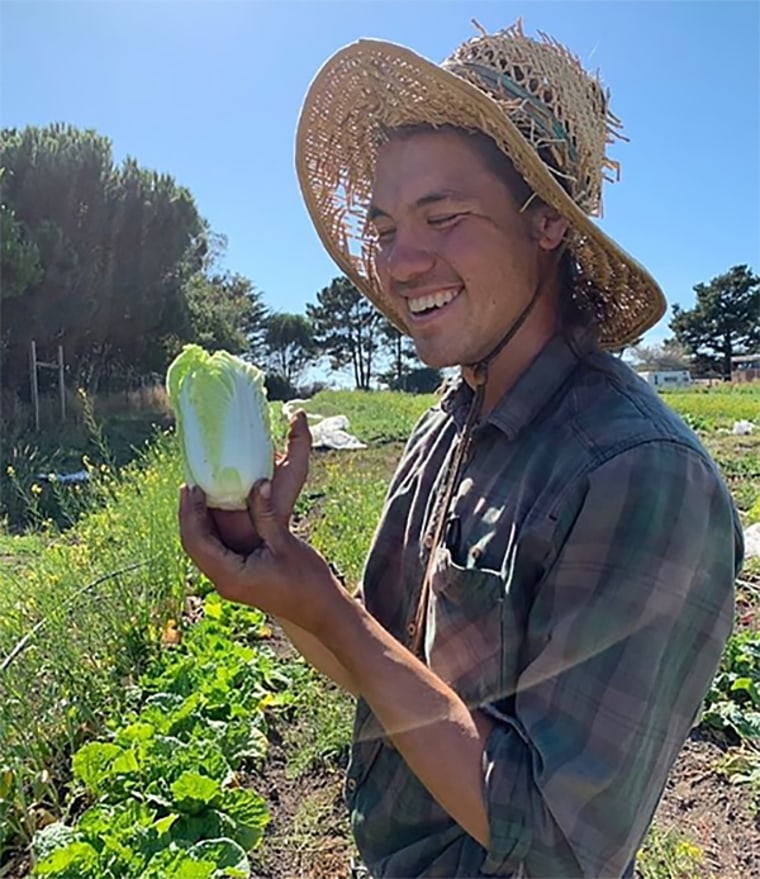 Scott Chang-Fleeman, owner of Shao Shan Farm in the Bay Area, agreed that there's a lack of Asian American representation in agriculture. Chang-Fleeman's academic mentor at the University of California Santa Cruz was a biracial Chinese American farmer and inspired him to switch his major from history to environmental studies. Afterward, Chang-Fleeman took his first job as a farm manager at Pomona College.
"Having representation in any industry is going to increase diversity within that industry," he said.
Part of that visibility and representation comes through Asian American farmer Instagram accounts, which Chang-Fleeman dubs modern-day business cards.
De Leña said Instagram is "the No. 1 tool that farmers use to connect and share information."
"I post probably as much for my consumers as I do for other farmers. And I often will post questions that I have about farming on there, just to try and crowdsource some answers and some solutions," she said. De Leña added that she typically receives dozens of responses and engagements on her farming-related questions.
"Farmers are the most amazing inventors and problem solvers," she said. The visual aspect of the platform allows de Leña and other farmers to examine the intricacies of their methods and techniques.
Beyond the social network of Asian American farmers, the online platform serves as a venue for first-generation farmers, who typically lack intergenerational resources and an established customer base, to launch their businesses and gain exposure to future customers.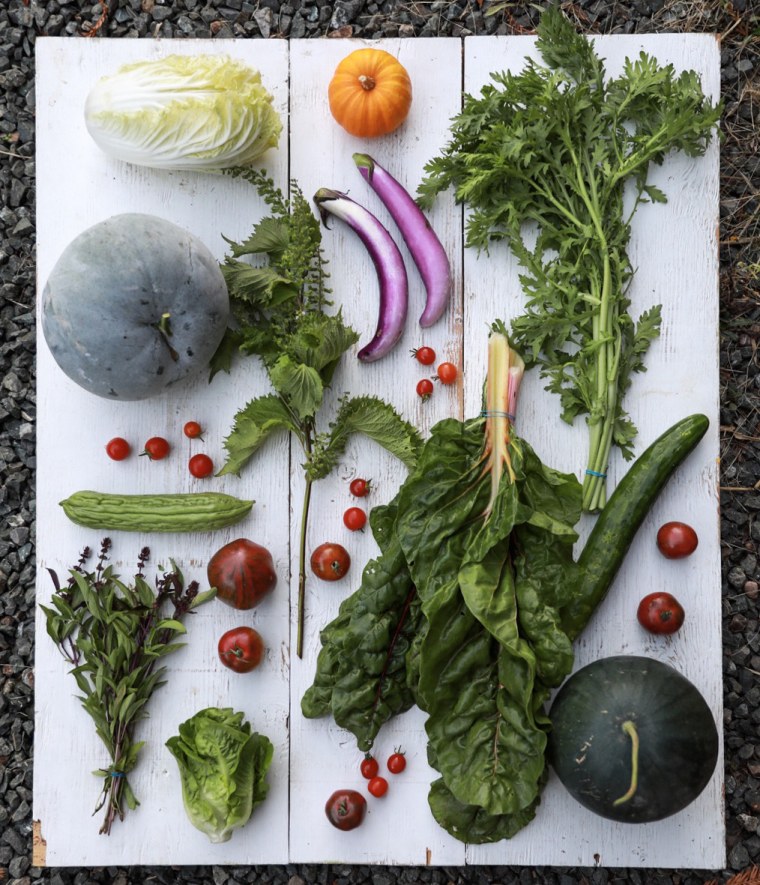 "Basically, that's how we launched the farm," Wiser said. "I wouldn't have any business if it weren't for Instagram." Wiser, who started commercially farming only a year ago, said she found her first client through the app. Chang-Fleeman similarly uses the Instagram community to connect with regional Asian American chefs, a demographic he said makes up around 30 percent of his clientele.
The partnerships between Asian American chefs and farmers could present a sustainable way forward for first-generation producers.
When Leach was in her late 20s, she wanted to start a farm in California, but land was expensive. Starting a small farm can cost anywhere from $2,000 to $10,000. The only way she was able to start her one-acre farm was through a $1,200 payment fronted by an Asian American restaurant customer who was interested in cooking with her organic produce.
"I think the Filipino food community in the Puget Sound is incredibly supportive of each other," de Leña said. "There's a real effort to make sure that our businesses both succeed."
The same Instagram community that facilitates business for first-generation farmers also offers a network to commiserate over discrimination and barriers of entry young farmers face in the industry.
Nguyen said that oftentimes, young farmers of color are pushed into "marginal land," or smaller and more affordable tracts of land, since prime farmland is typically owned by white farmers with several generations of resources and access to capital. For her, Instagram is a way to break through the geographic barriers and meet other Asian American farmers operating these small-scale farms on affordable land near residential and commercial real estate markets."As much as people gripe about how Instagram facilitates fantasies, in some ways it's a way of feeling heartened that others are still trying, despite all that's working against us," Nguyen said.
While first-generation farmers strive for more representation in the industry more broadly, the constant rhythm of farm work still sets the pace of each day.
At Kamayan Farm, de Leña pulls ginger rhizomes out of the soil and sifts through seed heads with her bare hands. Every time she posts a photo of a fruitful habanero plant or rainbow carrot on Instagram, she said she hopes her farm's visibility will encourage future generations of Asian Americans to view farming as a viable livelihood.
"I'm a person that follows the work that interests me," de Leña said. "It's a little bit of a surprising path. But it makes sense in a lot of ways."
Follow NBC Asian America on Facebook, Twitter, Instagram and Tumblr.