ANAHEIM, Calif. — Growing up, Humza Arshad always dreamed of one day having his own show on the BBC. For the Pakistani-British comedian and YouTube Creators for Change ambassador, the idea of being able to use his voice to create something new and original was exciting.
Enter YouTube: Arshad began posting videos in 2010 with his web series "Diary of a Bad Man," which led to comedy tours and stand-up shows. Since his channel took off, Arshad, who is Muslim, has also teamed up with the Metropolitan Police Service to tackle the topic of extremism and urge young British Muslims to be aware of the dangers of radicalism. (Next month, he'll also fulfill that childhood dream of having a BBC show.)
"At first I was very worried when I was doing certain projects," Arshad told NBC News. "I didn't want to be a puppet or a propaganda tool. I know I'm not a politician. I'm a comedian. But at the same time, you kind of realize [that with a fan base] you do have a sort of responsibility to speak out and be honest with yourself and with everyone. If I feel something is wrong, I want to say it."
"That perception that millennials aren't interested in social change is completely untrue. I think this generation is incredibly motivated and passionate and engaged and they really want to create a better world..."
Since its launch in September 2016, YouTube has been working with nearly 40 content creators on "social impact projects" as part of its Creators for Change program. Through grants and added resources, the goal is to help creators make videos and programs that matter — something that Creators for Change ambassador Franchesca Ramsey says is in keeping with what YouTube has always been for her.
"The whole idea behind YouTube is [about] being able to create content that is authentically you," Ramsey told NBC News. "With TV, you can have hundreds of cooks in the kitchen. With YouTube, it's you and your camera."
RELATED: Franchesca Ramsey Heads to Comedy Central With New Pilot
Ramsey and Arshad are two of the 11 global ambassadors selected by YouTube to participate in its inaugural Creators for Change class, along with 28 fellows from around the world (chosen based on nominations from ambassadors, and participation at YouTube's Summit for Social Change held in London in September) that YouTube calls "the next generation of emerging creators using their voice for good."
Fellows include U.S.-based creators Evelyn Ngugi, known as Evelyn from the Internets; Amani Al-Khatahtbeh, founder of Muslim Girl online; comedian and filmmaker Tasneem Afridi; and lifestyle vlogger Subhi Taha.
RELATED: Comedian Tasneem Afridi to Combine Humor, Social Justice as YouTube Fellow
At a VidCon panel on Friday with Ramsey, Arshad, and creators John Green and Jouelzy, Creators for Change fellow Sam Saffold, who posts videos under the channel SuperSamStuff, said he was hesitant at first on his channel to use his voice to speak up about issues he cared about.
"I spent a long time being afraid about things that affected me, personally," Saffold said. "It took me time to realize the emotional aspect of it is important. These things and my feelings deserve to be spoken about."
That combination of creativity and speaking out is not new for the 12-year-old online video platform. Though not initially created as a vehicle to engage in serious conversations, it's not uncommon to see YouTube creators using their channels for social commentary, as well as social good, to reach the estimated 1.5 billion users who watch YouTube videos each month.
In 2007, "VlogBrothers" John and Hank Green launched Project for Awesome to help creators raise awareness about a range of charities; in 2010, they began using the project to also raise money for charities. The annual event has brought in more than $6 million over the last six years.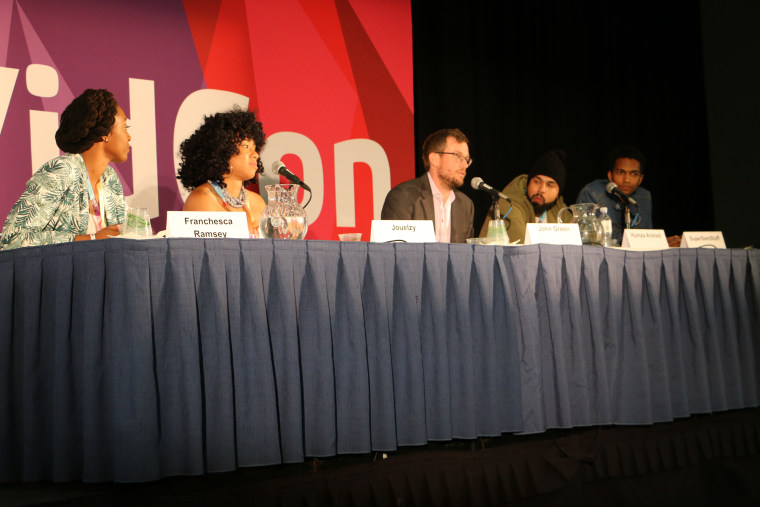 And on Wednesday, UK-based YouTubers programmed a livestream broadcast from the YouTube Space in London to raise money for those affected by the Grenfell Tower fire that killed at least 79 people earlier this month. As of Friday, their efforts have raised more than £5,000.
"That perception that millennials aren't interested in social change is completely untrue. I think this generation is incredibly motivated and passionate and engaged and they really want to create a better world for themselves and their families and people they care about," Ramsey said.
Friday's panel was part of the 8th annual VidCon, held at the Anaheim Convention Center, which brings thousands of content creators, fans, and industry leaders together for a four-day conference focused on digital video. VidCon began in 2010 in Los Angeles, and has since expanded to Europe and Australia. Last year, more than 25,000 people were estimated to have attended VidCon in California.
Follow NBC Asian America on Facebook, Twitter, Instagram and Tumblr.