BRUSSELS — The United States announced a package of new sanctions against Russia and further aid for Ukrainian refugees as President Joe Biden looked to rally the leaders of some of the world's most powerful democracies to increase their efforts to help Ukraine in a series of high-stakes meetings.
The U.S. said it would place additional sanctions on more than 400 Russians and Russian entities, including the Duma and more than 300 of its members, along with more than 40 defense companies, a senior administration official said. It plans to take additional steps to prevent Russia from attempting to prop up its economy.
The White House also announced it would allow as many as 100,000 Ukrainians to enter the U.S., with a focus on those who are most vulnerable. The administration is also prepared to offer more than $1 billion in additional funding toward humanitarian assistance and $11 billion over the next five years to address worldwide food security threats after the disruptions to the Russian and the Ukrainian agricultural industries.
The additional efforts come as senior administration officials say Biden, who attended a series of summits Thursday, is trying to raise pressure on other nations to increase their support to Ukraine, while he himself has been under pressure at home to do more.
While the U.S. announced new efforts around sanctions and refugees, it made no new military commitments — despite pleas from Ukraine's President Volodymyr Zelenskyy.
"I just want you to know that the alliance can still prevent the deaths of Ukrainians from Russian strikes, from Russian occupation, by providing us with all the weapons we need," Zelenskyy told NATO leaders, speaking remotely. "Yes, we are not in the alliance, and I do not make these claims. But Ukrainians never thought that the alliance and the allies were different."
Zelenskyy told NATO that his country still needs more military equipment, specifically tanks and fighter jets, and chided them for not establishing a no-fly zone.
"You have at least 20,000 tanks, Ukraine asked for a percent, one percent of all your tanks to be given or sold to us," Zelenskyy said in a speech to NATO. "But we do not have a clear answer yet. The worst thing during the war is not having clear answers to requests for help."
Biden has committed $2 billion in military assistance to Ukraine since the start of his presidency, including an $800 million military package last week.
Biden attended an emergency gathering of NATO leaders in the morning, where a senior administration official described the mood as having been "sober, it's been resolute and it's been incredibly united."
The NATO summit was followed by a meeting with leaders of the Group of Seven leading industrial nations and an address to European Union leaders, the White House said.
Biden was also expected to discuss the long-term U.S. military posture in Europe with the allies, as well as how the countries would respond if Russia were to carry out nuclear or chemical warfare, White House national security adviser Jake Sullivan said.
Sullivan said the group would also have an announcement Friday after Biden's meeting with the E.U. leaders about a plan to reduce European dependence on oil from Russia.
Along with the new sanctions, the U.S. and other members of the G-7 and the E.U. will also announce plans to try to blunt the Russian central bank's ability to prop up the economy by making clear that any transaction involving gold related to the bank is prohibited, a senior administration official said. 
The U.S. also said that international organizations and multilateral corporations should no longer conduct their activities with Russia in a business-as-usual manner, the second official said.
"Our purpose here is to methodically remove the benefits and privileges Russia once enjoyed as a participant in the international economic order," the official said.
The new sanctions include 328 Duma members; Herman Gref, the head of Russia's largest financial institution Sberbank and a Putin adviser since the 1990s; member of the Russian elite Gennady Timchenko, his companies and his family members; 17 board members of the Russian financial institution Sovcombank; and 48 large Russian defense state-owned enterprises.
A key topic during the NATO meeting was China and a recognition that leaders of the alliance need to continue to call on Beijing not to support Russia and to push for an end to the conflict, the senior administration official said.
As the biggest conflict in Europe since World War II enters its second month, the discussions here could be among the most consequential of Biden's presidency. When Biden was asked as he was leaving the White House for Brussels how likely he thought the threat of chemical warfare was, he said, "I think it's a real threat."  
The White House has established a team of national security officials to plan scenarios should Putin use chemical weapons, a senior administration official said. The so-called Tiger Team is also planning for a range of other contingencies, including the potential use of biological weapons or the targeting of U.S. security convoys. The news was first reported by The New York Times.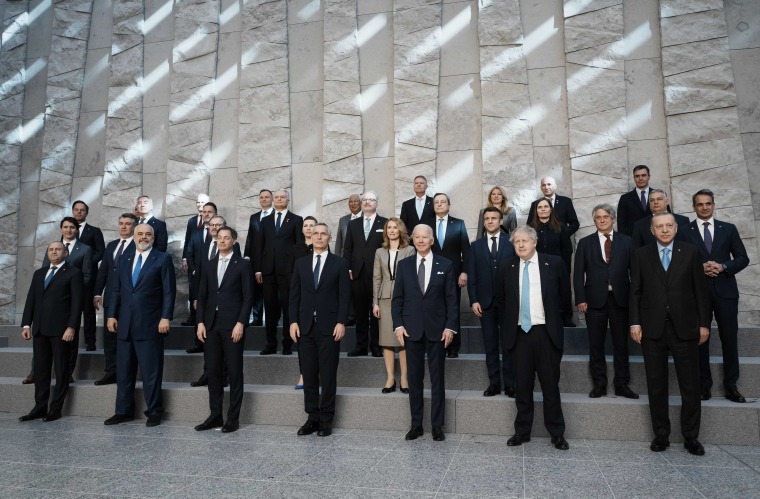 "We are united in condemning the Kremlin's unprovoked aggression and in our support for Ukraine sovereignty and integrity," NATO Secretary-General Jens Stoltenberg said ahead of the meeting. The group would also discuss efforts to strengthen the military alliance's defenses in the short and the long term, he said.
At home, Biden continues to face pressure from Democrats and Republicans alike to do more for Ukraine, along with sagging approval numbers from voters. In a Gallup poll this month, 42 percent of the respondents said they approved of the job he is doing, little changed in recent months, although his handling of the situation with Russia rose by 6 points, to 42 percent.
Biden plans to travel to Poland on Friday to offer support as it deals with millions of refugees who are fleeing the conflict and to thank U.S. troops stationed there.