The wildfire smoke that has cast a sickly pall over major cities across the eastern U.S. snarled air travel Thursday, creating headaches for big aviation hubs and upending plans for thousands of travelers.
Nearly 600 flights across the country were delayed and six more had been canceled as of Thursday afternoon, according to FlightAware.com, a flight tracking service.
Follow live coverage of U.S. air quality conditions and Canada's wildfires
The Federal Aviation Administration said Thursday morning that it had delayed all flights bound for New Jersey's Newark Liberty International Airport nationwide. It also delayed certain flights bound for New York's LaGuardia Airport.
The agency warned that delays were also possible at airports in Charlotte, North Carolina, Dallas and Philadelphia and at New York City's John F. Kennedy International Airport.
FlightAware's "MiseryMap" showed that LaGuardia and Dallas/Fort Worth International Airport were seeing the most significant disruptions at 4 p.m. ET Thursday.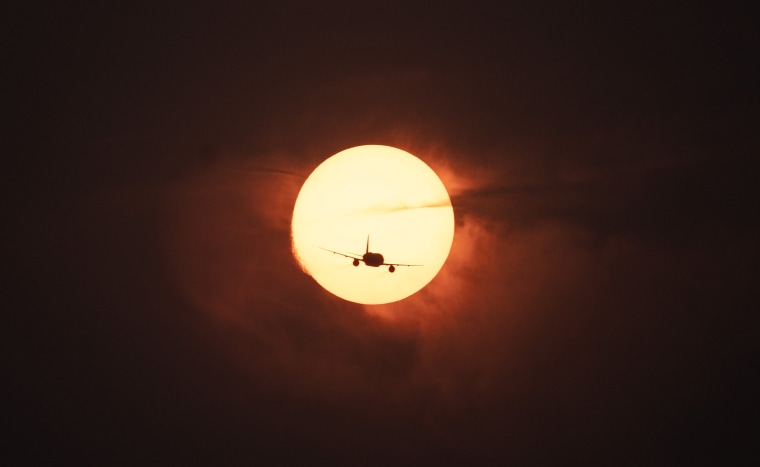 In a statement, the FAA said it would "likely need to take steps to manage the flow of traffic safely into New York City, D.C., Philadelphia and Charlotte due to reduced visibility from wildfire smoke."
In a video on Twitter, the FAA's Sam Ausby explained that "as aircraft get close to the airports, they will need to slow down in order to maintain safety, to see the runways, and to see the taxiways, so delays are possible due to that."
The agency said that its travel advisories would change as weather conditions evolve throughout the day.
In many major cities along the East Coast on Thursday, the air quality was hazardous. New York City's air quality was 183 on the air quality index scale, making it the worst in the world, according to IQAir.com, a Swiss monitoring service.
Detroit had the fourth-worst air quality in the world at 9:30 a.m. ET, hovering around 121 on the index.