BEIJING — Air quality across China generally improved last year but remains a "major health hazard," according to Greenpeace.
A new report ranking 366 of the country's cities in terms of air pollution highlighted that there was still plenty of room for improvement.
"None of these 366 cities meet the World Health Organization's air quality standard," said Dong Liansai, a climate and energy campaigner for Greenpeace. "That is to say 100 percent of Chinese cities studied fail to meet the WHO's standard."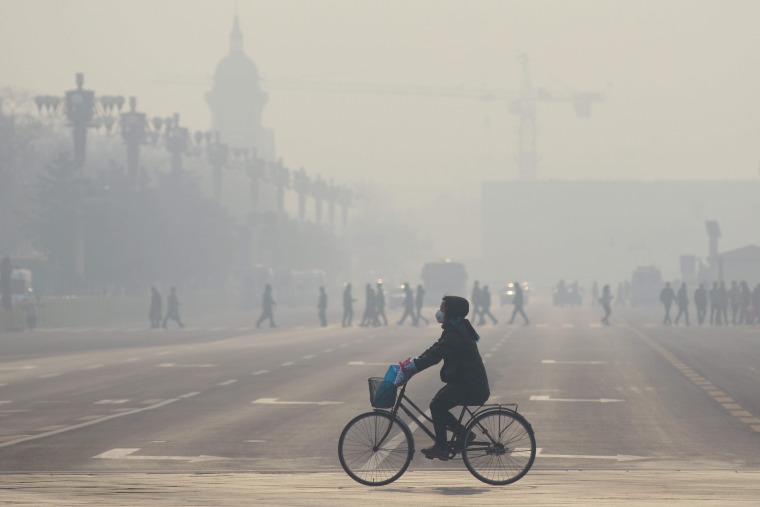 Annual average levels of PM2.5 — particulate matter of 2.5 micrometers in diameter that can penetrate deep into the lungs — dropped by 10.3 percent last year compared with 2014 in the surveyed cities, Greenpeace said in its report released on Wednesday.
However, air quality in the Beijing area, Yangtze River Delta area and Pearl River Delta area showed significant improvement.
Despite such good news, the Greenpeace report showed China's national average for PM2.5 concentration was 50.2 parts per cubic meter — well in excess of WHO's guideline of an annual average of less than 10 micrograms.
"Air quality across China is still a major health hazard," Dong added.
PM2.5 particulate matter is released through the burning of coal and from motor vehicles. It is associated with lung and heart illnesses.
Air pollution was said to be responsible for 3.7 million premature deaths worldwide per year in 2012.
The WHO has argued that developing nations that can cut PM2.5 particulate to their recommended guideline levels could see a reduction in air-pollution-related deaths of around 15 percent.
Beijing issued its first two "red alerts" for bad air pollution in December.
Greenpeace also revealed that China's financial hub, Shanghai, saw its air quality worsen last year, with its average PM2.5 concentration increasing by 3.14 percent over 2014.
Decades of growth-at-all-costs economic development in China has spawned massive problems of air, water and soil pollution.
With increased public concern about pollution nationally, China's ruling Communist Party in recent years has taken steps to address the issue like toughening environmental protection laws and providing financial incentives to provinces to reach air pollution targets.
Researchers at Germany's Max Planck institute have estimated that smog has led to 1.4 million premature deaths in China every year, while the non-profit group Berkeley Earth in California had a higher figure — 1.6 million.