BEIJING — Chinese dissident artist Ai Weiwei was given his passport back Wednesday, more than four years after police seized the document and made it impossible for the prominent critic of Beijing's government to travel.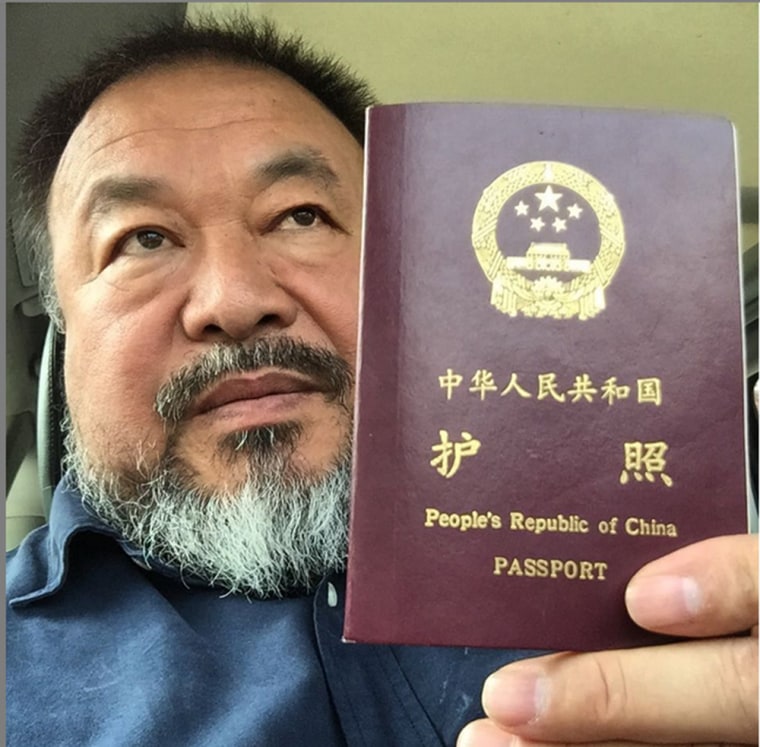 Ai, 58, posted a picture of himself holding his passport on Instagram on Wednesday.
While officials did not say why the social activist's passport was returned, the move comes just months before a high-profile trip to Washington by President Xi Jinping.
Ai, who designed the Bird's Nest stadium for the Beijing 2008 Olympics, has spoken out against the ruling Communist Party and is considered China's most famous dissident.
Officials detained the artist and seized his travel documents in April 2011, charging him with tax evasion, an accusation he has long denied. His family and supporters say he was being punished for speaking out about social problems.
When asked by NBC News on Wednesday why his passport was returned, Ai said: "I think I can only answer, why not? That passport is certainly mine and they had it for too long, so they are returning it to me which is very natural."
Related: Ai Weiwei's Art On Display Behind Bars at 'The Rock'
Ai said that he planned to apply for a visa to visit Germany later in the year.
He added: "I may go to America if something comes up that I need to be there, like art shows, exhibitions."
Ai also said it was too soon to decide whether he would attend a major exhibition of his works at the Royal Academy of Arts in London that's due to begin in September.
"Of course I will consider going to the show in London, but it's still too far off, that's in September, I am focused for now on my travels to Germany in August," he said.
Ai's lawyer Liu Xiaoyuan said: "I cannot speculate why his passport is being returned but in the first place, taking away his passport in 2011 had no legal basis."