BEIJING — The Nobel Peace Prize laureate who is a symbol of democratic struggle in Myanmar was welcomed to Beijing Wednesday as a guest of the Chinese Communist Party, which has recently stepped up its efforts to snuff out any similar aspirations within its borders.
Aung San Suu Kyi is expected to meet the China's top leaders, including President and Party leader Xi Xinping, during her five-day stay.
The Global Times, the Communist Party's usually strident mouthpiece, described her as a "democracy icon." It went on to say that the invitation showed "pragmatism" on the part of the party.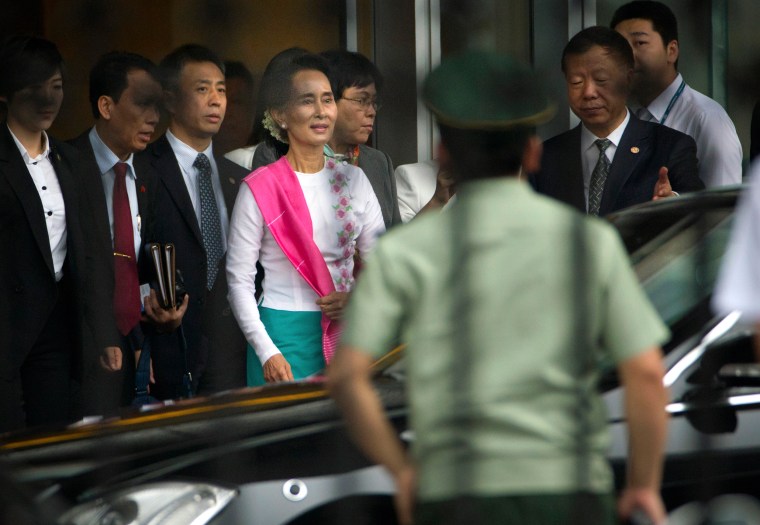 Until recently, a visit by Suu Kyi, an opposition leader who was kept under house arrest for 15 years by Myanmar's military junta, would have been unthinkable.
That she's been invited is an expression of China's increasingly testy relations with Myanmar's government and the wider struggle for regional influence between Beijing and Washington.
Until Myanmar began its democratic reforms, China was by far its most important ally, and the decision by the then-military junta to embrace change was partly designed to lessen dependence on Beijing. While the country held its first democratic elections in 2012, only tiny proportion were contested and the military retains most of them.
Myanmar's President Thein Sein has suspended two huge China-invested projects — a copper mine and a dam, which had encountered local protests.
Beijing has blamed Washington. An editorial in the Global Times Tuesday claiming democratic reforms have made Myanmar a more "complicated" place, and that "Western powers have therefore gained more space to incite resistance against Chinese-funded projects within the country."
More recently, a nasty border conflict has further strained relations.
Myanmar's army is fighting rebels in the Kokang region that borders China's Yunnan province, and this has led recently to an influx of refugees. Five Chinese farmers were killed in March when a bomb landed in the field they were working. Beijing said it came from a Myanmar government fighter that had strayed across the border.
A week ago, China responded with a live fire military drill near the border.
The situation is further complicated because the rebels are ethnically Han Chinese and the Kokang area historically was part of China before being incorporated into British Burma in 1897.
Related: Obama Embraces Suu Kyi, Says Myanmar Reform 'Incomplete'
While China usually isn't shy about historic grievances and the protection of Chinese abroad, it has been cautious about the border fighting, denying that rebels are sheltered in Yunnan. The reason for that is Myanmar's huge strategic importance as a source of minerals, timber and other natural resource, and as a strategic gateway to the Indian Ocean. Chinese oil and gas pipelines cross the country.
This is where Suu Kyi, and her changing role from idealized democracy icon to rough-and-tumble politician, comes in.
Her party, the National League for Democracy, is likely to emerge with a majority in parliamentary elections due in November. And while the constitution currently bars Suu Kyi from becoming president, she could play a pivotal role in determining who gets that job.
"China is sending a message to Myanmar's government"
Washington will no doubt be watching closely as Suu Ki meets Xi, who has presided over an increasingly fierce crackdown on independent voices within China, targeting the internet, NGOs and labour activists. All accompanied by an increasingly shrill denunciation of "Western values."
These are the very values that Suu Kyi embodied during her long years of struggle against authoritarian regimes in Myanmar. Perhaps with that in mind, Beijing has not made public many details of Suu Kyi's visit and has not invited media, other than state media, to any events.
"I think by inviting Suu Kyi, China is sending a message to Myanmar's government," said Du Jifeng, of the Chinese Academy of Social Sciences, that it wants friendlier relations and a solution to the border problem.
"China is hoping Suu Kyi can make a contribution," he said.
It is also hugely symbolic and an expression of Beijing's growing impatience with Thein Sein.
What is also likely to emerge from the visit is a newly minted pragmatic politician, one who has been reluctant to speak out about the repression in her own country of the Rohingya, a minority, tens of thousands of whom have been forced to flee the country by boat.
She has recently spoken of China in warm terms as an important neighbor and source of investment. China's leaders will be just fine with that.