HONG KONG — In his black T-shirt, shorts and flip flops, Joshua Wong could be just another Hong Kong high school student.
But the 17-year-old has fast become the bête noire of China's state media — they have called him an extremist and a buffoon in response to his leadership of student protests demanding greater democracy in the former British colony now ruled by China.
"Students and youth have more passion and more power to be involved in this movement," he told NBC News outside Hong's Kong's government buildings where he was protesting this week. "Young people expect more change and they dream to have a better political structure for the future."
Hong Kong is now halfway through a week of student strikes — class boycotts — culminating in a planned walk-out Friday by high school students.
Wong was 14 when he founded Scholarism, which successfully led a campaign against the imposition of "national education" in Hong Kong, which critics said was little more than an effort to impose communist propaganda on schools.
This time the battle looks far tougher: against a Beijing ruling last month to impose tight restrictions on the election of the city's leader.
When Hong Kong was returned to Chinese rule in 1997 under an arrangement called "one country, two systems," Beijing pledged to grant the territory a "high degree of autonomy" and eventually universal voting rights.
But while Beijing has agreed to "one person, one vote" from 2017, it has imposed tight selection criteria to ensure that only communist party loyalists can be selected to lead this semi-autonomous territory.
"Every citizen should have the right to nominate a candidate for chief executive," said Wong, who believes what is on offer will be even worse that the current system of appointment by a 1,200-strong committee stacked with Beijing yes-men.
In telling Hong Kong, in effect, take it or leave it, Beijing is assuming that this famously pragmatic money-orientated city will swallow hard and get on with life. China's leaders often describe Hong Kong as an economic city and not a political one, and are gambling that Asia's most important financial center stays that way.
Over the years under British rule, Hong Kong absorbed waves of refugees from communist-induced famine and violence on the mainland. Political rights were not among the residents' priorities, nor were they offered until very late by the colony's British rulers.
But Wong's generation — the wired generation — are different. Polls show that young people here increasingly identify themselves as "Hong Kongers" first and not just Chinese. They also have more global values and a desire for Western-style liberal democracy.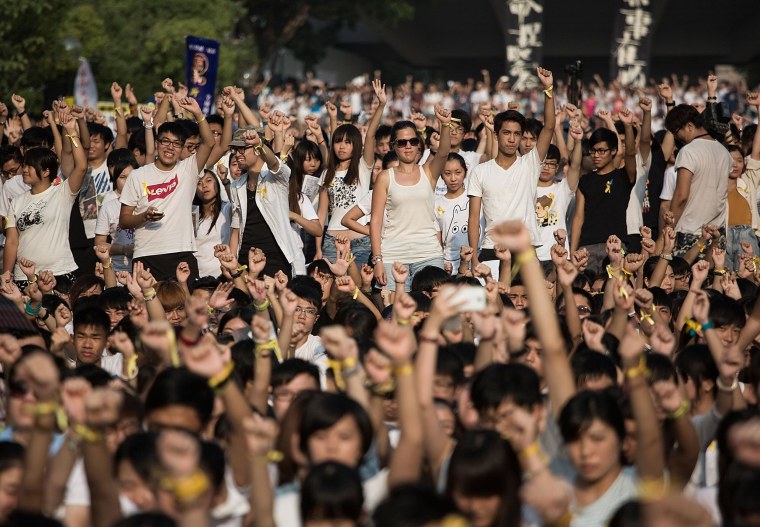 A survey by the Hong Kong University Public Opinion Programme published in Wednesday's South China Morning Post also revealed that a majority of Hong Kong people no longer trust Beijing. Confidence in the "one country, two systems" policy, endorsed publicly by Chinese officials, is at its lowest level since polls began in 1993.
This dark mood has been exacerbated by growing intimidation of the city's independent media, and an influx of mainlanders, accused of forcing up property prices.
Beijing, meanwhile, is quietly wooing what it sees as Hong Kong's most important "electorate," the island's super rich.
While an estimated 13,000 students rallied at the Chinese University on Monday, kicking off their boycott week, China's communist leadership summoned the city's richest tycoons to a meeting in Beijing with President Xi Jinping, who uttered soothing words about policy.
The South China Morning Post estimated that the 70 heavyweights who made the journey own collective assets of HK$1.75 trillion ($225 billion).
One senior official said recently that the interests of these tycoons was the most important consideration in deciding Hong Kong's future.
There was a time when tycoons were much admired in Hong Kong. The city's richest man, Li Ka-Shing, who was also in Beijing this week, was once known as "superman."
Their principal loyalty has always been to their wallets. It is said that when the British left, this business class went from humming "God Save the Queen" to reciting the communist "Internationale" overnight.
But polls indicate that real public opinion — as opposed to the vested interest of the tycoons — is now more firmly with the students.
A group called Occupy Central with Peace and Love will mark China's National Day on Oct. 1 with the first of a series of rolling protests. They have threatened — as their name implies — to close down the city's central financial district, with students and academics again playing a prominent role.
Nobody can predict quite how Beijing will react, especially if there are violent skirmishes. There has even been speculation of intervention by the People Liberation Army, which ruthlessly crushed the 1989 Tiananmen Square democracy movement in Beijing.
Wong is aware that the odds are far higher than in the battle against the curriculum changes.
"Class boycotts surely will not make Beijing change its attitude," he said. "But if we do not organize, Beijing will not think about it at all. We just hope to give more pressure — as much as possible."