BEIJING — China on Saturday accused the U.S. of committing a "serious military provocation" by flying an Air Force B-52 strategic bomber over a Chinese-controlled man-made island in the South China Sea.
China's Defense Ministry said in a statement that the U.S. is deliberately raising tensions in the disputed region where China has been aggressively asserting its claims to virtually all islands, reefs and their surrounding seas.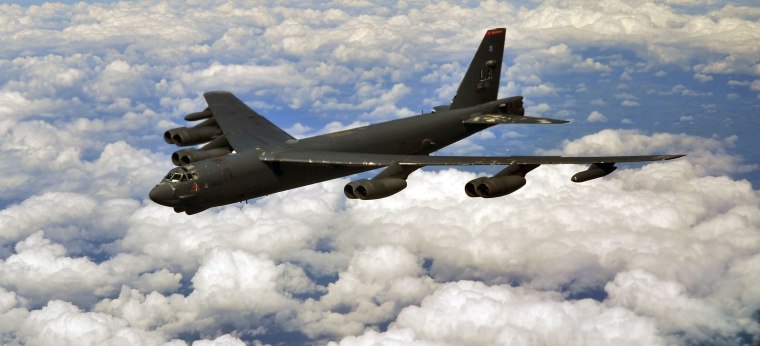 "The actions by the U.S. side constitute a serious military provocation and are rendering more complex and even militarizing conditions in the South China Sea," the statement said. It demanded Washington immediately take measures to prevent such incidents and damage to relations between the two nations' militaries.
The statement said Chinese military personnel on the island went on high alert during the Dec. 10 overflight and issued warnings demanding the aircraft leave the area. As it has in past, the ministry also said it would take whatever necessary measures to protect China's sovereignty and security.
The U.S. takes no official stance on sovereignty claims in the strategically crucial sea, through which $5 trillion in international trade passes each year. However, Washington insists on freedom of navigation and maintains that China's seven newly created islands do not enjoy traditional rights including a 12-nautical mile territorial limit.
There was no immediate Pentagon response to the latest Chinese protest. News reports quoted spokesman Cmdr. Bill Urban as saying in Washington that China had raised its complaints over the flight and the U.S. was investigating.
Related: China 'Not Afraid' of War With U.S., State-Run Paper Says
Urban said the flight was not a "freedom of navigation" operation, indicating that the plane may have strayed off course. The U.S. uses pre-planned freedom of navigation operations to assert its rights to "innocent passage" in other country's territorial waters.
Critics in the U.S. say freedom of navigation operations around the man-made islands appear to contradict Washington's assertions that they have no right to territorial waters in the first place.
China's latest protest comes amid a simmering dispute over Washington's approval of the first arms package offered to Beijing's self-governing rival Taiwan in four years.
Beijing, which regards Taiwan as part of its territory, demanded the deal be scrapped to avoid harming relations across the Taiwan Strait and between China and the U.S.