BAODING, China — As Chinese President Xi Jinping joined world leaders for the U.N. climate change summit, millions in his homeland were choking on the most severe air pollution of the year.
The air-quality index soared past 700 — well above the hazardous level — in Baoding on Monday.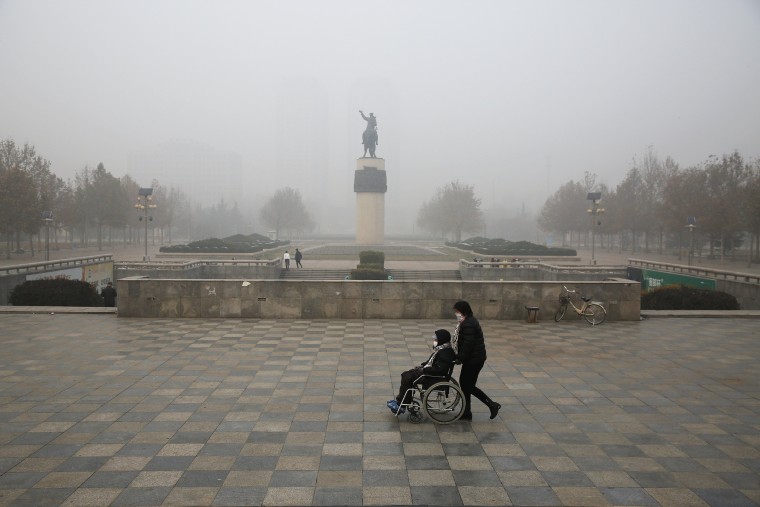 Located about 90 miles south of Beijing, Baoding's 11 million residents struggled to see through the thick haze of smog. Poor conditions were also reported in other parts of northern China, including the capital.
"Most days are like this, especially in winter, and we have become accustomed to it," Baoding-based taxi driver Kang Zhuang told NBC News. "We don't know where the polluted air comes from. Sometimes I cough on polluted days, and there is nothing we can do about it."
PHOTOS: Beijing Smog Reaches Peak Levels Stifling City
China is the world's biggest emitter of carbon pollutants. According to World Bank stats, China's emissions amounted to 11 billion tons in 2013, nearly twice as much as America's 5.8 billion tons. The two countries account for almost 40 percent of the world's total greenhouse gas emissions.
Coal supplies some 65 percent of China's energy needs.
After once being classified as China's most polluted city, Baoding launched a "low-carbon" program to control emissions from factories and develop clean energy.
Thousands of small "polluting" factories were shut down, and it is now home to the world's biggest solar panel manufacturer. Renewable energy now accounts for one-fifth of its economic output, with the government aiming to raise it to 50 percent.
But despite seven years of effort, experts say that Baoding will need to bite the bullet by targeting important economic pillars, such as steel and cement plants, car manufacturing and even the low-tech recycling sector if air quality is to be substantially improved.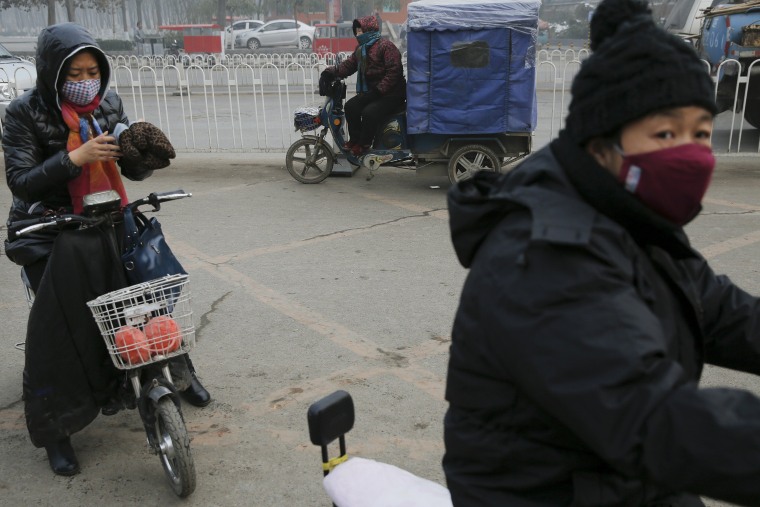 The measures have so far only had a limited impact on people living in Baoding.
"The government has shut down many factories but the air is still bad," Kang lamented. "Who knows if it will get better."
Baoding also neighbors many other polluted cities in northern China and the battle cannot be fought in isolation.
The city's situation is symbolic of the larger challenge facing the country as President Xi assures the climate change summit of his commitment to cap China's carbon emissions by 2030.
"High economic growth will have little meaning if everybody is suffering from hazardous air everyday"
Balancing between cleaner environment and sustaining the economic growth that supports the legitimacy of the nation's ruling communist party will determine whether China can deliver on its promise.
"I don't think there is a choice between economy and environment because China is already at the point where the old way of growth is no longer sustainable," argued Li Yan, a Greenpeace climate change and energy campaigner. "There has to be a new way."
China has taken the global leadership in investing in clean energy technologies, and declared 2017 as the start of a nation-wide carbon trading market that will price carbon emissions.
And what if China fails to win the battle against pollution?
"I guess that would be a disaster and there will be social unrest," warned Professor Zhang Zhongxiang, expert of environmental economics and carbon trading. "Pollution already has long-term impact on public health. High economic growth will have little meaning if everybody is suffering from hazardous air everyday."