China has positioned anti-aircraft missiles on a disputed island in the South China Sea, Taiwan said Wednesday.
Asked about Taipei's allegation, Chinese Foreign Ministry spokesman Hong Lei said the deployment of missiles on Chinese territory would be "legitimate and reasonable" but added that he was "not aware of the specifics" of the situation.
Earlier, Taiwan's Ministry of National Defense said in a statement it had "grasped that Communist China had deployed" an unspecified number of missiles on Woody Island. The island is part of the Paracels chain, which has been under Chinese control for more than 40 years but is also claimed by Taiwan and Vietnam.
The statement added: "The military will closely watch subsequent developments."
The move would follow China's building of new islands in the disputed sea by piling sand atop reefs and then adding airstrips and military installations. They are seen as part of Beijing's efforts to claim virtually the entire South China Sea and its resources, which has prompted some of its wary neighbors to draw closer to the U.S.
The most dramatic work has taken place in the Spratly Island group, although similar work has also gone on at Woody and other Chinese holdings in the Paracels.
On Tuesday, President Barack Obama and the leaders of the 10-member Association of Southeast Asian Nations called for the peaceful resolution of the region's maritime disputes.
The United States has said it will continue conducting "freedom of navigation patrols" by ships and aircraft to assure unimpeded passage through the region.
Related: China Won't Attack Over Island Disputes, Experts Say
Omar Hamid, head of Asia analysis at IHS, told NBC News the missiles' deployment signaled a continuation of China's creeping military advancement in the Paracels, which have been under Chinese control since 1974.
"If you saw things continue to go in this direction, you could probably see things like aircraft transport or perhaps even fighter jets being brought in," he said. "This is sending out a message, saying, 'This is our backyard and we can deploy what we like.'"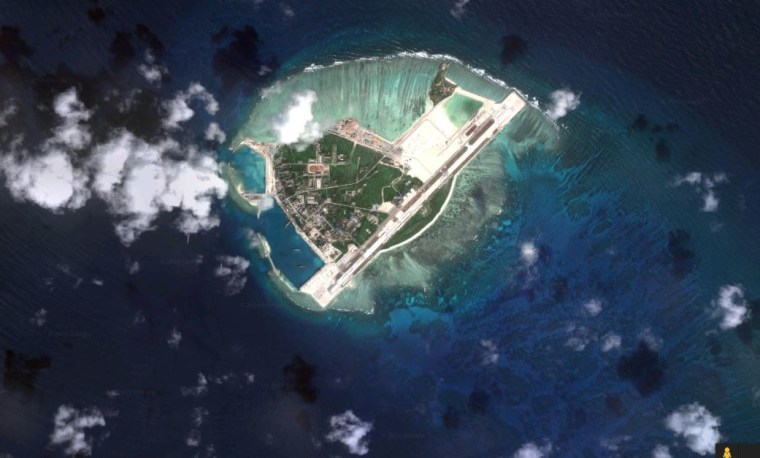 Hamid said that because neither the U.S. nor China want a military conflict, Washington is restricted to reassuring its regional allies by increasing military patrols and conducting joint exercises.
"However, all something like that will do is act as a further irritant to China, whose position is that this is their backyard, much as the same way as the U.S. would treat the Gulf of Mexico, for instance," he added.
A U.S. Navy destroyer sailed within 12 nautical miles of Triton Island in the Paracels chain last month in a move the Pentagon said was aimed at countering efforts by China, Vietnam and Taiwan to limit freedom of navigation. China condemned the U.S. action as provocative.
Related: China 'Not Afraid' of War With U.S., State-Run Paper Says
China has said it would not seek militarization of its South China Sea islands and reefs, but that did not mean it would not set up defenses.
When asked about Taiwan's claims that Chinese missiles had been deployed on Woody Island, a State Department spokesman said: "While I cannot comment on matters related to intelligence, we do watch these matters very closely. The United Sates continues to call on all claimants to halt land reclamation, construction, and militarization of features in the South China Sea."