As a show of strength, the earsplitting flyby was unambiguous.
The public got its first glimpse of China's newest fighter jet Tuesday, with two Chengdu J-20 warplanes roaring through the skies at an airshow in the southern city of Zhuhai.
The stealth fighters aroused gasps and applause from the hundreds of spectators, dignitaries and industry executives in attendance, while producing a deafening scream that set off car alarms in the parking lot.
Equally impressed were the country's residents who reacted to the show on Sina Weibo, a social media site similar to Twitter.
"The J-20 is a sharp sword to defend our country and protect our people," one user wrote.
"I am so excited that it has finally taken to the skies," another added.
The J-20 is designed as a rival to America's F-35 Joint Strike Fighter and F-22 Raptor — the most advanced fighter jets currently patrolling the skies.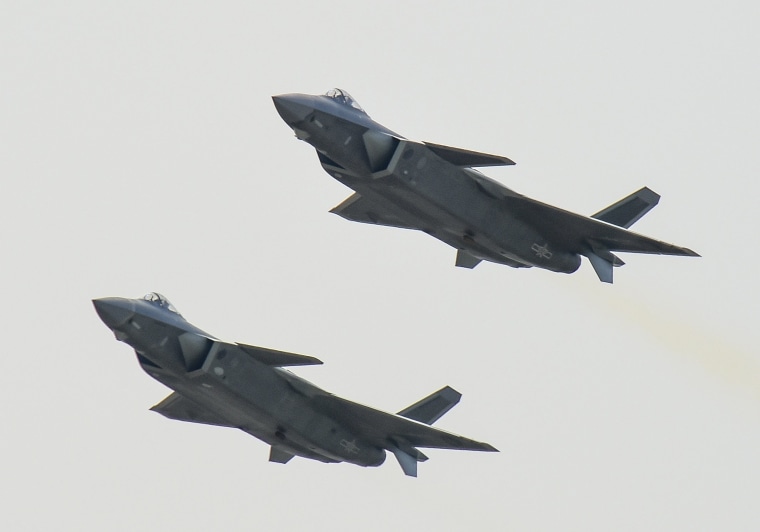 The similarities between the aircraft may not be coincidental.
U.S. officials have accused the Chinese military of hacking into their computer systems and stealing information relating to their cutting-edge stealth fighters.
Experts say that the striking similarities between China's J-20 and America's F-35 and F-22 are clear evidence that this stolen know-how has allowed Beijing to quickly catch-up on these so-called "fifth generation" fighter jets.
"China has been extremely active in stealing design information for many years," said Justin Bronk, a research fellow at the Royal United Services Institute, a London-based think-tank. "It's a Chinese strategy to steal what they can and reverse engineer it."
Bronk said that many features of the J-20 appeared to be nearly identical to either the F-35 or the F-22.

However, the Chinese Ministry of National Defense rejected any suggestion that the design was stolen.
"The J-20 is a new generation of stealth fighter jet independently developed by China," it said in a faxed statement sent to NBC News on Thursday. "The accusation by some people that China stole the technology of others is totally groundless."
While the prospect of a direct war between the U.S and China is currently unlikely, Beijing is in open and heated disagreements with several of Washington's allies over territorial disputes in the South China Sea.
Senior Colonel Shen , a spokesman for the Chinese military said the J-20 would be given the "sacred mission of safeguarding national sovereignty, security and territorial integrity."
The J-20 will likely not be deployed until at least 2018, and it's rare for China to display its aircraft at such an early stage. From Tuesday's display alone, it is difficult to gauge its capabilities.
A version of the plane first made an appearance in 2011 — although not in front of a public crowd — and it appears to be ahead of schedule to being deployed at squadron-level.
The U.S. appears unperturbed about China's newest bird.
Asked about the plane in August, Air Force Chief of Staff Gen. David Goldfein said that in the theater of modern warfare aircraft themselves were just one piece of the puzzle.
"It's no longer about a [single aircraft], it's about a family of systems and it's about a network, and that's what gives us an asymmetric advantage," he said. "So that's why when I hear about an F-35 versus J-20, it's almost an irrelevant comparison because you really got to think about a network versus a network."
The J-20 likely won't be as stealthy or fast as its U.S. counterparts, according to Bronk, who based his assessment on the aircraft's visible features and China's traditional problems making engines.
But it will probably have an extremely long range and represents a "leap forward" for the country's military capabilities, he said.
"While it's not a game-changer it does give China a much improved operational strike capability," added Ben Moores, a senior analyst at IHS Janes. "It gives China a modern long-range strike capability that is able to carry much heavier payloads into areas of the Pacific and South China Sea that it was previously unable to reach in an effective manner."
China may also be able to outclass its rivals through sheer numbers.
The U.S. says it intends to purchase 2,450 of Lockheed Martin's F-35s at a cost of almost $400 billion — but the production line will be relatively slow.
By comparison, China "will mostly ramp up production of these things pretty quickly," according to Bronk. "They might not be a matchup one-on-one with the F-35 but they may well be able to put far more of them in the sky in the next few years."