BEIJING — Liu Shang tilted his head and sighed before tapping a plump finger on his computer's keyboard.
When asked if there was a problem the sixth-grader shrugged, barely looked up from the screen and said, "Nah, this is too easy."
He was among a dozen kids on the ninth floor of a Beijing school that is helping fuel the latest craze in China: coding classes.
In another room, graduates of a robotics course pitted their made-from-scratch creations in a miniature soccer showdown.
The average age of the robot builders? Eleven.
That Chinese kids, including some as young as six, are learning the basics of computer programming is by no means a sign that the country is on the technological cutting edge. In fact, the world's second-largest economy is lagging when it comes to such innovation.
"It's a different way for kids to develop logical minds"
To avoid falling further behind, many parents are pushing their kids to learn how to code — driven by the belief that programming languages are the future.
The Tarena Learning Center launched its first junior coding class a year ago in Beijing with about 50 kids; enrollment is now expected to reach as many as 4,000.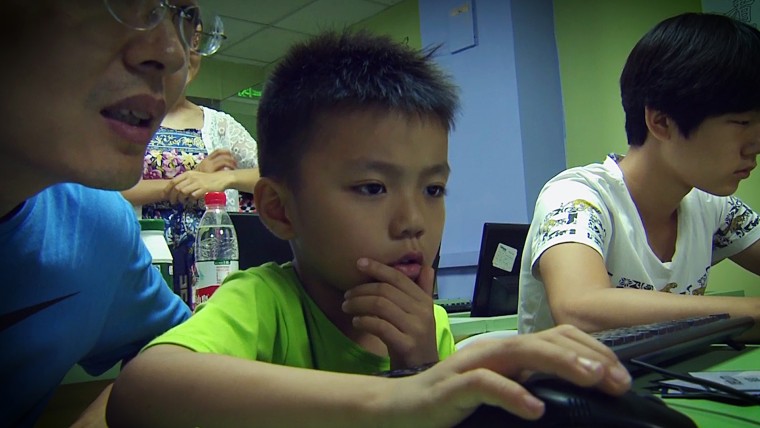 At least a dozen other countries, including the U.S., are well ahead in advancing digital literacy, according to experts a 2011 survey of worldwide digital literacy.
In 2013, Britain announced an overhaul of its national school curriculum to make coding a compulsory subject in primary schools. At the time, the government said it was necessary to replace an outdated vision of computer education that was "about as much use as teaching children to send a telex or travel in a zeppelin."
The high-tech industry in the U.S. is also aiming at boosting digital literacy among kids who are barely out of diapers. The MIT Media Lab, for example, offers a free iPad app called ScratchJr. It helps children aged as young as five learn the basics of coding.
Related: Should Computer Coding Be Considered a Foreign Language in School?
In China, there is nationwide concern that the country is being left behind. The Communist government now publicly stresses the need to shift the economy away from factories and toward scientific innovation.
It is promoting internet startups and technology incubators at major universities as part of a national plan to make China an "innovation powerhouse" by 2020.
"We've given top priority to innovation," said Chinese premier Li Keqiang when the plan was approved in July.
For younger kids, the push is more organic among parents looking beyond math tutors or dance lessons to enhance their child's development. Growing demand is seeing private schools and summer camps crop up in cities across the country. There is also a website that offers free information and coding courses targeting all ages.
Related: 'Hour of Code' Lures Kids to Computer Science With Minecraft Theme
"It's a different way for kids to develop logical minds," said Helen Song, a manager with Tarena Learning Center. The firm expects enrollment to keep growing.
Yu Yonghui, who works in publishing in Beijing, encouraged her son to try coding as a new hobby to build his confidence.
"These kids have a lot of pressure at school already," said Yu, as she watched her son at the computer. "For boys they like the feeling that, 'I am good.'"
Allan Zhang, 11, admits that learning to code has been tricky but the payoff is worth it.
"You can make your own games," he told NBC News.
And what's Zhang's favorite thing about coding? "You can make one that doesn't exist!"
Back at the computer screen, Liu Shang is working on his latest creation: a game about "zombies and plants."
"Sometimes you make mistakes," he said with an assuredness that belies his age. "But I will just type F12 and check out the wrong things. Sometimes solving problems is fun."