BEIJING — China summoned a senior U.S. diplomat and threatened to impose sanctions on U.S. firms after Washington announced it would sell arms worth $1.83 billion to Taiwan.
Chinese Vice-Foreign Minister Zheng Zequang told Kaye Lee, the U.S. deputy chief of mission in Beijing, on Wednesday that the proposed sale "severely damaged China's sovereignty and security interests," according to a statement from the Chinese foreign ministry.
The arms deal includes two decommissioned U.S. Navy frigates and amphibious assault vehicles as well as anti-tank and surface-to-air missiles. Most of the hardware dates from the 1970s.
Taiwan's Ministry of Foreign Affairs said the sale would help peace and stability, boosting "our confidence as we engage in dialogue and improve relations across the Taiwan Strait," the body of water that separates it from the mainland.
China sees Taiwan as a breakaway province. The U.S. does not formally recognize Taiwan as an independent nation but has sold it $12 billion in arms since 2010 as part of an agreement dating to the 1970s that commits Washington to helping the island defend itself.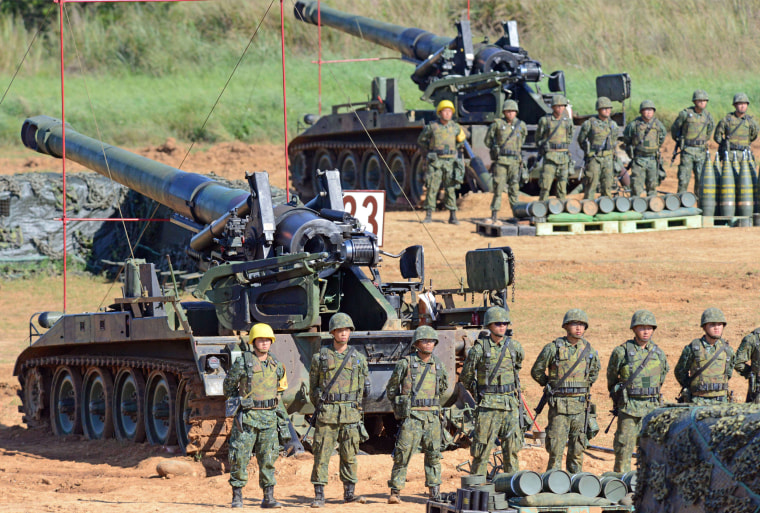 The last sales of $5.9 billion in 2011 triggered a high-level diplomatic protest and suspension of military exchanges.
Tensions bubbled between the U.S. and China in October after an American destroyer sailed within 12 nautical miles of artificial islands constructed by Beijing in disputed waters.
Wang Fan, a professor at China Foreign Affairs University, said that "no matter whether the arms sale is large or small, high or low technology … it will have serious negative impact on relations" between Washington and Beijing.
However, former Taiwanese deputy defense minister Chong-pin Lin told NBC News that despite China's stiff rhetoric "it would not break relations or do something drastic."