TAKTSER, China — On the eve of the Dalai Lama's 80th birthday, China seems determined to stop Tibetans celebrating.
The exiled spiritual leader is due to spend Monday in the United States, after attending a Global Compassion Summit in California this weekend.
But in his homeland of Tibet, which is governed as an autonomous region of China, officials have stepped up security in an apparent bid to throw cold water on any open festivities.
He has been in exile since 1959, and there is no more stark illustration of China's attitudes toward him than in his birthplace of the small town of Taktser.
"They consider me a demon"
Sat on the edge of a valley and surrounded by barren, jagged hills, the town lies in China's Qinghai Province that neighbors Tibet. When NBC News visited recently, a narrow road snaking up to his house was blocked by police.
"It is closed to outsiders," said one police officer, while another took photographs of us.
"Local pilgrims are allowed, but you need special permission," said a young female officer wearing black military-style trousers and a white Bruce Springsteen "Born in the USA" T-shirt.
The officers told us they were looking after the house and that the Chinese government was financing its upkeep. The building, inside a walled compound, was barely visible beyond thick trees, though the gold roof of what appeared to be a prayer room could be seen from higher up the road.
The police said they were aware of the Dalai Lama's 80th birthday, but denied there had been any increase in visitors. Surveillance cameras monitored the roads leading into the town.
Earlier this year, China's official Xinhua news agency claimed the government had allocated 2.5 million yuan (around $400,000) to preserve the house under a larger urbanization program.
That would seem to suggest that the authorities recognize the significance of the house to Tibetans, even while they vilify the Dalai Lama himself.
The Chinese government made its feelings clear last weekend when they condemned the organizers of the U.K.'s Glastonbury Festival. The Dalai Lama made an appearance and the crowd sang "Happy Birthday," prompting Beijing to chide the event for giving a platform to what it said were "anti-China splittist activities".
"They consider me a demon," the Dalai Lama responded in an interview at the festival. "Although I am not seeking independence or separation".
The Dalai Lama's hometown of Taktser is some 25 miles from the regional capital, Xining, where there is a frenzy of new development underway. The roads to Taktser are new, though poorly maintained.
Kumbum Monastery, one of the six most important monasteries in Tibetan Buddhism, is around two hours' drive from Taktser. It belongs to the Yellow Hat sect, of which the Dalai Lama is a member. And like most Tibetan monasteries it is under close police surveillance.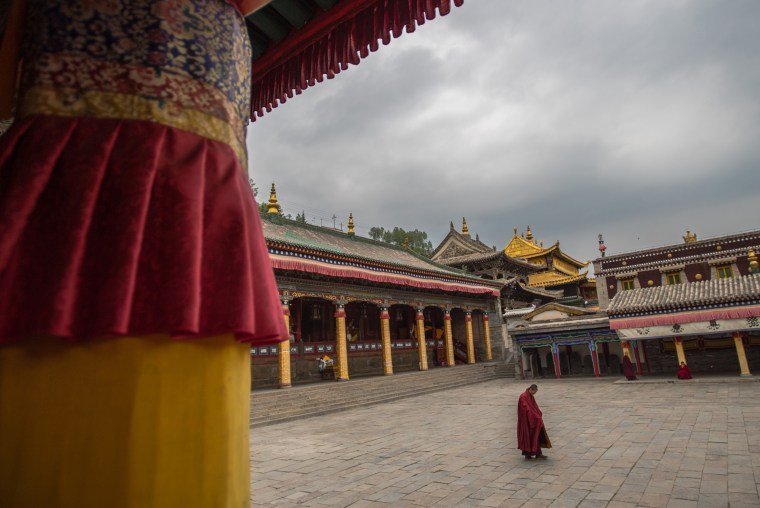 Police posts are dotted around the perimeter, and there is a liberal sprinkling of fire extinguishers around the entrances to prayer rooms.
Since 2009 there have been 138 reported self-immolations in Tibetan areas of China — mostly monks and nuns protesting against Chinese rule.
The authorities heavily promote the Kumbum Monastery as a tourist attraction, and during NBC News' visit, crowds of mostly young camera-wielding Han Chinese crowded along the lower roads and alleyways of the sprawling complex.
Related: Selfie Enlightenment? Dalai Lama Joins Instagram
They jostled for photographs as dozens of monks in one courtyard engaged in late afternoon debate — a daily ritual involving flamboyant gesturing and hand-clapping.
Less conspicuous were the Tibetan visitors. One young Tibetan woman was marking her graduation from university with a tour of Tibet's most important monasteries.
"This is an important event," she said of the Dalai Lama's birthday. "But it is very sensitive." She asked that we not use her name, and looked nervously around as she spoke to us.
Just outside the main entrance of the monastery, dozens of small shops and stalls were selling souvenirs. On the walls of one were hung pictures of Mao Zedong. Another sold T-shirts, including one picturing "Tintin in Tibet."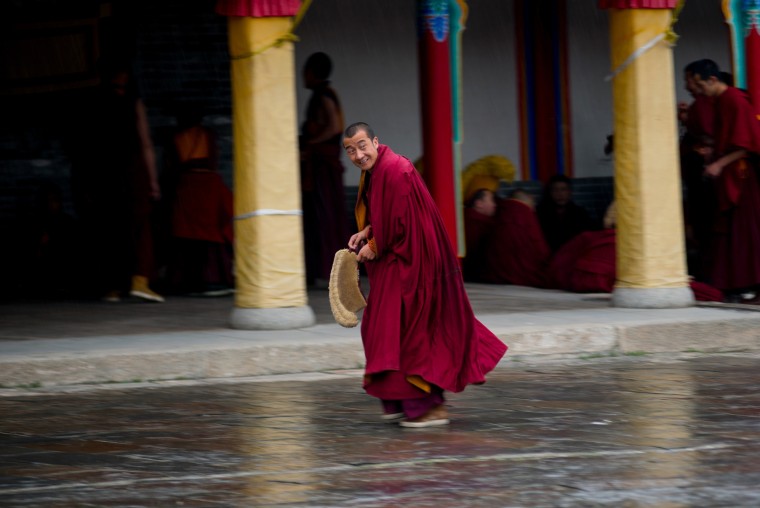 There have been reports of monks inside this monastery displaying pictures of the Dalai Lama, even though that can be a risky thing to do. Across the Tibetan areas of China, monks have been detained for possessing his image.
The Dalai Lama's 80th birthday will inevitably focus attention on the succession. Tibetan Buddhism believes that upon death the soul of a senior Lama is reincarnated in the body of a child.
The current Dalai Lama recently suggested that he might not come back at all, or if he did it might be in the body of a "mischievous blonde woman."
If that was designed to provoke the Chinese government it was a resounding success. The atheist Communist Party expressed outrage and called it an affront to Buddhism.
Related: Pope Says Nope to Dalai Lama Meeting
They want to control the reincarnation process and make sure the next Dalai Lama is their choice, as happened with the Panchen Lama, the second ranking Lama.
The Dalai Lama's own personal choice was detained 20 years ago when he was aged six, and has been described as one of the world's longest-serving political prisoners.
A great deal is at stake.
And as the Dalai Lama turns 80, it is safe to say the Chinese Communist Party won't be among those sending him congratulations.