BEIJING –  Dozens of police worked to keep the calm in front of a courthouse in Beijing at the start of the trial of a prominent Chinese anti-corruption activist and legal scholar on Wednesday. 
"All you officials are corrupted!" one man screamed at a plain-clothed officer after he tried to rip a poster from his hands.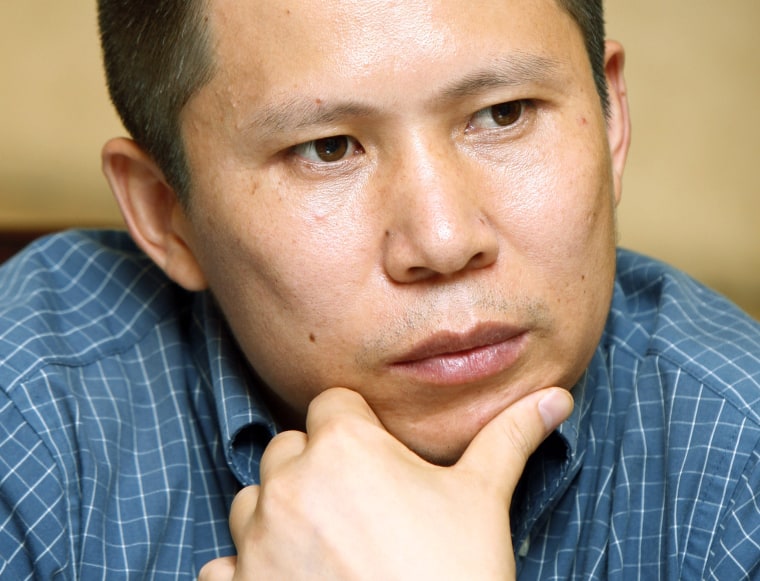 Xu Zhiyong, 40, is the first of at least six other activists to go on trial this week on charges of disturbing public order by "making a racket" and "attracting onlookers," according to the official court indictment. Members of the press were not allowed inside the courthouse.
In preparation for the trial, plain-clothed and uniformed police formed multiple security rings that encircled at least two city blocks around the Beijing Intermediate People's Court No. 1 in western Beijing where the trial was being held. Buses and vans with police equipped with riot equipment were also present, but never deployed onto the street.
Outside, Xu supporters mixed with petitioners, who were seeking redress for grievances ranging from alleged illegal land grabs to missing family members taken away by local governments. Plain-clothed officers initially tried to quietly remove the dozen or so petitioners but were quickly shaken off.
On the other side of the courthouse, a group of around 17 foreign diplomats including reportedly representatives of the American and British embassies were attempting to enter the courthouse as well. 
Xu supporters say his work has exposed shortcomings in new Chinese President Xi Jinping's signature anti-corruption policy that has reportedly brought down 20,000 crooked officials.
Xu has made a name for himself in China in recent years by advocating for the use of China's established legal code as a means to effect change from within the system. He and five other moderate members of his New Citizen Movement were arrested last July after they put up banners calling on Chinese officials to publically disclose their financial assets.
Related: