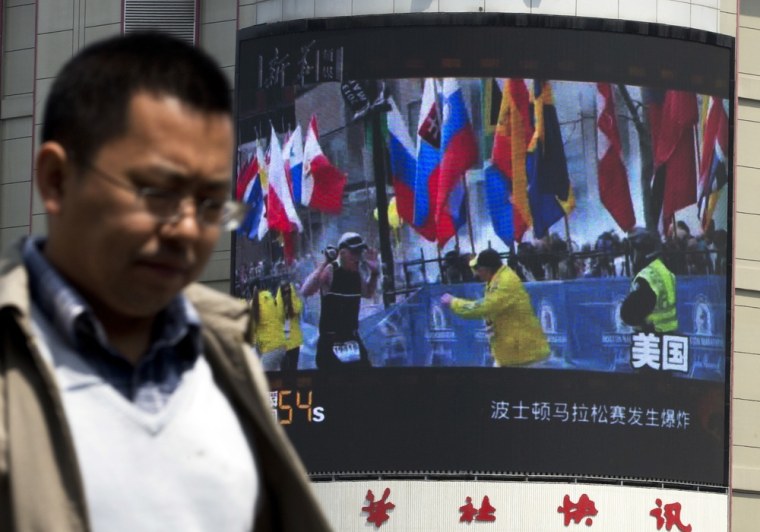 SHENYANG, China – Any Chinese person following news in the United States this past week might be forgiven for thinking the country was populated by trigger-happy outlaws.
"America made me feel unsafe," screamed a headline on Phoenix Satellite TV, a popular cable outlet, quoting another Chinese student who attended the Boston Marathon.
But for many in the rustbelt city of Shenyang, where Lu Lingzi, one of the three people killed in the Boston Marathon bombings grew up, America remains a promised land for ambitious young students and their doting parents.
A father waiting to pick-up his only son outside the elite Yucai Northeast High School that Lu, 23, attended before going to the United States to study at Boston University, said he was saddened but would still send his child to study in the U.S. if he could.
"If [American] schools offer scholarships, I'll send my son right away," said Li, who asked to be identified only by his family name.  Lu was just extremely unlucky, he and others said.
This calm was tinged with sadness over the death and sympathy for Lu's parents – especially given China's controversial one-child policy which was implemented in 1979 to control population growth. As a result, parents hopes, dreams – and care in their old age – is all dependent on their one child, making their loss that much more painful.
"All these years of devotion are lost," said Li, sighing and shaking his head.  "She was their only child."
Nevertheless, Li took photos of a billboard outside the school's gates advertising private classes to help prepare students for the SAT and TOEFL tests – essential to gain entry to American universities.  The billboard listed the names of four top American schools where alumni had won scholarships.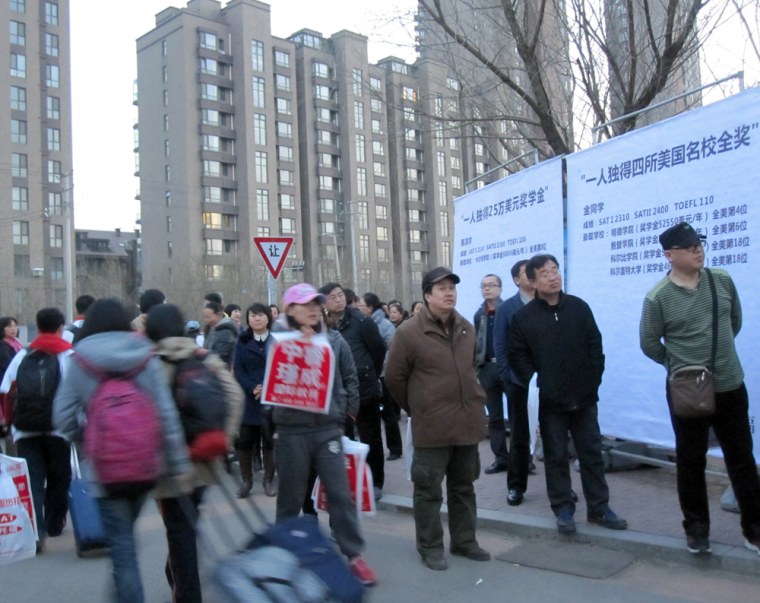 He remained upbeat despite the Chinese media's portrayal of the United States as an ocean of violence after the deadly bombings that injured more than 170, sparked a citywide manhunt and prompted the lockdown of the entire city of Boston.
"Do you still want to take a risk and send your child to America?" was the lead of an article by the "Chinese News," one of the country's biggest state-run news agencies.
Li and other parents outside of Yucai – which admits the best and brightest students of the region – held fast to their faith in the American Dream.
In recent years, Chinese parents have been sending their kids to the U.S. in record numbers. The number of Chinese students in the United States grew by 23 percent to more than 194,000 in 2011-2012, according to the Institute of International Education.  At a quarter of all international students in U.S. universities and colleges, Chinese students make up the country's largest group of foreign students, it said.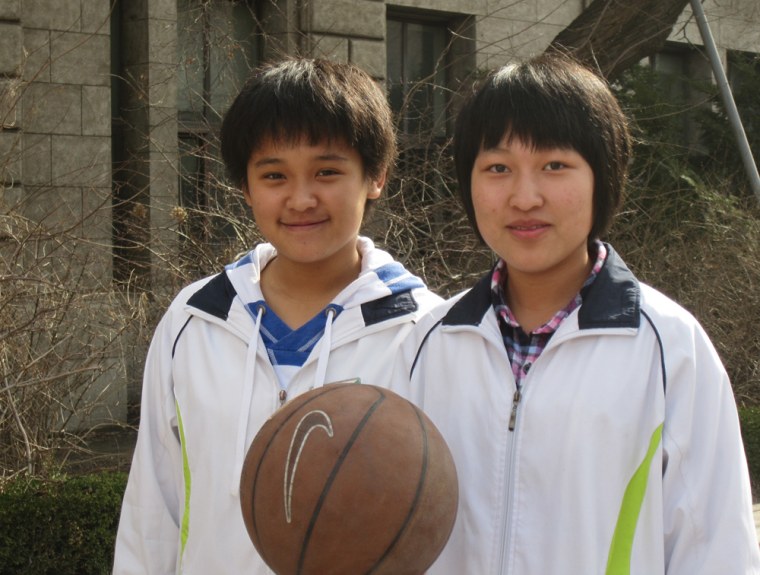 Dong Yu, a saleswoman of health products, has already decided that the United States will play a big role in her high-school-aged daughter's future. Even though 16-year-old Zhang Yingchen is only a high school freshman, and will likely spend her undergraduate career in China, Dong is confident where her daughter will eventually end up.
"America," she said with a smile.
For Zhang Dechang, Dong's husband, America is still the safest place to be even after the Boston attacks.  Zhang feels the morals of Chinese society are crumbling—even at universities. Pointing around at the crowd he indicates that no one feels safe.
"Look around, all the parents come to school to pick up our child," he Zhang. "What does that show you?"
In the apartment complex where Lu's parents and grandparents live, which belongs to an elite provincial Communist Party training academy, many residents have studied in the United States.
Zhang Yuqi, a colleague of Lu Lingzi's grandfather, wanted to send his granddaughter to the U.S. as well. America is a great country, he said.
His boss at Liaoning Provincial Party School told him that the American government treats its citizens very well, and even dubbed it a "true Communist society," referring to the fact that everyone has an opportunity to succeed there. 
Similarly, Wang Qiong, a Yucai alum, who is currently working towards her doctorate at Rockefeller University, enjoys the U.S. for its transparency and lack of bureaucracy. 
"I came to the U.S. in 2003, after 9-11," she told NBC by phone from the U.S. "I may return to China one day, but not because of safety concerns."
Related: