BEIJING — There's almost no escape from the smog blanketing China's capital with the pollution levels inside the respiratory ward at Beijing's Children's Hospital even reaching hazardous levels on Tuesday.
Although Beijing has experienced air quality much worse levels in recent years, the latest bout of pollution was the first to trigger a red alert under a 2-year-old system that requires a forecast at the outset of at least 72 hours of consecutive high pollution.
Staff at Beijing's Children's Hospital were overwhelmed by the number of kids seeking treatment after being sickened by the toxic air.
The pollution index reached 440 when measured inside the respiratory ward, nearly 20 times the World Health Organization's recommended level.
"We dared not take our baby out to play as the air was bad, but we didn't realize it's also bad indoors and she would get this sick," a grandmother who would only give her surname Wen told NBC News, who said her grandchild was being treated for a "fever."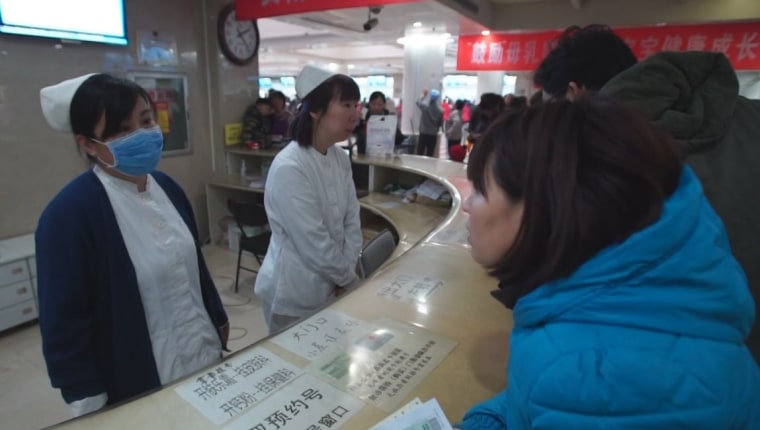 Beijing's environmental agency issued the red alert for the first time, locking down schools, construction sites, factories, and banning millions of cars and even outdoor barbecues across the sprawling metropolis of 20 million residents. Even-worse smog choked parts of northern China including Beijing last week — with the pollution index soaring past 900.
A red alert requires a forecast of 72 straight hours of pollution levels of 300 or higher on the city's air quality index.
"My baby suffers from coughing, cold, bronchitis, this is related to air pollution," one mom surnamed Yao said the children's hospital, amid the sound of crying babies.
"We can't live in Beijing anymore," another mother added. "I might as well take my kid to our hometown."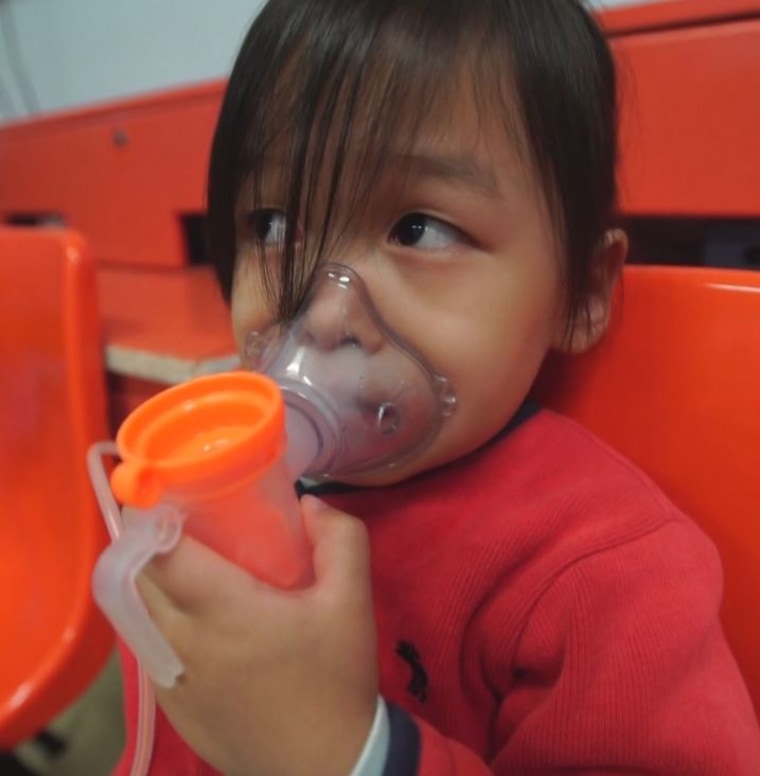 The government's alert is a "welcome sign", according to Dong Liansai, a climate and energy campaigner of Greenpeace China.
He said the "crisis is an opportunity" to push for long-term solution, such as a cap on national coal consumption.
China, the world's largest emitter of carbon dioxide, depends on coal for 65 percent of its energy needs. At the recent Paris climate summit, China committed to carbon trading and other measures to cap carbon emissions by 2030.
In the meantime, the people of Beijing and visitors alike are struggling to breathe.
"I thought reports of pollution were exaggerated ... [but] whoa, this is really bad," said Gustavo Villalobos, a tourist from Florida who was trying while trying to view the haze-shrouded Forbidden CIty from atop Coal Hill in central Beijing.