BEIJING -- More than 200 bear paws were discovered being smuggled into China in the tires of a van, Chinese officials told local media.
Video footage showed customs officers removing the 213 severed paws, which included large, adult ones and smaller ones from younger bears, from inside the tires.
They were laid out in rows in front of news cameras.
There were varying estimates of the value of the haul – said to be the biggest by Chinese authorities – but China Central Television reported it would have been worth about 2.8 million yuan (about $460,000) on the black market.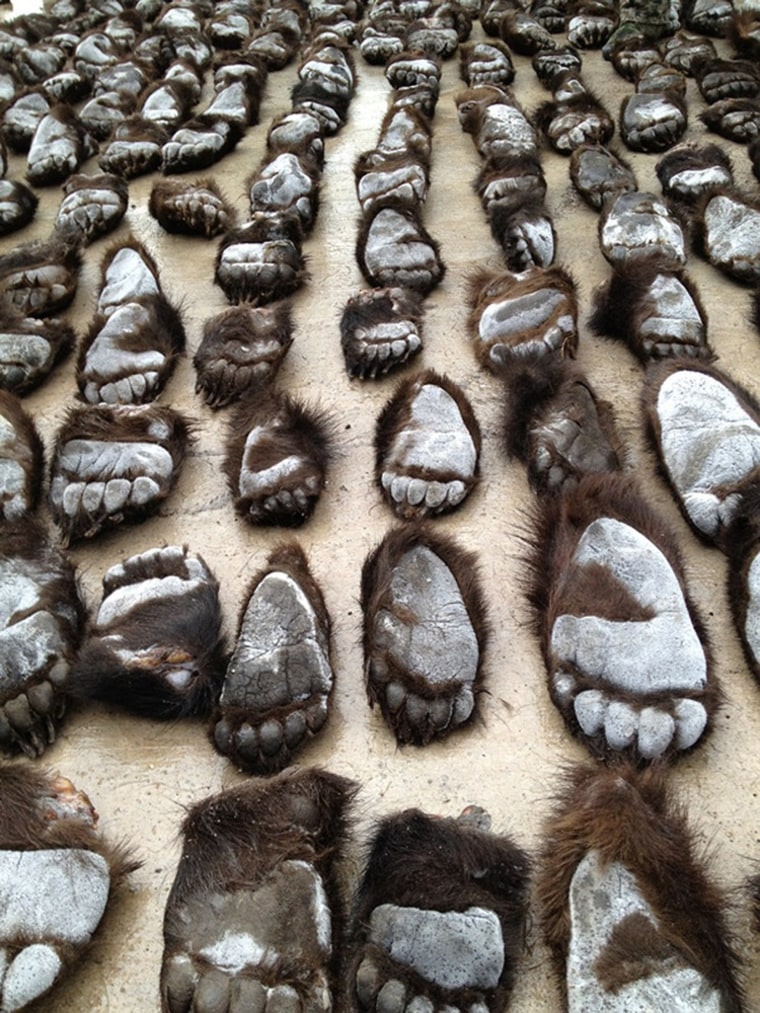 CCTV said that two Russian suspects were detained when the paws were discovered in Manzhouli, Inner Mongolia, in May and they were awaiting trial. It said bear paws were believed by some people in China to have high nutritional value.
"This case is quite special as it occurred in May, which is not a peak time for smuggling bear paws as the weather is too warm to keep the paws fresh," Sun Rongxin, an official from Manzhouli customs, told the People's Daily.
China's Global Times reported the paws were believed to be from brown bears, a protected animal in China.
"The demand is huge because more people can afford them and the country has the tradition to treat bear paw as a rare ingredient for cuisine or as an expensive present," Zhang Xiaohai, director of China's external affairs office for the Animals Asia Foundation, told the paper.
"Bear farms in China exacerbate the situation as they also sell paws illegally which stimulates the growing trade," he added.
Animals Asia has been campaigning against the farming of bears in China and other countries for their bile, which is used in traditional medicine. The group says "most farmed bears" are kept in small cages for up to 30 years and that the bile extraction process is painful.
Last month, 30,000 people took part in events in 20 cities in China to show their opposition to bile farming.
Related: