BEIJING — The residents of the "roof of the world" can now sample Colonel Sanders' finest.
On Tuesday, KFC opened a restaurant in Lhasa and became the first American fast-food brand in the capital of China's Tibet Autonomous Region.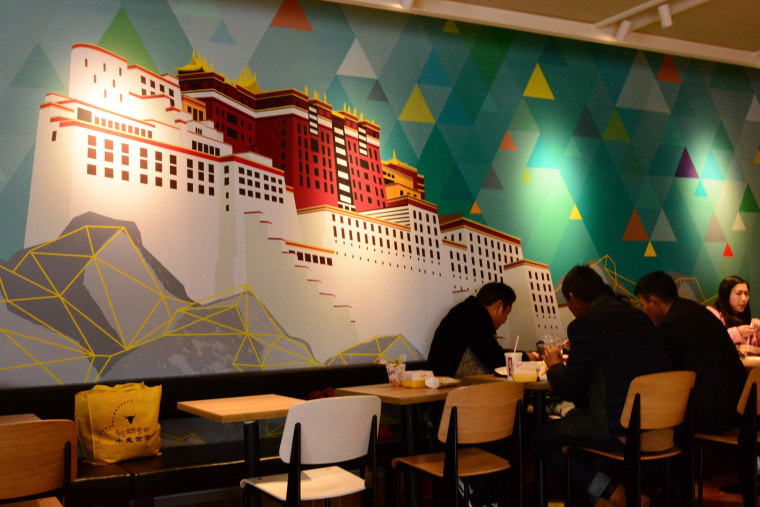 "KFC is now officially open, becoming the first international brand restaurant on the roof of the world. Everybody is welcome!" Lhasa's city government said on Weibo, China's Twitter-like service.
The 1,640-square-foot restaurant housed in a shopping complex in the Himalayan city's downtown was expected to draw a daily average of 1,000 customers, local manager Yu Zhengqing was quoted as saying by China Daily.
The materials and food, such as frozen chicken, have to be transported from outside Tibet, Zhengqing told the paper. A chicken sandwich meal is priced at $6.10, compared to $4.70 in other cities in China.
Not everybody was happy about the move. KFC's first venture in a restive region drew criticism from campaigners with Free Tibet.
"Tibet is an occupied country and Tibetans have been squeezed out of business and economic development by Han Chinese immigration," the organization said in a statement posted on its website. "If [KFC's parent company] Yum! Brands treat Lhasa as just another Chinese city with its eye on the Chinese and foreign tourist market, it is playing into the hands of the China's government."
Campaigners and some Tibetan leaders have long complained of China's cultural domination of the region. The Dalai Lama, Tibet's spiritual leader who won the Nobel Peace Price in 1989, fled into exile in India in 1959 after an abortive uprising against Communist rule.