A migrant worker was pulled out alive Wednesday after he was buried for more than 60 hours in a massive landslide that swept through part of a major manufacturing city in southern China.
Tian Zeming was rescued around dawn on Wednesday.
"The survivor had a very feeble voice and pulse when he was found alive buried under debris, and now he's undergoing further checks," Dr. Wang Yiguo told a news conference in Shenzhen, according to a transcript posted by the district government that covers the area.
When they found him, Tian told rescuers his name and that there was another person buried near him, according to the transcript. Another neurosurgeon, Dai Limeng, told the news conference that he had gone into the rubble and confirmed that the second person had not survived.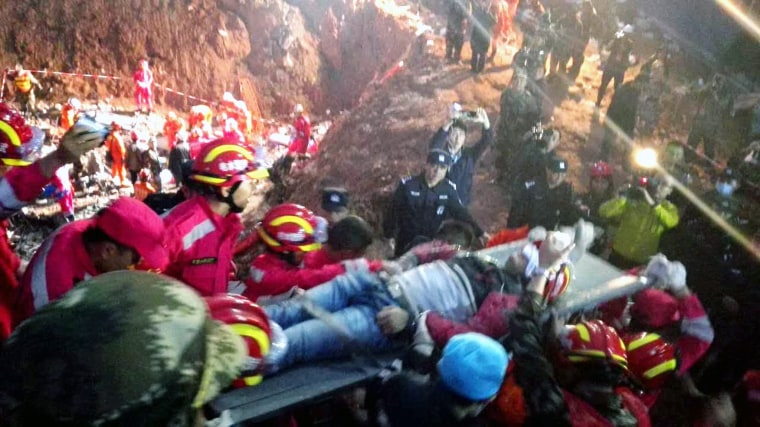 Firefighters had to squeeze into a narrow room around Tian and pull debris out by hand, rescuer Zhang Yabin told the state-run Xinhua news agency.
Tian has had surgery and is in a stable condition in hospital, though he may lose a foot, the Xinhua report added.
Related: Landslide Topples Buildings, Buries Dozens Under 20 Feet of Mud
More than 70 people are still missing from the landslide that happened Sunday when a mountain of construction waste material and mud collapsed and flowed into an industrial park in Shenzhen.
The Ministry of Land and Resources has said a steep man-made mountain of dirt, cement chunks and other construction waste had been piled up against a 330-foot-high hill over the past two years.
Heavy rains saturated the soil, making it heavy and unstable, and ultimately causing it to collapse with massive force in and around an industrial park.
State media reported that the New Guangming District government identified problems with the mountain of soil months earlier.
The Legal Evening News said a district government report in January found that the dump had received 1 million cubic meters of waste and warned of a "catastrophe."
Gallery: Massive Landslide Devastates China Industrial Park
Under pressure from the media, officials allowed about 30 journalists, mostly from foreign outlets, to approach an edge of the disaster area. Flanked by police, reporters could observe military posts with computers and disease control stations set up for the rescue workers.
Shenzhen is a major manufacturing center, making everything from cellphones to cars, and it attracts workers from all parts of China.
The landslide was the second major man-made disaster in China in four months. At least 160 people were killed in massive chemical blasts in the northern port city of Tianjin in August.