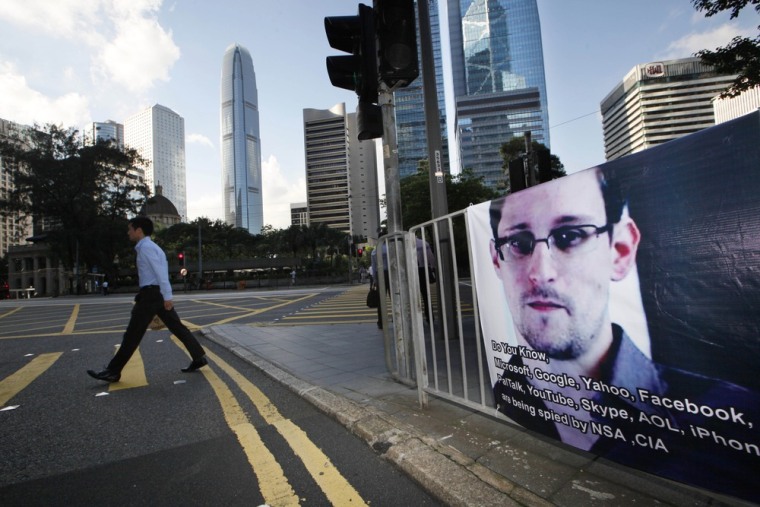 HONG KONG – On the face of it, a United Nations High Commission for Refugees press conference, on the eve of World Refugee Day, did not seem to bring encouraging news for Edward Snowden, the alleged National Security Agency leaker.
"We prioritize older cases," Nazneen Farooqi, a UNHCR Protection Officer, told the South China Morning Post. She said she was speaking hypothetically, since as a matter of policy the organization will not comment on any individual cases.
There are currently 1,200 asylum seekers in Hong Kong, and some have been waiting for years to be processed.
Snowden, a U.S. citizen, fled to the Chinese city-region earlier this month in an attempt to avoid prosecution for leaking classified information about NSA surveillance programs, according to his interviews with The Guardian newspaper.
He has the option of applying for asylum there through the UNHCR, or directly with the Hong Kong government once his 90-day visa expires in mid-August, or after any U.S. extradition request.
Either way, "there isn't a strong tradition of support for people seeking asylum here," said Steve Vines, a prominent Hong Kong writer and broadcaster.
And as for extradition, the U.S. has a good record of getting its hands on U.S. citizens: Some 65 people have been returned since an agreement was signed with Hong Kong (with the participation of China) in 1996.
Little wonder there was a chorus of "Why?" when Snowden first revealed himself in Hong Kong 11 days ago.
Now, however, his decision is starting to look quite smart.
"If it's his intention to play a long game and fire a lot of arrows at the U.S., it does facilitate a chance to do just that," said Steve Vickers, the CEO of Steve Vickers and Associates and a former head of the Royal Hong Kong Police Criminal Intelligence Bureau.
A great stage
"This is a place where you can make many connections," said Regina Ip, a Hong Kong legislator and formerly the city's top security official. "Our common law system gives Mr. Snowden plenty of opportunity to contest any request for rendition or for his asylum claims."
In other words, Hong Kong provides a great stage. Even if the most likely result is a return to the U.S., the process can be long, complicated and theatrical. Add to that Hong Kong as a major media center, and it will all be well-documented.
The complex local politics – Hong Kong as a sort of nexus between China and the West – also makes for plenty of news-worthy intrigue.
Few people here take seriously the accusations from some in the U.S. that Snowden is a Chinese spy.  But he has fled to Chinese sovereign territory and Beijing is no doubt taking a close interest, even if it is unlikely to overtly intervene.
Hong Kong was a British colony until it was returned to China in 1997. Under what is known as the "Basic Law" – the territory's mini-constitution – it has a well-respected and autonomous legal system based on British common law, with far stronger protections for human rights and freedom of expression than exists on the mainland.
While it is true that Beijing has a final say on extradition cases that impact its national interests, few here expect it to override the courts, not wanting to undermine relations with Washington – or with Hong Kong.
There is a lot of – and growing – antipathy in Hong Kong towards Beijing and sensitivity towards anything seen as interfering with local affairs. A poll this week in the South China Morning Post suggests that Hong Kongers' sense of Chinese identity has fallen to a 14-year low.
Another poll has shown strong support for Snowden, but this should not be misinterpreted as support for Beijing to interfere. Last weekend's protests demanding protection for Snowden were staged mostly by liberal and human rights groups who any other weekend would be condemning all manner of abuses by Beijing.
Buying time
Snowden's Hong Kong base also opens the door to deal-making, said Professor Simon Young, director of the Center for Comparative and Public Law at the University of Hong Kong.
That's because any extradition request has to based on a charge that is a criminal offense in both jurisdictions – most likely computer crime or unauthorized disclosure of official information. That's very different from some of the more draconian potential charges being discussed in some Washington circles, and carries a far lesser penalty.
Treason, for example, isn't a crime you can be extradited for from here.
"It depends what his aim is," said Young. Snowden might choose not to fight extradition if the charge is a lesser one, moving the stage back to the U.S. for the next act.
Or he could dig in.
"If he were to choose to exercise all his rights and to exhaust the legal system, definitely it will not be something that gets turned around in months – perhaps years," Young said.
'Duck 2'
In the meantime Hong Kong is reveling in all the international attention.
"It's all rather flattering," said Ip, the former security head. She only half-jokingly referred to the arrival of Snowden as "Duck 2" – the biggest splash in the city since Florentijn Hofman's 54-foot yellow rubber duck took up residence in the harbor in March.
That giant artwork has now left, and more than one online wag has suggested that Snowden might even have escaped in the duck.
In reality he doesn't need to escape, since until any extradition request arrives Snowden is a free man. He's broken no Hong Kong law and is free to leave if he so chooses.
For now, being holed up in Hong Kong probably suits him just fine. The man reported to be a keen chess player has no shortage of options (duck excluded).Whichever way you look at it, the choice of Hong Kong is looking smarter by the day.
Related