Cops in China charged with fighting petty crime have become so notorious for their abuse of power that their official name, Chengguan, has become slang for thuggishness. "Don't be too chengguan," one might admonish another, meaning "don't be such a bully."
That reputation was given more fuel Wednesday when a newspaper ran pictures of an officer tackling a diminutive fruit vendor in the southern boomtown of Guangzhou as her 16-month-old daughter looked on. During the incident, he grabbed Li Shengyan's neck and wrestled her to the ground after a dispute over a fruit knife.
Once such incidents would have provoked little comment and the authorities did not need to fear the court of public opinion.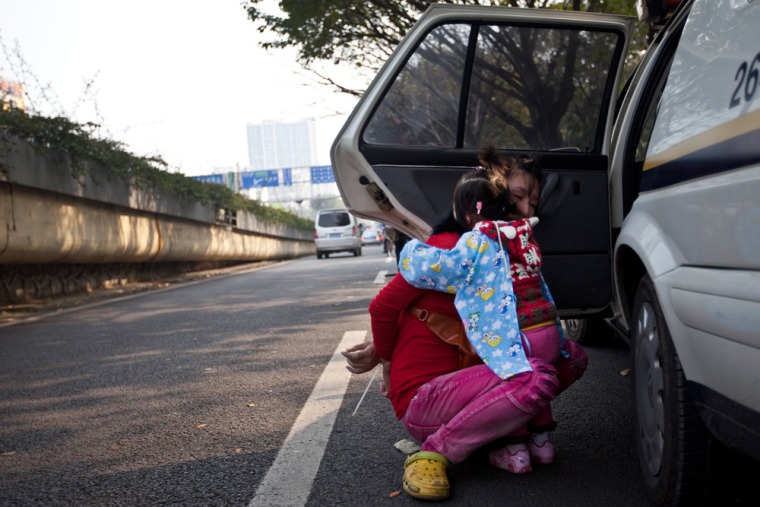 But the popularity of social media websites has changed all that. Users of China's two most popular Twitter-like services had commented on the pictures some 7 million times by Friday, many expressing their disgust at the police.
There are now signs that those in power are being forced to take people power seriously, even if the eventual outcome is much the same.
One expert on Chinese social media said that while officials' first instincts were "to cover up and distract attention" from controversial events, they now faced losing their jobs if they handled them badly.
Wednesday's incident – as described by the report in the Southern Metropolitan newspaper -- started after officials confiscated her fruit knife. One officer, Ao Dating, then threatend to take away her fruit and the cart.
Pomegranate thrown
Li then yelled at Ao and hurled a pomegranate at him. This enraged Ao and he grabbed her by the neck.  The officer then forced her to the ground. His colleagues eventually dragged him off Li.
One picture showed Li with her hands tied -- unable to comfort her daughter as the young girl hugged her.
After the confrontation, Li was arrested and taken to a police station along with her daughter. Her cart was confiscated.
By Thursday, the story had become an internet sensation. 
"Brute!" one blogger posted.
"Can't you be a little more civilized? Do you know how much it will traumatize the girl," another said.
The traditional response given by officials to international press enquiries about events like this is: "I do not know." 
However, this time, a spokeswoman for Guangzhou's City Urban Administrative and Law Enforcement Bureau was surprisingly forthcoming.
"Our bosses are investigating the incident and will inform the public once we find out," she said. "We are waiting for the results too."
Jeremy Goldkorn, an expert on Chinese media and Internet culture, said local governments were increasingly held to account by higher authorities for issues raised on the blogosphere.
"If they do not react, these lower level officials like city urban management police could lose their jobs," he said.
"The first reaction of these types of officials is just to try to cover up and distract attention from the case. Because of the speed and growth of the social media, it becomes more and more difficult for that kind of distraction happen," he added.
Investigation blames Li
After its investigation, the law enforcement bureau said officers had been suspended and there was a report Li had been given an apology as she was released from custody.
However, the investigation blamed it on Li, accusing her of attacking officials, injuring one. A picture of Li throwing the pomegranate was also released.
The original report in the Southern Metropolitan was taken down and other websites commenting on the incident also disappeared.
Li's cart was returned, but she was left unhappy.
"They (the officials) said 'The girl, and her parents were well taken care of by the police," she posted on a Tencent Weibo account which was registered to her. "It was just a show. My girl's diaper was not changed in 24 hours … the police should face what they have done instead of writing a nice article to make themselves look good."
Huang Pei, of NBC News, contributed to this report.
Related:
Chinese ex-police detained while trying to stamp out corruption
Communist Party honcho's airport rage caught on camera
Chinese official booted after account of lurid affair emerges