China's claim to a vast swath of the South China Sea was dealt a huge blow Tuesday after its case was overwhelmingly rejected by an international tribunal.
Beijing insists it owns 85 percent of the potentially resource-rich waters — putting it in direct territorial conflict with countries including the Philippines, Taiwan and Vietnam.
The Permanent Court of Arbitration said there was "no historical basis" for these claims and that China had no "historic title" over the hotly disputed waters.
China has rejected the entire process from the start and its state-run media outlets reacted angrily to the ruling. The Hague-based court of arbitration has no powers of enforcement.
The case was brought to the court by the Philippines, one of several countries whose "exclusive economic zone" — a 200-mile area of special maritime rights — is overlapped by China's claim.
China has alarmed the United States and others by enlarging several reefs in the Spratly Islands — one archipelago in the South China Sea — constructing runways, ports and other bases on the reclaimed land.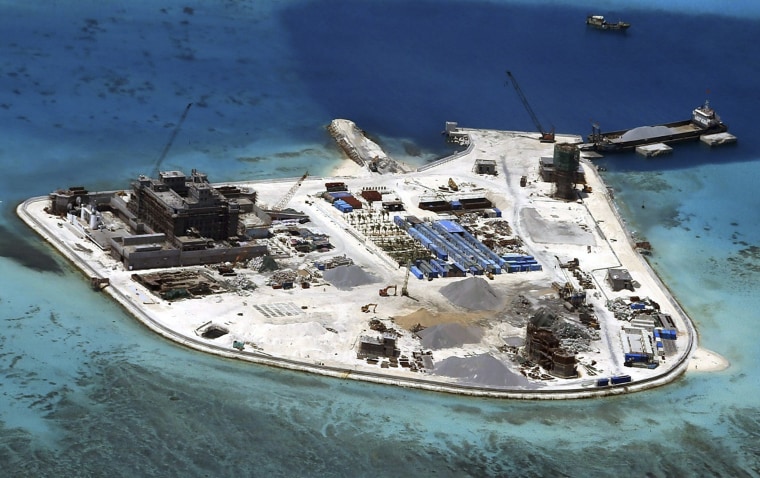 According to the United Nations Convention on the Law of the Sea, however, these islands must be considered in their natural state when deciding whether they generate their own territorial waters, the court said Tuesday.
The court ruled that all of the islands in the Spratlys were either below water at high tide or "rocks that do not generate an exclusive economic zone or continental shelf."
Related: China Holds Combat Drill Near Disputed Waters
China has used this network of islands to claim a continuous expanse of territorial waters that stretched more than 1,500 miles south of its mainland.
In the eyes of international law, the ruling discounts much of this and effectively creates large gaps in China's so-called "nine-dash line" that it has used to justify the huge territorial claim.
In addition to the territorial dispute, the court ruled that in building its artificial islands China had "caused severe harm to the coral reef environment" and violated its obligations to protect "fragile ecosystems and the habitat of deplete, threatened or endangered species."
Chinese fishermen have also "engaged in the harvesting of endangered sea turtles, coral and giant clams … using methods that inflict severe damage on the coral reef," the ruling said, adding that "Chinese authorities were aware of these activities and failed to … stop them."
Related: China Accused of 'Unsafe' Intercept of U.S. Spy Plane
Furthermore, the court ruled that China had interfered with Philippine oil exploration, prohibited Philippine fishing, and constructed artificial islands without the Philippine's permission.
China had repeatedly stated that it would "neither accept nor participate" in the arbitration. It says its activities in the South China Sea date back 2,000 years, claiming it "discovered, named and explored and exploited" the waters and relevant islands.
Following Tuesday's ruling, the country's Ministry of Foreign Affairs said it "solemnly declares that the [decision] is null and void and has no binding force."