BEIJING — Chinese authorities have called for a "severe punishment" to be imposed after a 2,000-year-old terra-cotta warrior's thumb was stolen while being displayed in the U.S.
According to an arrest affidavit, 24-year-old Michael Rohana broke off the thumb after taking a selfie with one of the statues during an Ugly Sweater Party at the Franklin Institute in Philadelphia.
Known as "The Cavalryman," the warrior is worth $4.5 million.
The incident occurred on Dec. 21 but museum staff didn't notice the missing thumb until Jan. 8. The FBI traced it to Rohana five days later.
The official Xinhua News Agency reported that Rohana, who is from Delaware, admitted hiding it in his desk drawer. NBC News could not immediately confirm that report.
It was unclear whether Rohana had legal representation early Tuesday.
The Shaanxi Cultural Heritage Promotion Center, which loaned 10 of the terra-cotta sculptures to the American museum, said it was the first such incident in more than four decades of organizing overseas exhibitions.
"We call for the American side to punish this act of theft and vandalizing of a precious cultural treasure of mankind," an official with the center told state-run Beijing Youth Daily on Monday.
The Shaanxi Cultural Heritage Promotion Center also announced plans to claim compensation.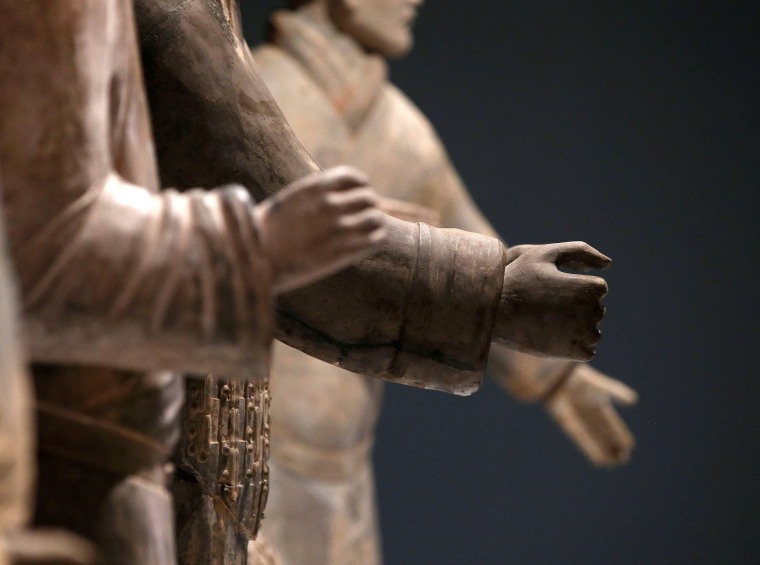 The world-famous terra-cotta army consists of some 8,000 life-sized soldiers, chariots and horses. It was discovered by farmers in the 1970s after being buried as funerary art in 210 BC with Qin Shihuang, China's first emperor. The statues were intended to guard him in the afterlife.
"It was a very regrettable and unfortunate incident," said Victor Gao, a current affairs commentator who accompanied former President Richard Nixon when he visited the museum housing the terra-cotta warriors in 1985. "I hope the young man involved would say sorry ... and become a better person afterward."
Gao described Nixon as being "visibly awed and amazed" by the grandeur of the terra-cotta army.
The incident also triggered fury on Chinese social media, with some calling for "laws to ban foreign exhibits of Chinese treasures."
A spokeswoman for the Franklin Institute told the Associated Press that the statue will be repaired. She added that security contractor did not follow standard procedures the night of the incident.