BEIJING - A Tibetan monk who was one of China's most prominent political prisoners has died in prison, a relative and human rights activists said on Monday.
The United States, European Union and international rights groups had called for the release of the monk, Tenzin Delek Rinpoche, 65, who died on Sunday in Chuandong prison in the southwestern city of Chengdu, his cousin, Geshe Nyima, told Reuters by telephone from India.
Tenzin Delek was serving a 20-year sentence on charges of "crimes of terror and incitement of separatism."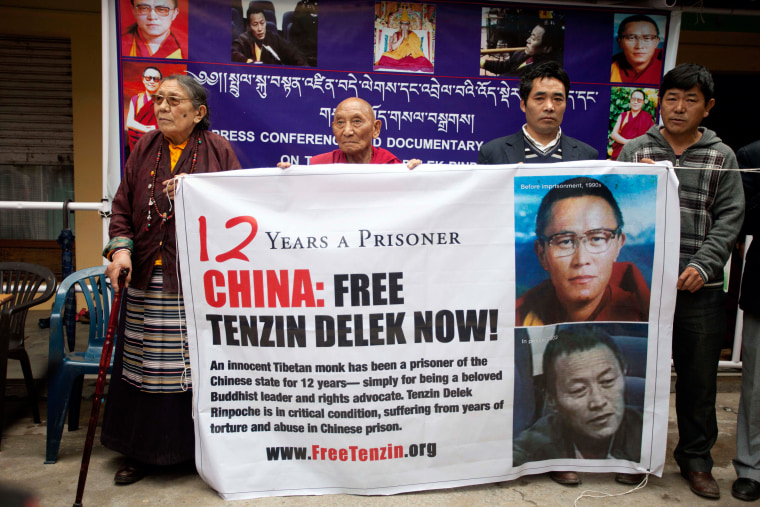 The cause of death was not clear, Geshe Nyima said, adding that authorities had notified Tenzin Delek's sisters on Sunday but did not elaborate on the circumstances of his death.
Telephone calls seeking comment from officials in Chuandong prison went unanswered.
"Rinpoche is not an ordinary person, he is one of the most respected leaders," said Dorjee Tseten, Asia director of Students for a Free Tibet, a rights group that has campaigned for Tenzin Delek's release. "His death is a shock for all of us."
China has ruled Tibet since troops "peacefully liberated" the region in 1950. Tibet's spiritual leader, the Dalai Lama, fled into exile in India in 1959 after an abortive uprising against Chinese rule.
China takes a tough stand against any sign of anti-government protests in the region and denounces the Dalai Lama as a "wolf in sheep's clothing" who seeks to use violent methods to establish an independent Tibet.
The Dalai Lama says he wants genuine autonomy for Tibet and denies espousing violence.
Tibetan writer Tsering Woeser described Tenzin Delek as "one of the world's most well-known Tibetan political prisoners in the 21st century," adding that more than 30,000 Tibetans had signed a petition urging authorities to release him.