BEIJING — China's state-run media cheered Secretary of State Rex Tillerson's weekend visit to Beijing as a diplomatic win for the home team.
"Cooperation is the correct choice," trumpeted the headline of the Xinhua news agency, which echoed conciliatory comments by Tillerson and President Xi Jinping and was carried by all state-run newspapers.
Images of Xi and Tillerson standing and sitting next to each other in the Great Hall of the People dominated the main news programs on at least a dozen channels across China — a sure sign that the government saw the visit as a success.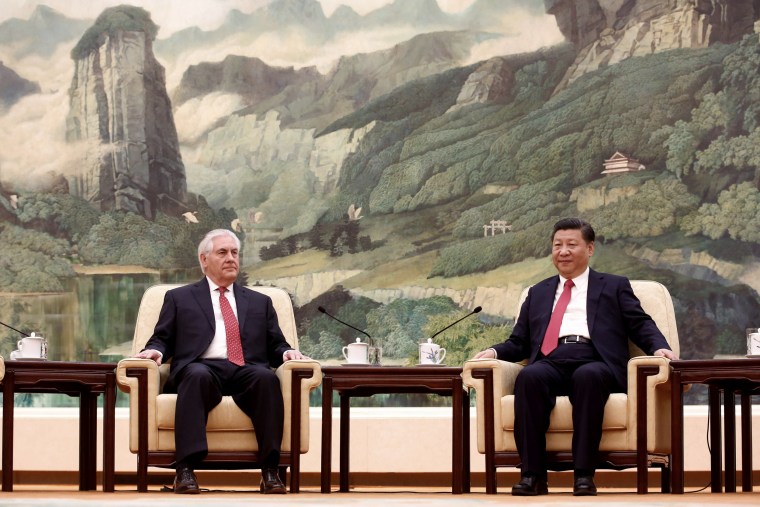 The coverage repeated the the fact that Tillerson used rosy catchphrases favored by Chinese officials — and even echoed a crucial Xi statement issued after a meeting with Trump predecessor Barack Obama on Nov. 12, 2014.
"Tillerson assured Xi of the Trump administration's commitment to the principles of 'no confrontation, no conflict, mutual respect, win-win cooperation,'" according to an editorial in English-language China Daily. The language is viewed as highly significant in China, and an acknowledgement of the country's growing status and desire to be seen as an equal to the U.S.
On Sunday, Xi had praised Tillerson for trying hard to achieve a smooth transition in a new era.
"You said that China-U.S. relations can only be friendly," Xi said as the secretary of state finished up his visit. "I express my appreciation for this."
Tillerson's tone probably went too far for some of America's allies that have depended on U.S. backing to counter Chinese regional ambitions, expert An Gang told the Global Times newspaper.
"'Mutual respect' will give U.S. allies in the Asia-Pacific region an impression that China and the U.S. are equal in the region," said the American studies expert at Pangoal Institution, a Beijing-based think tank. "To accept 'mutual respect' will undermine U.S. authority among its allies."
What a difference a few days make. Tillerson arrived to his first visit to Beijing Saturday with no shortage of thorny issues straining U.S.-China relations.
There's the saber-rattling by nuclear-armed North Korea, a Chinese ally that the Trump administration believes should be brought to heel.
During the South Korea leg of his Asia tour, Tillerson touched nerves in Beijing by saying that "all options are on the table" regarding North Korea's weapons program.
Then, Trump sent a tweet that scolded North Korea for "behaving very badly" and slamming China for "doing little to help."
Tensions worsened on Saturday, when North Korean dictator Kim Jong Un announced the ground test of a "high-thrust" rocket engine, according to state-run media.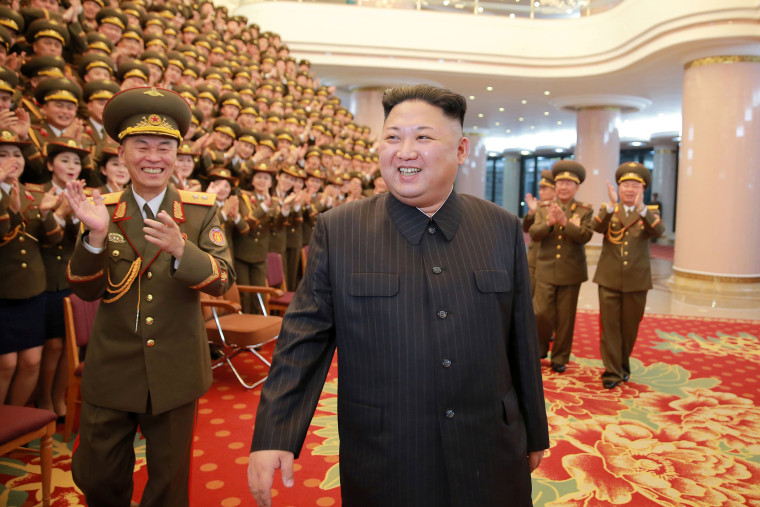 Then there was the dust-up over Trump's questioning the U.S.'s longstanding "One China" policy. As president-elect, he raised hackles in Beijing after receiving a call from Taiwan's president on Dec. 2, a move that broke with decades of U.S. policy and strained on the relationship between the two powers.
Beijing is deeply suspicious of U.S. intentions toward self-ruled Taiwan, which China claims as its own.
Trump has also lambasted China for what he said were unfair trade practices, threatening to slap heavy tariffs on Beijing and label it a currency manipulator.
Finally, during his confirmation hearing, Tillerson himself hinted that the U.S. could impose a naval blockade to thwart China's maritime territorial ambitions.
"We're going to have to send China a clear signal that, first, the island-building stops and, second, your access to those islands also is not going to be allowed," Tillerson said on Jan. 12, referring to to China's building artificial islands in contested waters.
But instead of addressing these issues, Tillerson publicly stuck to a diplomatic approach — in public at least.
So Tillerson may have arrived in China talking tough, but his departure was hailed by Chinese cheering.