BEIJING — China will soon be home to more than one-third of the world's latest robots as the automation revolution takes root in the manufacturing powerhouse.
Global brands have long relied on China's large, cheap labor force to sew, weld and solder products exported abroad. But humans are now increasingly making way for robots on factory floors across the country.
Demand for robots in China has quadrupled in the last four years, making it home to nearly a quarter of the world's industrial robots, according to the International Federation of Robotics (IFR). Demand for such machines doubled during the same period in the U.S.
"Robots simply provide better quality compared to humans and are cheaper and easier to manage"
By 2018, the IFR estimates that more than one-third of the world's industrial robots will be installed in China.
"I think the robot industry in China is at its beginning stage," says Yu Kai, CEO of Beijing-based Horizon Robotics Inc. "More and more robots in the factory is not a trend that can be reversed."
Yu grew up fascinated by robots after watching "Star Wars" and "Astro Boy." He attributes the rise of robots in China today to an inflection point between technology and labor.
"Labor is getting more expensive and technology is getting cheaper," the 39-year-old told NBC News. "The best robotics technology now is in the U.S. and compared with them, we still have a long way to go. But I believe in the next 10 years with continued development our robots could catch up with the Americans."
Related: One-in-10 Americans to Have Robots at Home by 2020
In recent years, the average Chinese factory worker's salary has risen noticeably, squeezing profits from manufacturers. Some factories have moved into western China or Southeast Asia in search of lower wages, while others have attempted to pass the cost on to buyers with mixed success.
Increased government support including financial incentives said to be worth billions have also convinced factory owners to invest.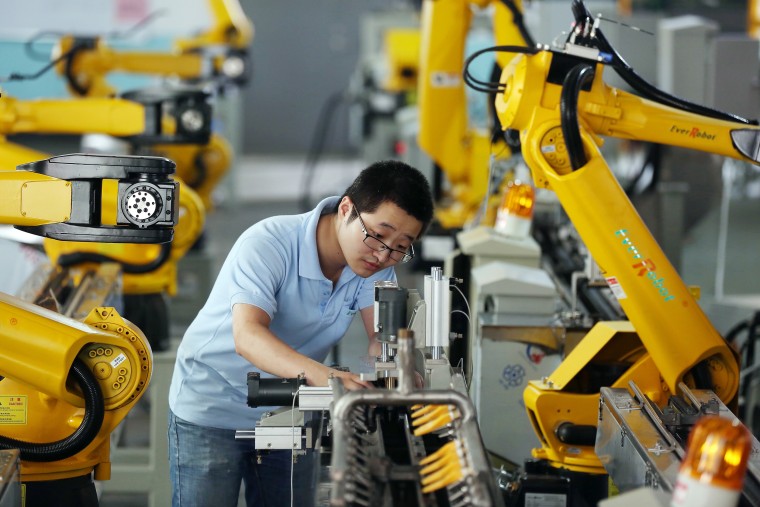 China's factories face an uncertain future as the country's economic growth slows and its manufacturing sector begins to give way too service industries. For many factory owners, robots are essential to their bottom-line.
Officials in the southern province of Guangdong — known as "The Workshop of the World" and thought to produce one-third of China's exports — have promised almost $150 billion of investment in the transition to automated manufacturing, according to state media.
In the provincial capital, Guangzhou, local leaders have a stated goal of automating 80 percent of the city's manufacturing by 2020. Earlier this year, state media announced plans for construction of the country's first robot-only factory in the nearby city of Dongguan.
Related: Heavy Metal Band Wants a Lead Singer — Made of Metal
While Chinese manufacturers may suffer short-term pain by investing in costly robotics to replace semi-skilled laborers, automation can mean significant long-term savings.
"China could not always rely on its human resources and forever be a manufacturing country," said Zhao Dong, a manager at Heilongjing Norson Tech Automation Equipment Development Company. "Robots simply provide better quality compared to humans and are cheaper and easier to manage."
In other words, robots don't get sick, go on strike or demand higher pay.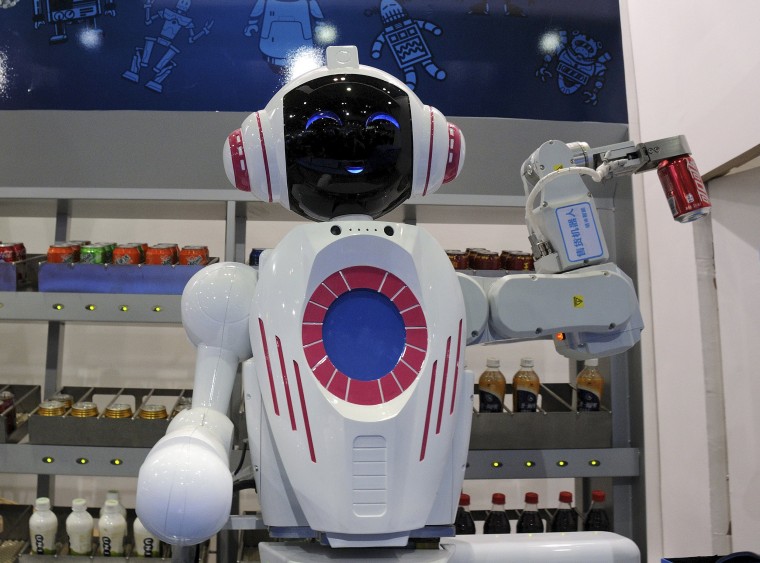 But what will happen to the millions of workers who once toiled on China's factory floors?
"This is a social issue," Zhao said. "New technology always brings new social issues and we need to adjust our social structure to account for automation. Those people whose jobs are taken away by robots could either innovate these traditional jobs or do robot management and maintenance."
Pioneers like Zhao and Yu envision the automation revolution spreading well beyond the manufacturing sector.
Zhao's company is focused on designing service robots for shopping malls, hotels and restaurants while Yu has his eyes set on the home.
"I estimate that in the next 10 years, every Chinese home will have 10 robots," Yu said. "Laundry robots, air conditioning robots — robots will accompanying us everywhere in the home."