LOS ANGELES — Two hundred professors at the University of Southern California called on President C.L. Max Nikias to resign Tuesday as lawsuits rolled in accusing the university of covering up allegations of years of sexual abuse by a former campus gynecologist.
In their letter to the university's board of trustees, the 200 professors accused Nikias of having been tone-deaf and of having failed to grasp the scope of the damage the scandal was doing to the university.
The board responded by stoutly defending Nikias' handling of the scandal, which has already led to lawsuits filed by at least six women.
"We strongly support President Nikias' implementation of a thorough and comprehensive action plan that addresses these issues" and helps the university move forward, the board's executive committee said in a statement.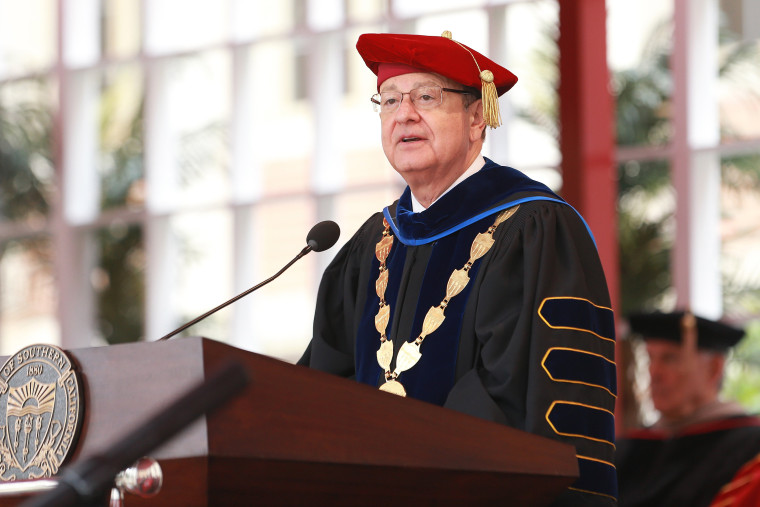 Some of the women are represented by John Manly, the lawyer who negotiated a $500 million settlement with Michigan State University in the Larry Nassar sexual abuse scandal. One is represented by the prominent women's rights lawyer Gloria Allred.
Allred said at a news conference Tuesday that the university and the gynecologist, Dr. George Tyndall, "must be held accountable."
Tyndall, who worked for the university's student health service for nearly 30 years, has denied any wrongdoing.
The lawsuit filed by Allred was entered Tuesday in state Superior Court in Los Angeles County against Tyndall and the university on behalf of Daniella Mohazab, a master's student in communication management. It alleges that when Mohazab went in for a standard test for sexually transmitted diseases in 2016, Tyndall remarked that she was "pretty" and that he examined her with just his fingers, using no medical tools.
Mohazab alleged at the news conference that Tyndall wore no gloves and that he teased her about her ethnicity, remarking, she claimed, that "Filipinas are good in bed."
"He also said that Filipinas are devoted to their partners and that they don't sleep with many people in their lifetime," Mohazab said, describing Tyndall as having "a creepy smile."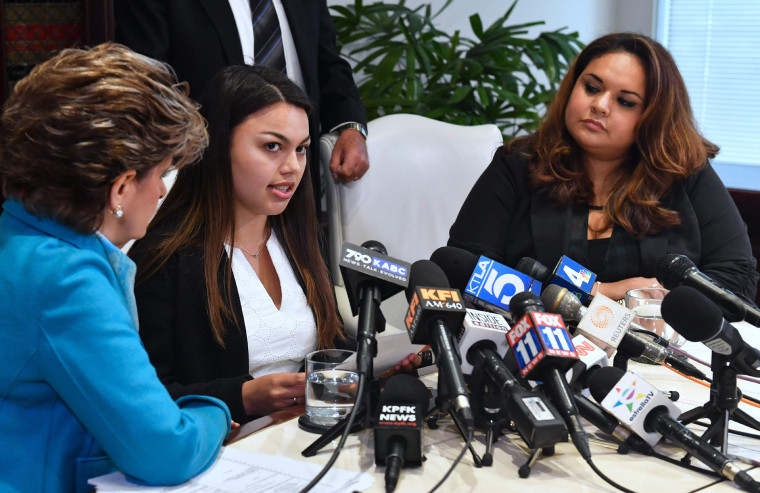 "USC is a great school, but this should not have happened," she said. "This incident has resulted in my being less trusting of doctors altogether. I trusted USC as an institution, but USC has let me down."
Allred said she had heard from other women complaining about Tyndall, and she released statements from two of them relating similar claims.
The university has acknowledged that Tyndall was the subject of eight complaints dating to 2000. It confirmed last week that it paid him an undisclosed amount last year to leave campus.
The university said that it began termination proceedings in 2017 but that Tyndall threatened to sue, alleging retaliation and age and gender discrimination. It said it agreed to the payment "rather than engage in protracted litigation."
The university also created a hotline to which former patients could report complaints. A spokesperson for the university said Tuesday that the hotline had received about 300 calls so far.
"It's appalling, it's troubling and it goes against what I stand for as a physician and as a college health leader," Dr. Sarah Van Orman, the university's associate vice provost for student affairs and chief health officer of the student health service, told NBC News.
"It's shaken both the folks here on campus, me personally, our staff at the health services and people nationally," said Van Orman, who was appointed to the position after Tyndall left.
Manly, who represents four of the women who have sued the university, said Monday that the scandal, which was ignited by an investigation by The Los Angeles Times, had exposed only the tip of the iceberg.
"He'd been doing this for 30 years, so the numbers could be staggering," he said, adding that many of Tyndall's patients had little experience with gynecologists and didn't know that what he is alleged to have been doing was inappropriate.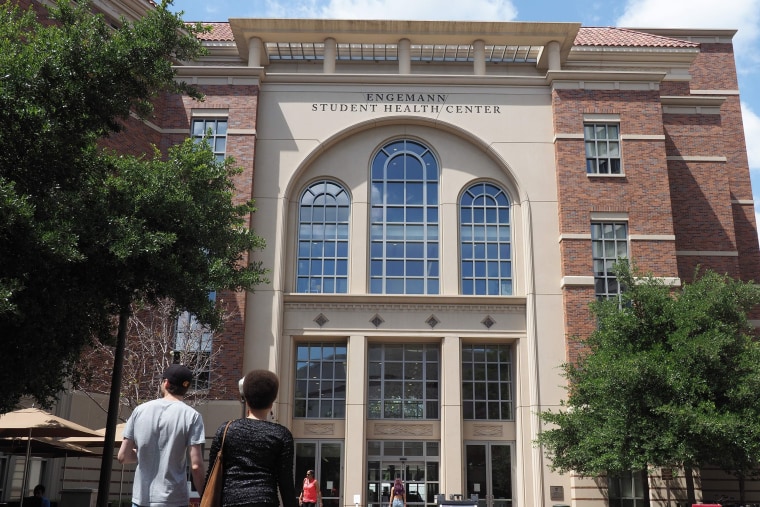 The letter from the professors noted that in one of his first statements on the case, Nikias referred to Tyndall's alleged behavior as a "breach of trust," but it said, "President Nikias' own actions and omissions amount to a breach of trust."
"He has lost the moral authority to lead the university, and in addition, to lead the investigation of institutional failures that allowed this misconduct to persist over several decades," they wrote.
Separately, more than 2,300 students had signed an online petition by Tuesday also calling for Nikias to quit, alleging that "under his leadership, cover-ups have spoiled the USC reputation and have hindered real change on campus to keep students safe."
Nikias, who holds faculty appointments in electrical engineering and the classics, has been president since 2010.
In a 20-page "action plan" that he distributed Tuesday to address the scandal, he said he was "truly sorry these events happened within our community" and felt deep regret for "how much distress they have caused."
Nikias announced the appointment of a President's Campus Culture Commission to monitor the action plan, which envisions rewriting the university's ethics code, developing "coherent and centralized systems" for handling complaints and ensuring protection "when possible" for anyone who steps forward with a complaint.