Four people were dead, including a child, after what police characterized as a domestic violence incident in Orlando, Florida, early Sunday.
Police arrived at the home at 614 Grand St. just before 2:30 a.m., about three minutes after they got a call reporting domestic violence at the address, Orlando Police Chief Eric Smith told reporters.
Soon after officers arrived, they heard shots from inside the home, prompting more officers to arrive, according to Smith and other information shared by Orlando police.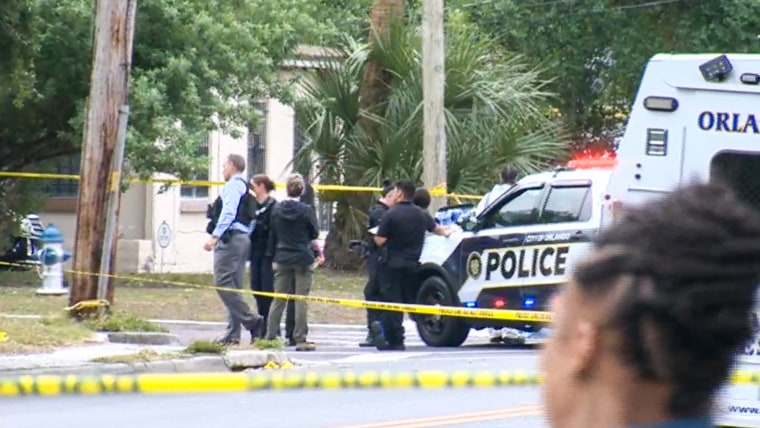 The suspect — whom police identified Sunday afternoon as Lacorvis Tamar Daley, 28 — emerged from the home and fired at the officers, who shot back, police said.
Daley was taken to a hospital, where he was pronounced dead, police said.
Inside the home, police found two adults and the child with gunshot wounds, all of whom died. Officers took the child to a hospital, where he was pronounced dead, Smith told reporters.
The three victims found in the home had not been publicly identified Sunday afternoon.
Orlando Mayor Buddy Dyer tweet that the incident was "a horrific, tragic situation."
"Sending support to the family members of the victims, as well as the officers, who were thankfully unharmed," Dyer wrote.
The two officers involved in the incident will be placed on paid administrative leave, and their body camera video will be publicly available within 30 days, in accordance with department policy, police said.
The police department will conduct an internal investigation, and the Florida Department of Law Enforcement and the State Attorney's Office will conduct independent reviews, "as with all officer involved shootings," Orlando police said.
Police are still looking into whether the suspect had any criminal history, police Public Information Manager Andrea Otero said, adding that police are working to determine whether they had received calls reporting domestic violence at the address before Sunday.
Domestic violence affects nearly half of people in the U.S., with 1 in 2 women reporting having experienced sexual or physical violence or stalking by an intimate partner at some point in their lives, according to the Centers for Disease Control and Prevention's most recent report on domestic and sexual violence. About 44% of men report the same, according to the CDC.
If you or someone you know is experiencing domestic violence or the threat of domestic violence, call the National Domestic Violence Hotline for help at 1-800-799-SAFE (7233), or go to www.thehotline.org for anonymous, confidential online chats, available in English and Spanish. Individual states often have their own domestic violence hotlines as well.
Advocates at the National Domestic Violence Hotline field calls from both survivors of domestic violence as well as individuals who are concerned that they may be abusive toward their partners.