A woman opened fire at an eviction hearing Thursday in northern California, killing four people and critically wounding two others, authorities said.
Sherie Rhoades, 44, was held on suspicion of murder and attempted murder after the shootings Thursday afternoon at the Cedarville Rancheria Tribal Office in Alturas, Alturas Police Chief Ken Barnes said.
The shootings occurred during a hearing at which Rhoades was being evicted from the Rancheria along with her son, the Redding Record Searchlight newspaper reported Thursday night, citing Alturas police. Alturas a town of about 2,800 in sparsely populated Modoc County, near the Oregon border.
Killed were two women, ages 19 and 45, and two men, ages 30 and 50, authorities said. Two other women were in critical condition at a Redding hospital.
Barnes said a woman covered in blood ran from the Rancheria's headquarters to City Hall to alert police at 3:30 p.m. (6:30 p.m. ET), according to the newspaper.
After the suspect ran out of bullets, she picked up a butcher knife and stabbed one of the victims, he said. A Rancheria employee helped to tackle her as police arrived, Barnes said.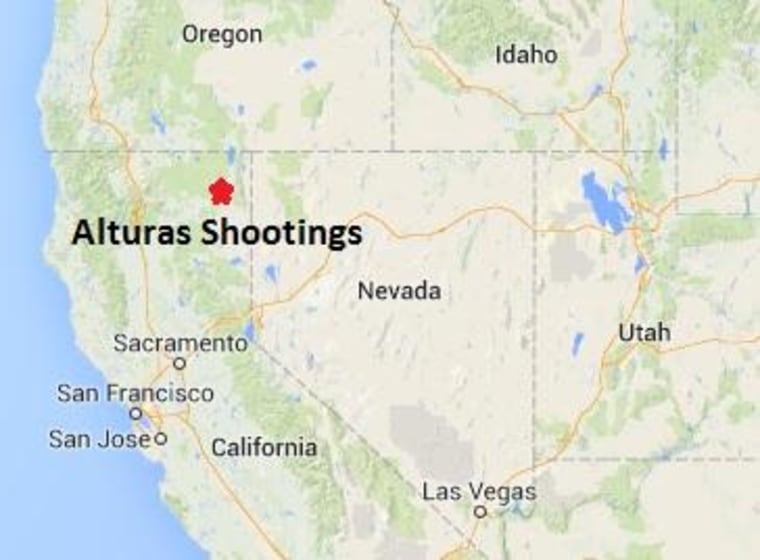 Federal Indian Affairs records list the Cedarville Rancheria as an officially recognized tribe of the Northern Paiute nation. The 2010 Census listed the tribe as having 13 inhabitants.
Speaking to reporters Thursday night, Barnes referred to Rhoades as a former chairwoman of the tribe.
The tribe didn't answer calls for comment. But state records, the National Congress of American Indians and the U.S. Bureau of Land Management — which coordinates oversight of public lands with American Indian tribes — all list a woman named Cherie Rhoades as the tribe's chairwoman, without indicating that she has recently been replaced.